The Angels Advocate Tour 2010 - Chicago, USA - Heroes of Mariah
2/13/10 and 2/14/10 Chicago Theatre
Seating capacity TBA
Click here to access the venue site.
Price range: TBA
2/13/10 concert
Setlist:
1. Butterfly Intro/Daydream Interlude
2. Shake It Off
3. Touch My Body
4. Fly Like a Bird
5. Make It Happen
6. Angels Cry
7. Always Be My Baby
8. It's Like That
9. The Impossible
10. Love Hangover/Heartbreaker
11. Honey
12. My All
13. Emotions
14. Obsessed
15. We Belong Together
Encore:
16. Hero
Pictures: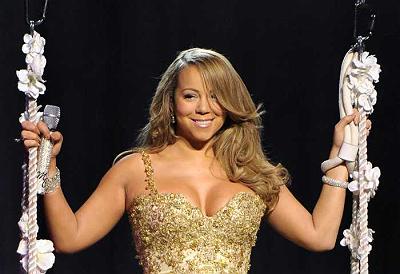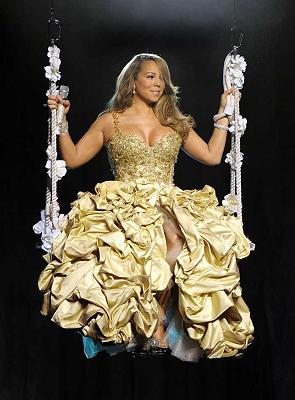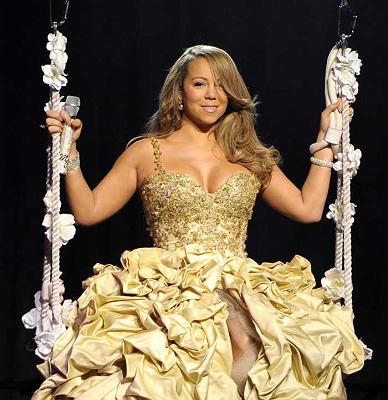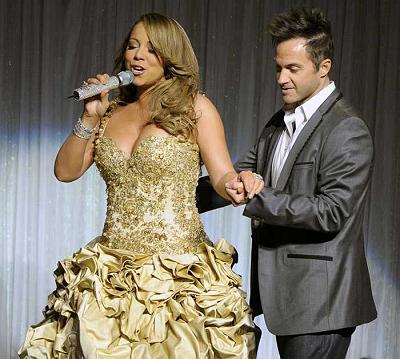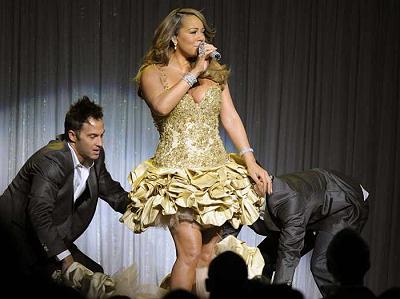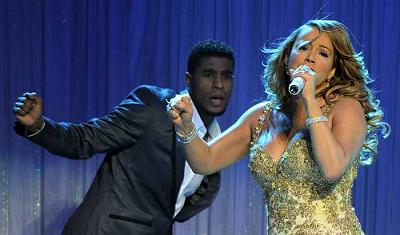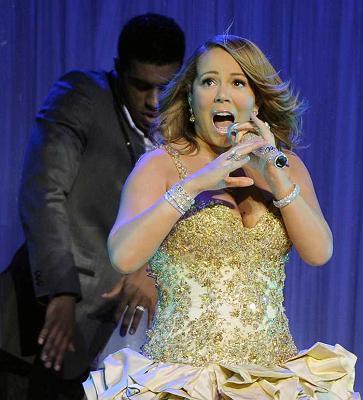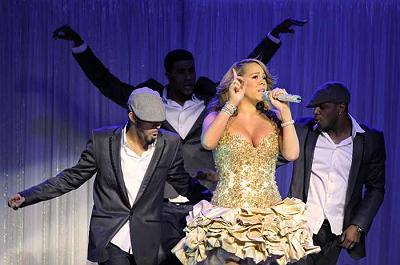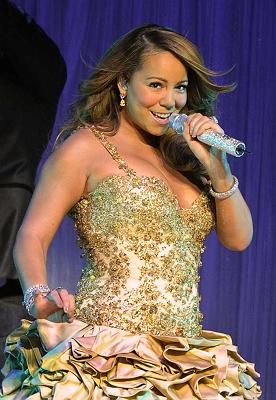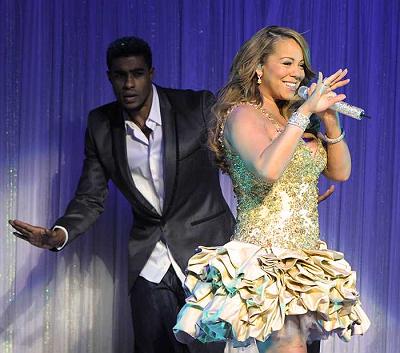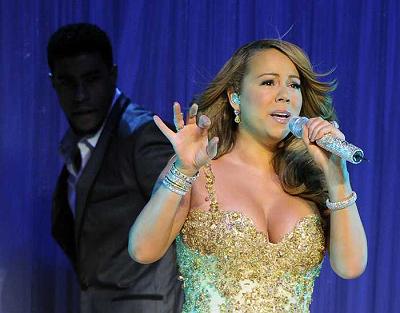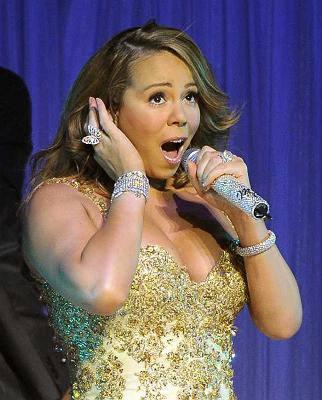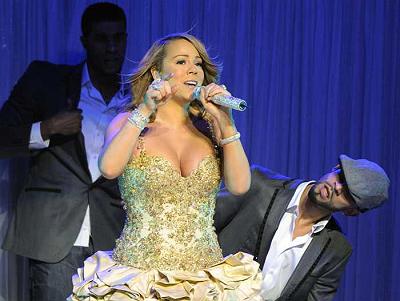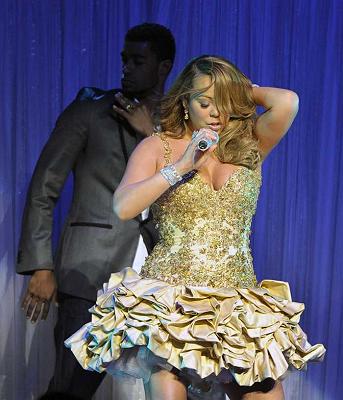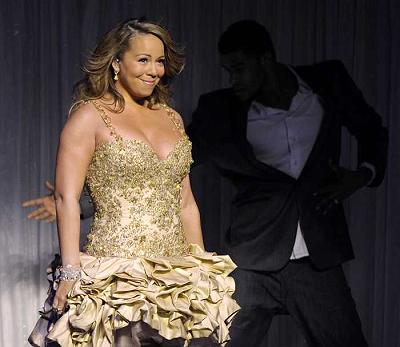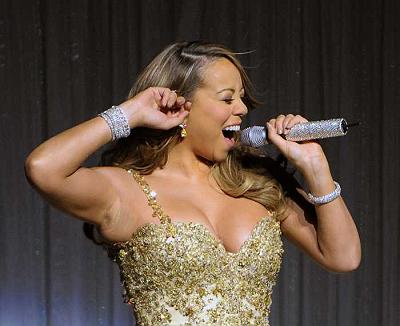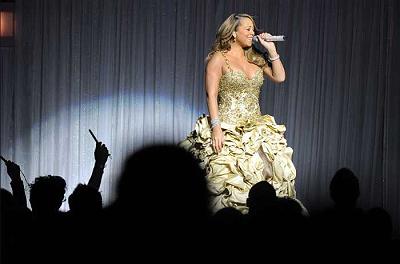 Click to enlarge
Credit: Chicago Sun Times
Reviews:
Concert review: Mariah Carey at Chicago Theatre
Mariah Carey was doing that diva thing Saturday in the first of two shows at the Chicago Theatre: Poured into a gleaming, silver gown; eyes closed; self-absorbed in the moment of singing how her lover had done "The Impossible." All the while, a male dancer a few feet off her left shoulder was bumping, grinding and eventually popping his pectorals like a circus act.
Carey didn't break stride, but then as the song wound down, she cracked up. "Did you enjoy that?" she asked the audience with a laugh, as if to let everyone know she was in on the joke all along.
The singer, who has sold more than 62 million albums in the U.S. in a career that spans two decades, has always had a prodigious voice. But now she's developing a personality to go with it, and that made all the difference in a concert in which the singer both played up her cartoon image and undercut it.
As the concert opened, Carey descended from the rafters on a swing, like a fairytale princess. Throughout the night her collection of gowns and mini-skirts were so tight-fitting, her heels so high, that she could barely move, a Jessica Rabbit with hair cascading down her back and curves on top of curves. Unlike many of her peers, for whom gyrating like an aerobics instructor is all but required, Carey didn't so much move as mince a bit, though at one point she was painstakingly hoisted to shoulder level by two of her dancers – a creaky and slightly ridiculous bit of choreography.
"If you're gonna call me a diva then, damn it, I'm gonna act like a diva," she cracked as two assistants applied make-up midshow.
She sipped from a glass of champagne and fretted about starting yet another product line. "If I did a shoe line, would you guys buy them?" she asked.
It all made Carey seem a bit eccentric and slightly daft, in the same way that Patti Labelle deflates her larger-than-life status by making fun of it even as she exaggerates it.
Of course none of it would work if Carey didn't have the voice to back it up. Her latest album, "Memoirs of an Imperfect Angel," is her best work yet, a warmer and more subtle album that makes her more relatable to those of us who aren't Mariah diehards – or "lambs," as she refers to them. The thaw-out carried over into Saturday's show, and gave new perspective to older songs that once were defined strictly by technique.
For many her defining moment was the 1993 hit "Hero," her encore. It's a template for the next generation of singers featured on "American Idol," a singing style that dictates emotions instead of evoking them. On Saturday, she trotted out a few of those dog-whistle trills that she popularized in the early '90s, turning Minnie Ripperton's soul into a vocal tic. In the late '90s she flirted with hip-hop, a rhythmic flexibility that carried over into her performances of "Honey" and "Heartbreaker."
But it has always been the ballads that kept her swimming in bling, and so it was Saturday. Whether ramping up some gospel-style fervor on "Fly Like a Bird" or dialing it down to a near whisper on "Angels Cry," Carey has slightly less vocal range but is a much better singer now than she was when she was enjoying her biggest sellers.
Part of it may have to do with her career nosedive circa 2001-02. Things got so bad her record company paid her to leave. The bumps and bruises haven't changed her assembly-line pop all that much. But as a personality and a performer, the brief tumble from her pedestal has worked wonders.
Source: Chicago Tribune (All rights reserved)

---

Mariah shows why she remains the people's diva
Mariah Carey doesn't have to be contemporary and she doesn't have to be old school because she's both.

At the Chicago Theatre on Saturday, the first of two sold-out nights, she showed the fruits of a 20-year career: a sampling of crossover pop hits spanning R&B balladry to hip-hop soul. Of course, the former suited her natural inclinations more than the latter — for a singer with such a titanic voice, a speed workout like "Obsessed" (a slick toss-off to Eminem, no less), sounded like calculated slumming.

Instead, her skills came to shine in her older material, which in her possession sounded as ferocious as ever. Yes, her voice occasionally scaled into chipmunk territory — a vocal talent as instinctual as her knowing when to turn it on. But what stood out in isolated moments of Saturday's show was her ability to produce vocal riffs that overtook songs ("Fly Like a Bird," "Emotions") and pushed them higher into mighty pronouncements of pain, desire and inarticulate bliss.

These were moments that continue to give Carey such staying power, despite the dingbat award show acceptance speeches, public breakdowns and horrible movie choices of her past. Unlike the spectrum of ladies in her wake, from Barbra to Beyonce, Carey remains the people's diva. (There is a reason she is the best-selling artist of the last 20 years, behind only Garth Brooks and the Beatles.) On Saturday, she let us know she is one of us — insisting she was sipping water in a champagne flute less anyone think differently — but when launching into song, her voice said otherwise.

Her show featured a four-person band, three backup singers and nine dancers, all of whom provided enough action that Carey did what most singers these days do not: stand still. While lip-synching and intensive dance choreography have made singing a second banana for most contemporary singers, Carey didn't feel the need to prove she could dance. As if to prove her point, on "Angels Cry," the visual was handed to two gymnasts who performed aerial choreography — yet even they became distractions to her vocal calisthenics.

Instead Carey's show kept pace by mixing up ballads and pop hits, with several costume changes and comedic zingers thrown in for good measure. She relaxed on a chaise lounge where she received hair primping and makeup touch-ups; she also played market researcher by interviewing the audience about whether or not she should endorse her own line of shoes.

Those were the human moments of a 90-minute show that occasionally got worn down by too many costume changes masquerading as musical interludes and shapeless ballads ("The Impossible") that proved even the best singers can't better inferior material.

By her encore, Carey delivered "Hero," her signature anthem. Although she started the show in the rafters, lowered to the floor on a swing while donning a princess gown, by evening's end she slipped into a black cocktail dress and interacted with the audience like she was hosting a party in her living room. Versatile? Like a fox.

Source: Chicago Sun Times (All rights reserved)

2/14/10 concert

Setlist:
1. Butterfly Intro - Daydream Interlude
2. Shake It Off
3. Touch My Body
4. Fly Like a Bird
5. Make It Happen (Mariah didn't sing it in full)
6. Angels Cry
7. Always Be My Baby
8. It's Like That
9. The Impossible
10. Love Hangover - Heartbreaker
11. Honey
12. My All
13. Obsessed
14. We Belong Together
To everyone's surprise, Mariah was rushed out without goodbye or encore.....

Pictures: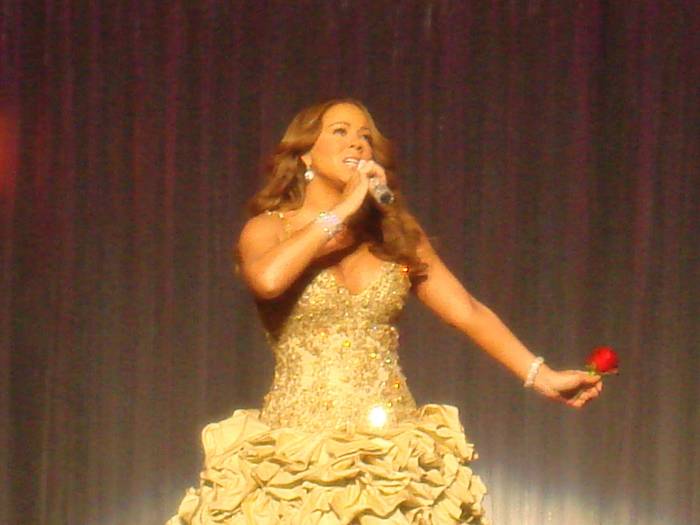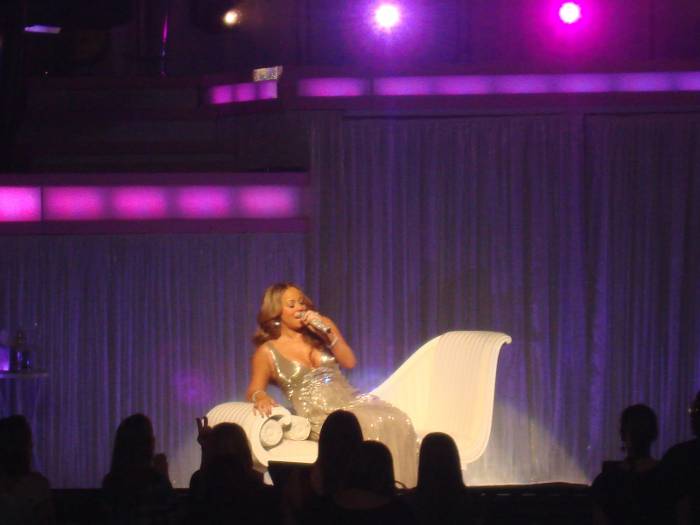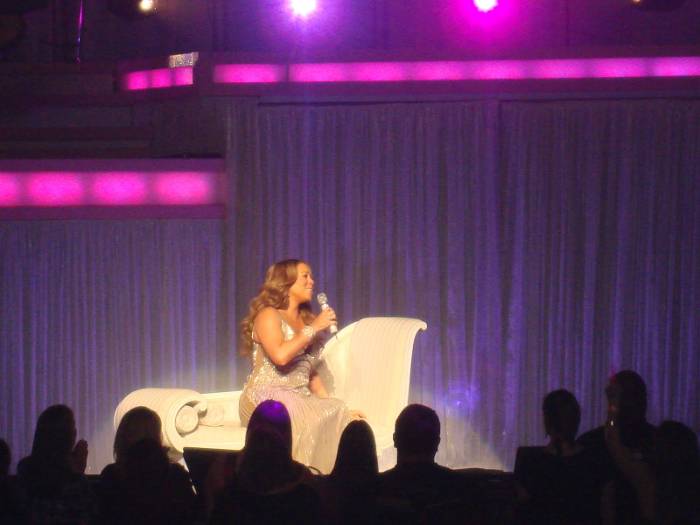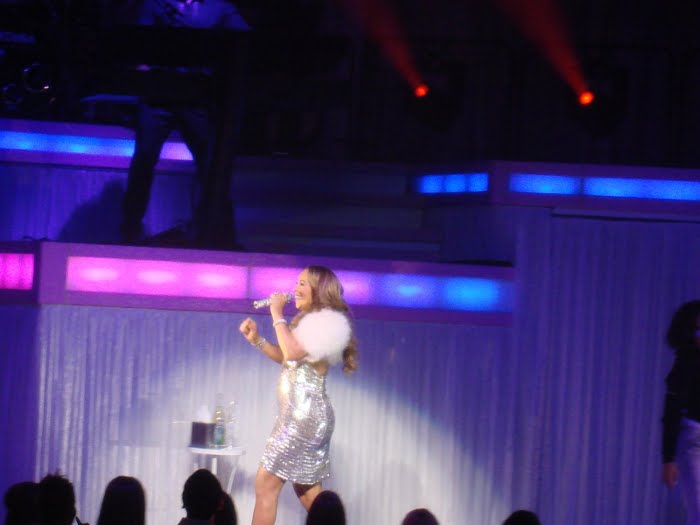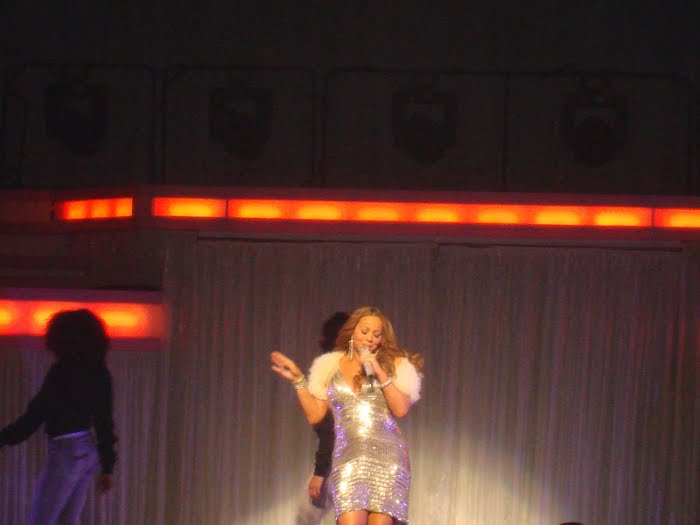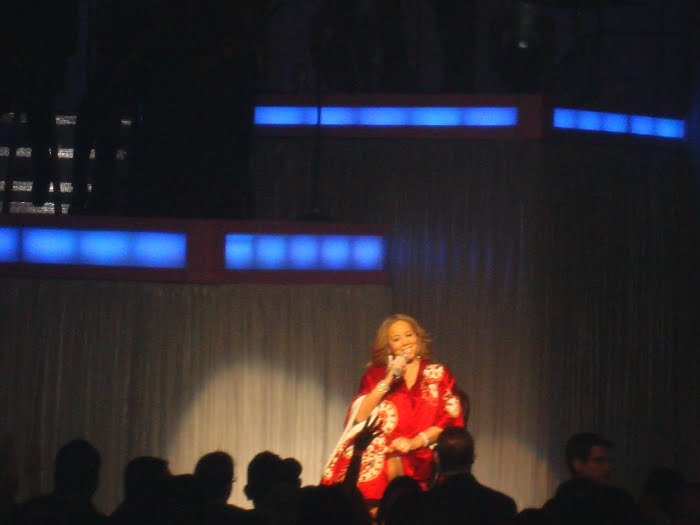 Click to enlarge
Crdit for the pictures: Magda - NeveStyle
Review:


Copyrights and all rights are reserved to the owner of the rights.
Site owner: Gilles Ollevier
Heroes of Mariah 2000
E-mail: staff@heroesofmariah.com
Index