The Angels Advocate Tour 2010 - Houston, USA - Heroes of Mariah
2/17/10 Verizon Wireless Theatre
Seating capacity TBA
Click here to access the venue site.
Price range: TBA
2/17/10 concert
Setlist:
01. Butterfly Intro/Daydream Interlude
02. Shake It Off
03. Touch My Body
04. Fly Like a Bird
05. Make It Happen
06. Angels Cry
07. Always Be My Baby
08. It's Like That
09. The Impossible
10. Love Hangover/Heartbreaker
11. Honey
12. It's A Wrap
13. My All
14. Obsessed
15. We Belong Together
16. Hero
(thanks to MariahDaily)
Pictures: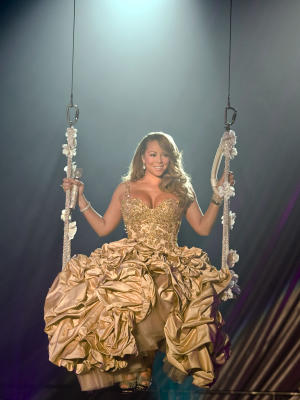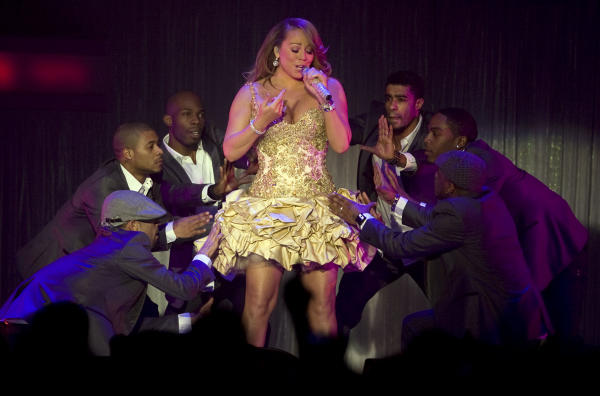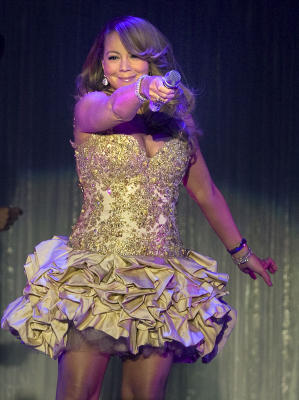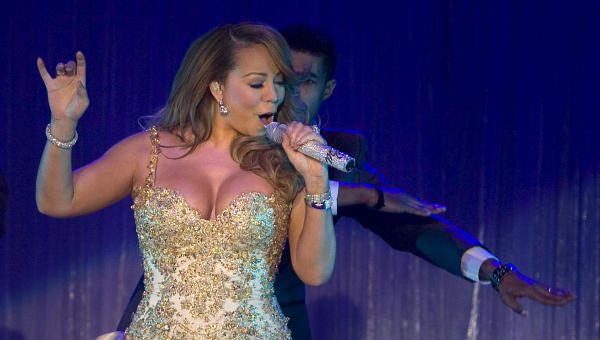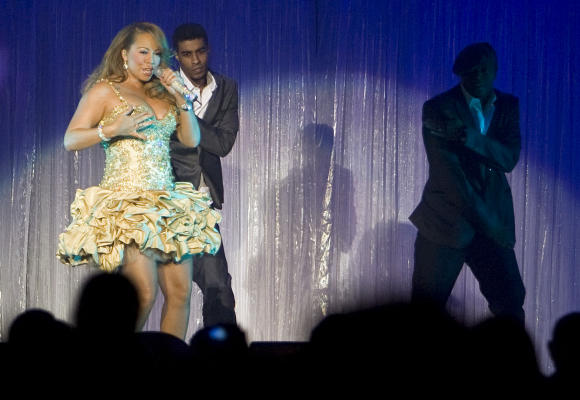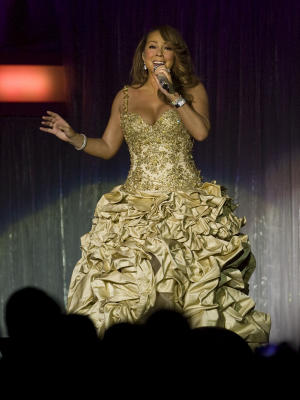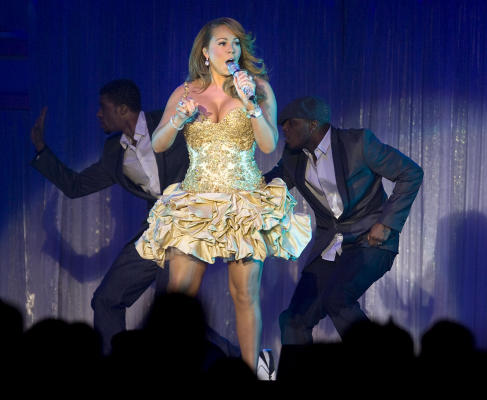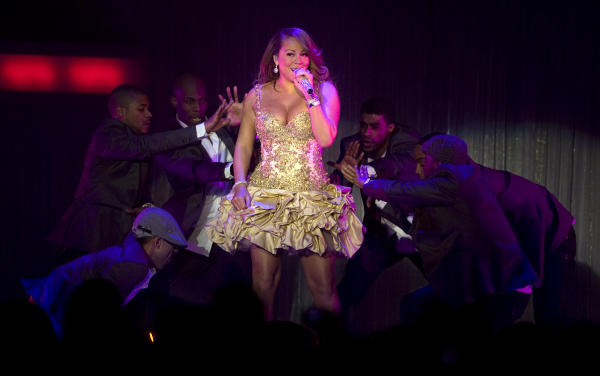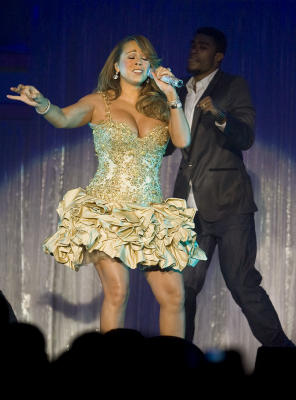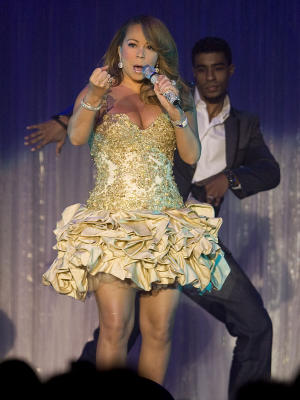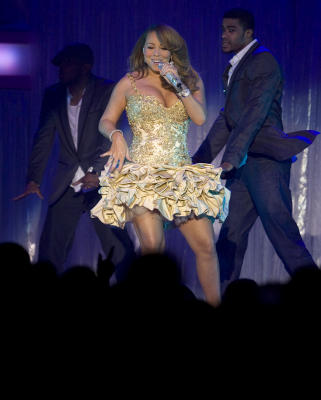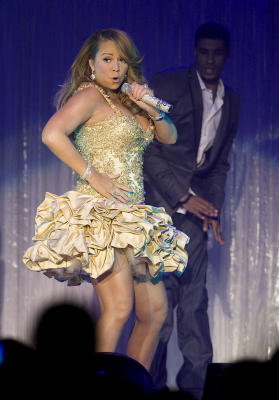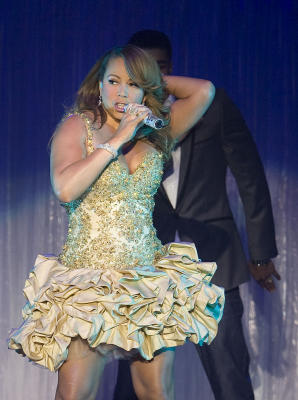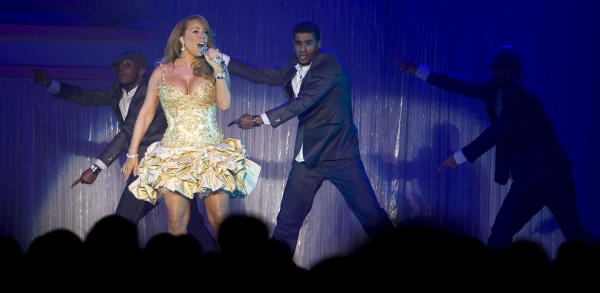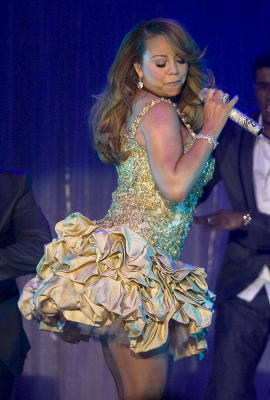 Click to enlarge
Credit for the pictures: James Nielsen
Reviews:
Mariah Carey gives Houston the diva treatment
Mariah Carey sang, of course, during her Wednesday night show at the Verizon Wireless Theater. It's one of the reasons we love her. Her voice veered from sexy coos to those trademark high notes.
At times, Carey also sang -- as in, "Sang it, girlfriend!" -- most impressively during the gospel-swoop of Fly Like A Bird, the kicky kiss-off It's a Wrap and We Belong Together, the mammoth song destined to soundtrack proms, weddings, graduations and probably a few funerals.
But what makes Carey more than just another multi-octave superstar is her knack for playing the diva. It's silly and ridiculous and probably smells like sugar-cookie perfume. It also wouldn't work if she wasn't in on the joke.
Carey may be demanding, but she makes fun of herself at the same time.
"I know it's a little bit over the top." she said of her first of at least half a dozen sparkly outfits. Carey descended from a swing wearing a gold dress that was equal parts sweet 16 and dream wedding, quickly removing the train to reveal a shorter skirt (of course).
Later, she had a "cleavage meets champagne situation." while taking a sip and paused for a hair and makeup redo -- onstage. The crowd ate it up. Screams of "I love you, Mariah!" were frequent.
Carey was flanked by a multitude of impossibly chiseled dancers throughout her 90-minute set, but she rarely engaged in any moves. Rather, she fluttered across the elaborate, pink-hued stage, which recalled something from the Lawrence Welk era. There was an episode in a kimono, which found her re-positioning a wind machine; and she walked back and forth as dancers swung above her head (like a more modest, dryer version of Pink's Grammy performance).
She dedicated new single Angels Cry "to those who are still suffering in Haiti" and told fans they could find the new version, a duet with Ne-Yo, on her upcoming Angels Advocate remix disc.
"I'm not sure when it comes out," Carey quipped. ( It's due March 30.) "Call the label. I sleep too late."
Some of the best moments were those with groove. Honey is still playful and smooth; Always Be My Baby had the entire crowd singing along; and It's Like That was a punchy party started.
Feel-good ballad Hero came along and closed the set, sending hands in the air and BFFs into swaying hugs. Well played, Carey.
But wait. What about Someday? New single Up Out My Face? Butterfly? Fantasy? I'll Be There as a sweet MJ tribute?
Vision of Love?!
Next time, Carey. We'll bring the champagne.
Source: Houston Chronicle (All rights reserved)


Copyrights and all rights are reserved to the owner of the rights.
Site owner: Gilles Ollevier
Heroes of Mariah 2000
E-mail: staff@heroesofmariah.com
Index