The Angels Advocate Tour 2010 - Los Angeles, USA - Heroes of Mariah
2/23/10 and 2/24/10 Gibson Theatre Seating capacity TBA
Click here to access the venue site.
Price range: TBA
2/23/10 concert
Setlist:
01. Butterfly Intro/Daydream Interlude
02. Shake It Off
03. Touch My Body
04. Don't Forget About Us
05. Fly Like A Bird
06. Make It Happen
07. Angels Cry
08. Always Be My Baby
09. It's Like That
10. The Impossible
11. Love Hangover/Heartbreaker
12. Honey
13. It's A Wrap
14. My All
15. Obsessed
16. Up Out My Face
17. We Belong Together
18. Hero
(thanks to MariahDaily)
Pictures: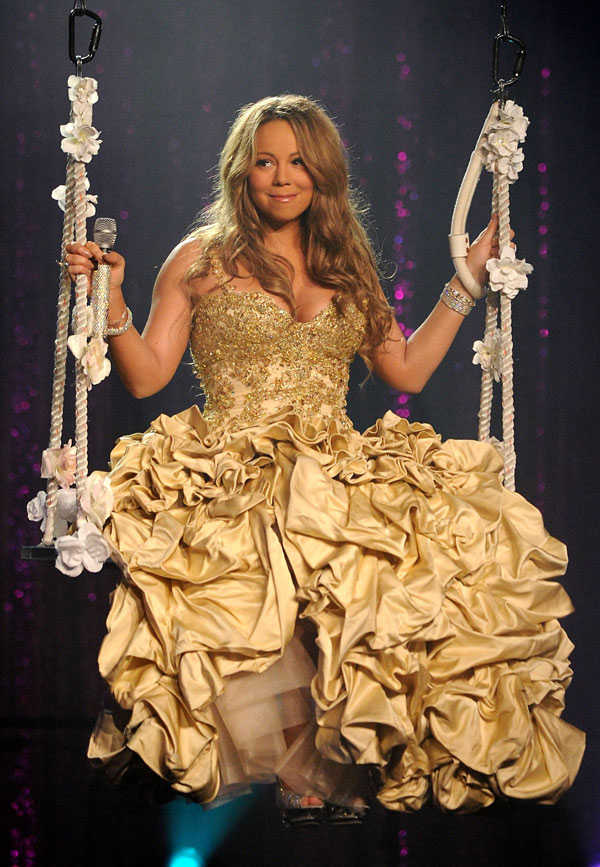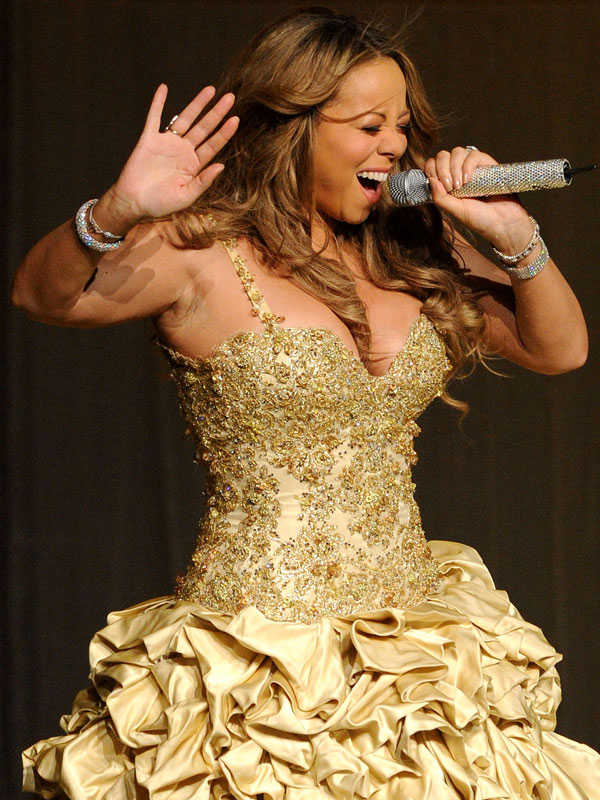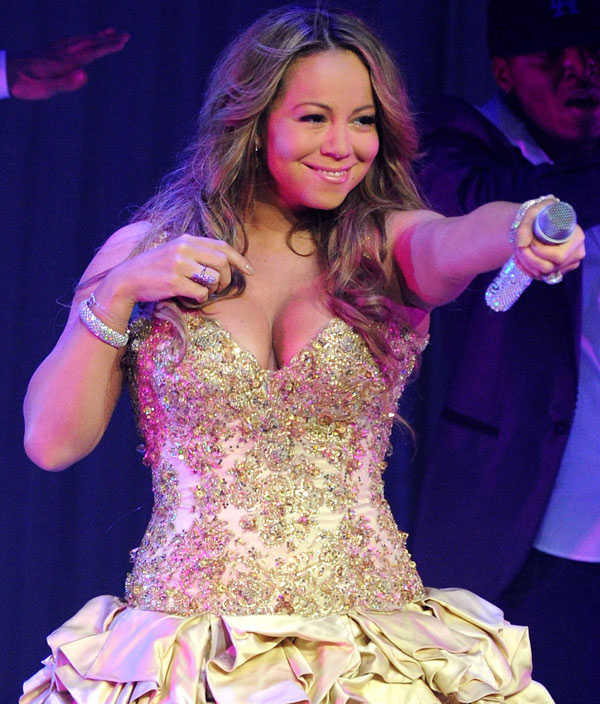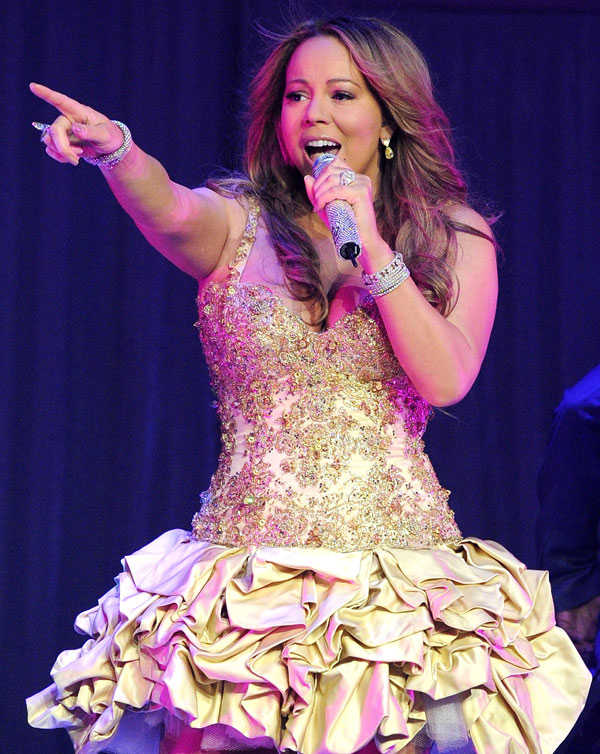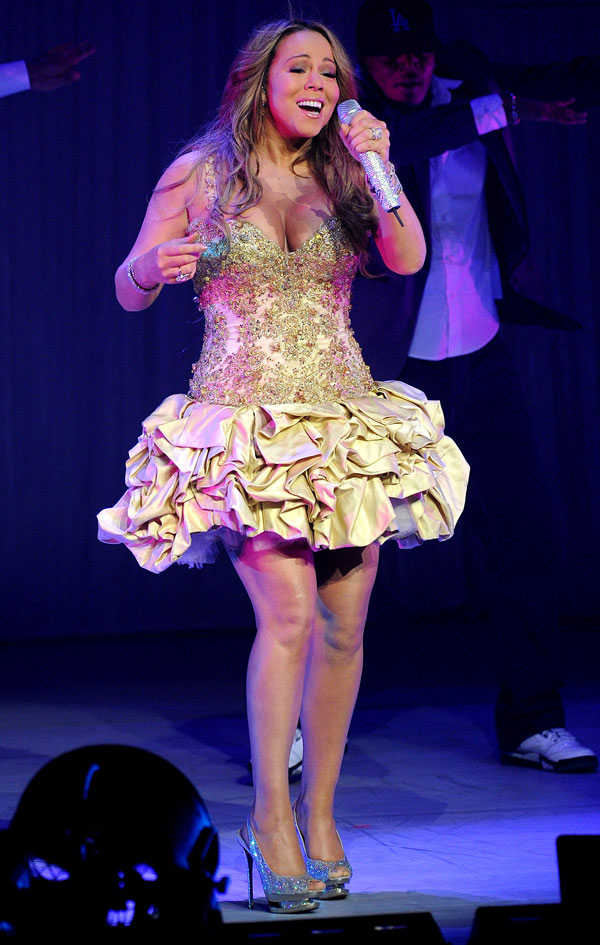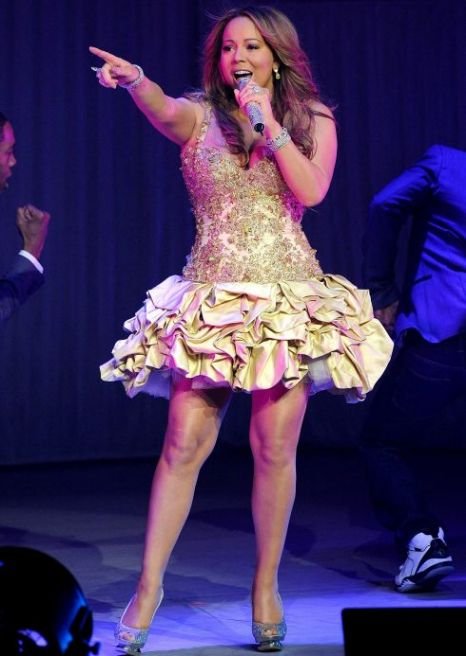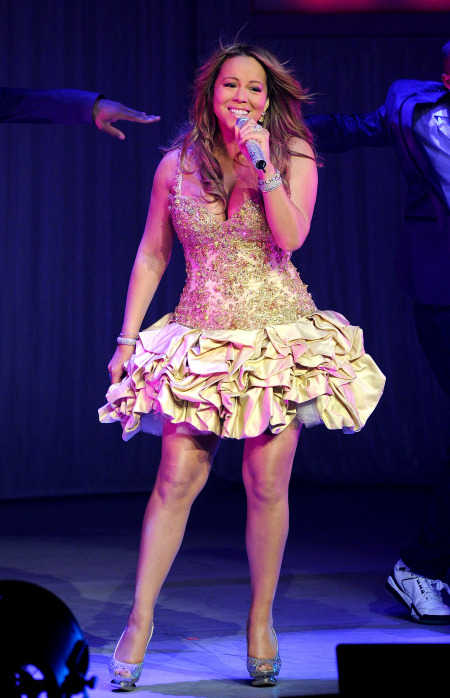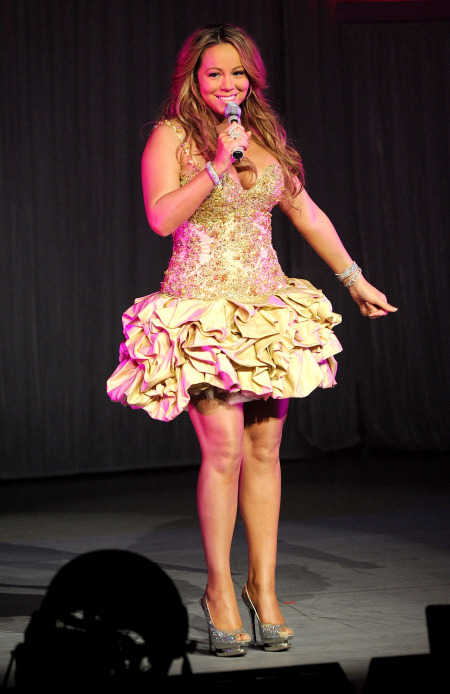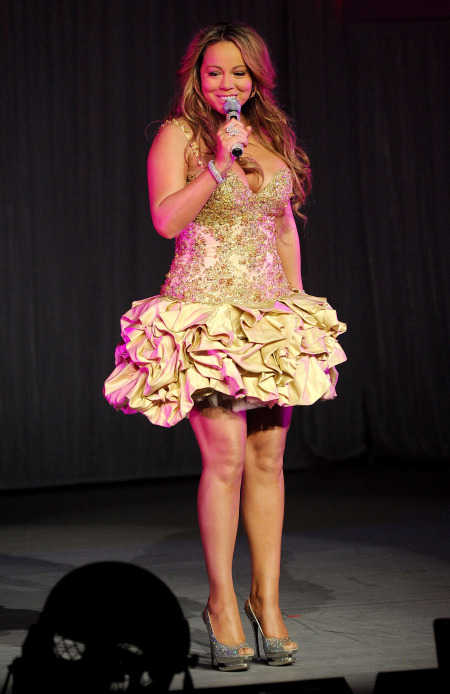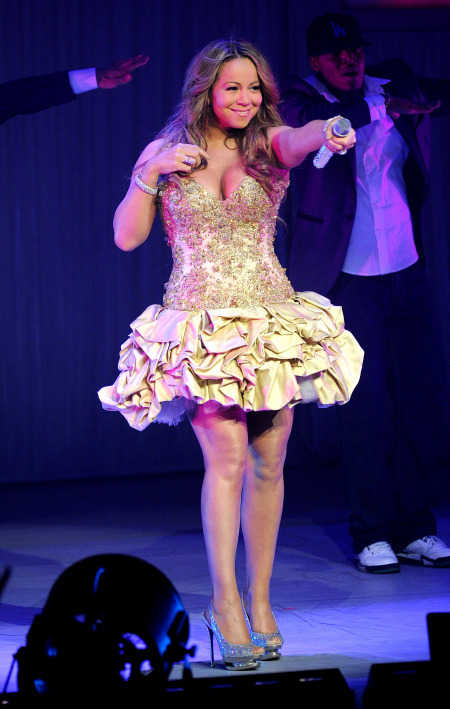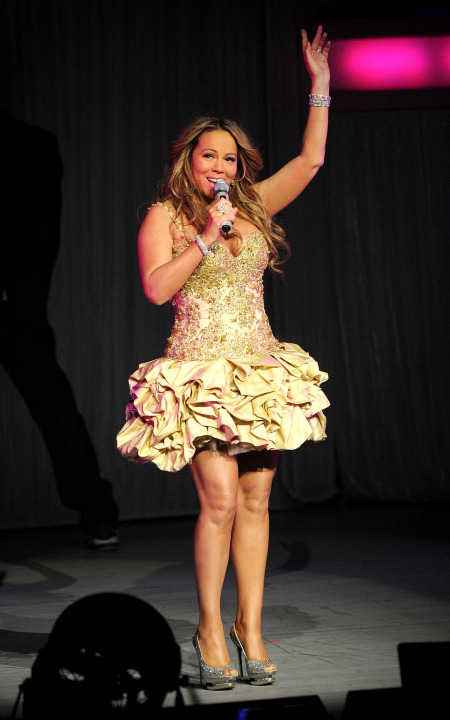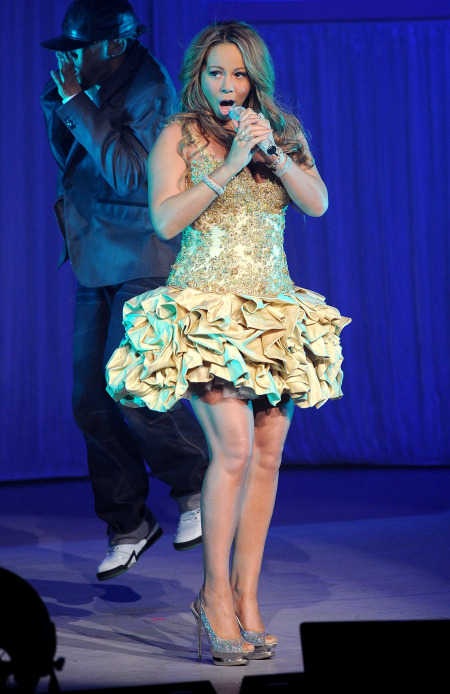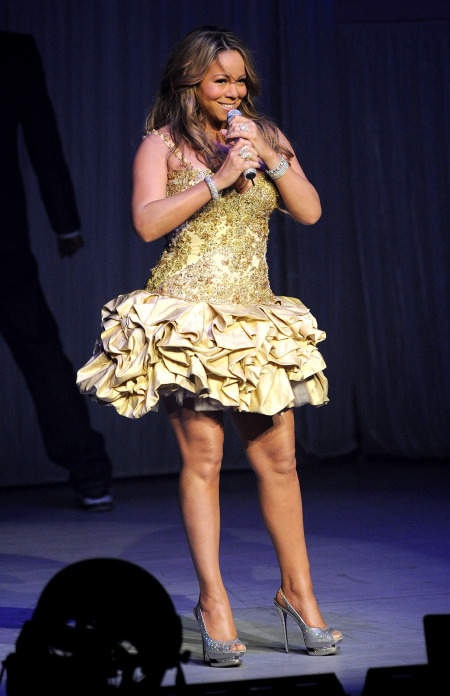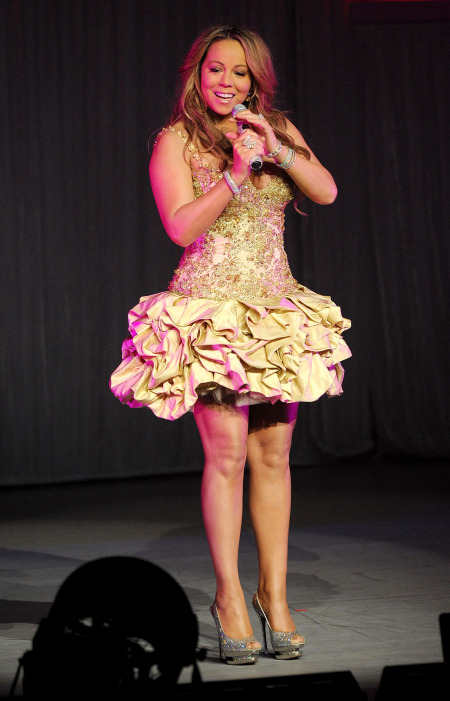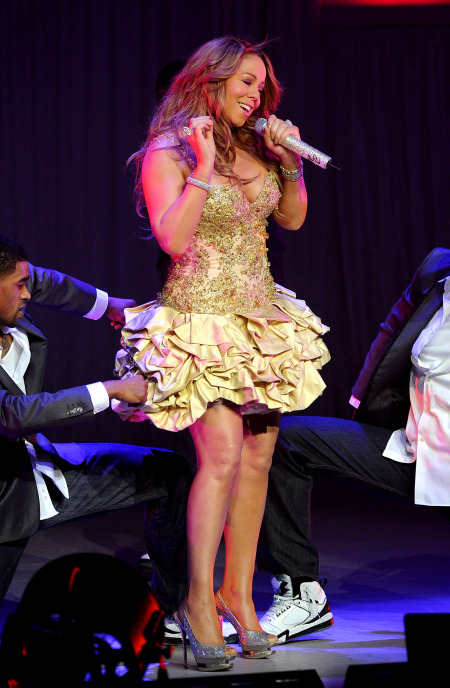 Click to enlarge
Reviews:
Live review: Mariah Carey at Gibson Amphitheatre
Halfway through her highly entertaining show Tuesday night at Gibson Amphitheatre, Mariah Carey stood onstage in a sparkly gold cocktail dress and waxed nostalgic for a (more) gilded age.
"Remember the video with the jet skis?" she asked wistfully, referring to the James Bond-inspired clip for her 1997 hit "Honey," which the singer's seven-piece band had begun playing. "They don't make those anymore."
Nor do they make pop divas like Carey anymore. In an era of high-tech performance-art opacity (think Beyoncé or Lady Gaga), her transparent blend of vocal talent and goofy charisma seems appealingly old-fashioned. Tuesday's concert, the first of two at the Gibson in support of last year's "Memoirs of an Imperfect Angel," felt at times like an attempt to break down the kind of mystique that's grown up around Carey's successors.
Which didn't mean it lacked for production pizazz: Elaborately costumed in a cloud of honey-colored taffeta, the singer made her entrance upon an enormous swing that lowered from above the stage; later, during "Angels Cry," a pair of dancers performed a Cirque du Soleil-style aerial number while suspended from a flimsy band of cloth.
Yet rather than presenting these elements as immovable facts of nature, Carey took every opportunity to expose the business behind the show. Before an effervescent version of "Always Be My Baby," she invited her hair-and-makeup team onstage for a mid-set touch-up, then decided she could do the job just as well herself. "I went to beauty school," she said, powdering her nose. "Five hundred hours in 11th grade."

For "My All," Carey sat in a chair, explaining that her shoes were too tight; within seconds, though, she'd discovered that the chair had been placed out of range of the several industrial fans on hair-blowing duty. So while she waited for a stagehand to fix the problem, the singer took a sip of what she promised was water from a nearby champagne glass. "If you see me drinking from the bottle," she confided, "you know we've got a problem."
What made all these disclosures so endearing, of course, was Carey's singing, which 20 years after her emergence with the melisma-soaked "Vision of Love" has lost little of its uncommon power.
At the Gibson, she sounded as convincing in such up-tempo material as "Touch My Body" and "Obsessed" -- the latter a highlight from the somewhat underwhelming "Memoirs" -- as she did in sturdy slow jams such as the gospel-inflected "Fly Like a Bird," which she dedicated to her late pastor.
Carey closed the concert with a skyscraping rendition of her signature 1993 ballad, "Hero," though not before introducing the song with one more dash of early-days nostalgia.
"I wrote this song a long time ago," she explained, adding that people keep asking her to sing it "because it's helped them through difficult times and stuff."
Carey's biggest hits may be behind her, but her marriage of the plain-talking and the profound remains one of pop's prime pleasures.
Source: Los Angeles Times Blog
---

Mariah Carey Wows Crowd, Pokes Fun At Herself At L.A. Show
Early into her set, Mariah Carey smiled widely as she surveyed the packed Gibson Amphitheatre on night one of a two-night stand. "You sound very, very festive," she told the audience. She picked up a glass from a table full of beverages. "This is water — don't get it twisted, please. Now that's not to say there aren't other things on the table. This is L.A. And I have been known to have a sip or two in L.A."

It was one of several moments of feisty self-effacing humor from the chatty singer. Throughout the night, her between-song banter felt light, honest and steadfastly lucid, in stark contrast to recent well-publicized bouts of public babbling. Her intimate connection with her fans was palpable from start to finish.

The evening began at 9 p.m., right on schedule. "I'm usually much more late and people criticize me for that," she pointed out later in the show. "But tonight, in Los Angeles, was I on time?" The crowd roared in the affirmative. A rousing rendition of "Shake It Off" set the tone for what felt like a celebratory evening.

The band and backup singers stood toward the back of the stage on high platforms, resembling a 1950s dance-show set, which kept the focus on Carey. The crowd sang the "I will hunt you down" refrains back to her, loudly, during "Touch My Body" and kept the participation going throughout the night. Backup dancers disappeared and returned in varying configurations throughout the show.

"I had forgotten about this song the whole tour and I don't know why. Funny I should forget it, considering the title," she laughed as she introduced "Don't Forget About Us." She stayed dressed in a form-fitting short dress with a flared, tutu-like bottom for the first portion of the night, occasionally using a white mic stand. There were a couple of wardrobe changes into other form-fitting attire.

Mariah took a gulp of champagne (and later shilled for her own upcoming brand) while lying seductively on a chaise that seemed to have been brought out expressly for that purpose before singing "Always Be My Baby." It was the most symbolic moment of the evening, somehow embodying the many facets of her appeal in a single action: beauty, sexiness, luxury, playfulness and talent.

At one point she complained about a chair being placed too far from the fans — the electric fans. "Don't you know that my hair naturally blows just like in all of the videos? That's real," she joked.

She asked for hair and makeup people to come onstage and touch her up, saying, "I know it's a diva moment, but I don't care." But the vibe of all of the antics was coy and knowing, like a joke within a joke that all of the crowd is in on. "I went to beauty school, so I can do this, too. Five hundred hours! The teacher hated me."

A few tasteful and well-timed moments of seriousness notwithstanding — "Fly Like a Bird" was dedicated to her late bishop, "Angels Cry" to the people of Haiti — the evening rolled out with a relaxed vibe and the hits kept flowing, including "Make It Happen," "It's Like That" and "Up Out My Face." A male backup singer took over for a cover of Michael Jackson's "Rock With You"? "The 'Heartbreaker' remix was my favorite part of the night," a 20-year-old fan named Manny told MTV News.

"I wrote it for my husband, who is not here tonight because he had business," Carey said before "The Impossible," the night's only reference to Nick Cannon. "Whatever. Maybe he'll surprise me one night." Mary J. Blige was also absent for the text-message-drama song "It's a Wrap," which didn't stop Carey from belting out the entire number herself. "Give it up for the jet skis in the video!" she shouted during "Honey."

Carey thanked Jermaine Dupri for co-writing "We Belong Together," which she said he told her was Billboard's Song of the Decade. It also holds a high honor in the heart of at least one concertgoer, Tiffany, 21. "It's my favorite song from Mariah. It's my favorite song, period," she told MTV News.

Carey returned for an encore, "Hero," before unleashing the crowd into the night to fend off bootleg T-shirt vendors as they wandered Universal City Walk.

A remixed version of Memoirs of an Imperfect Angel, called Angels Advocate, was due in stores this month but pushed back to March. Carey mentioned during the show that it might be pushed back again.
Source: MTV (All rights reserved)

2/24/10 concert

Setlist:

Fan review:



Copyrights and all rights are reserved to the owner of the rights.
Site owner: Gilles Ollevier
Heroes of Mariah 2000
E-mail: staff@heroesofmariah.com
Index