The Angels Advocate Tour 2010 - Mashantucket, USA - Heroes of Mariah
1/15/10 and 1/16/10 Grand Theater Seating capacity TBA
Click here to access the venue site.
Price range: TBA
1/15/10 concert
Setlist:
1. Butterfly Intro - Daydream Interlude
2. Shake It Off
3. Touch My Body
4. Fly Like a Bird
5. Make It Happen
6. Angels Cry
7. Subtle Invitation
8. It's Like That
9. The Impossible
10. Love Hangover - Heartbreaker
11. Honey
12. It's A Wrap
13. My All
14. Emotions
15. Obsessed
16. We Belong Together
17. Hero
Fan pictures: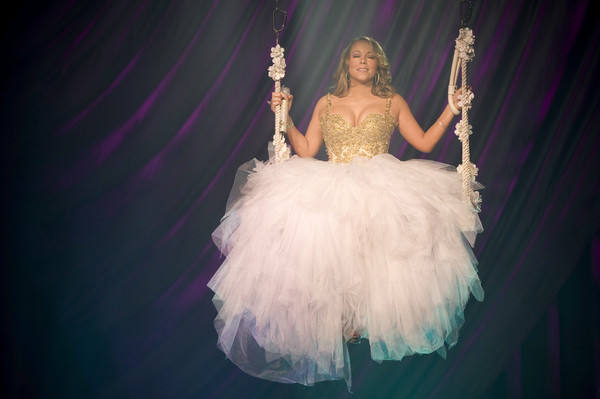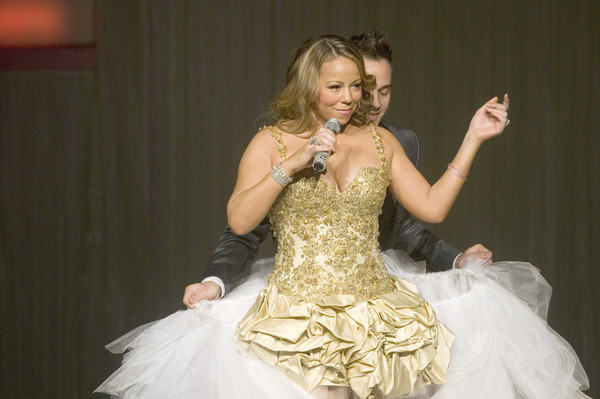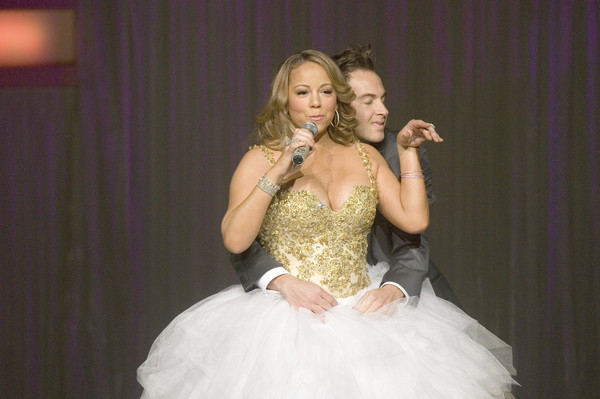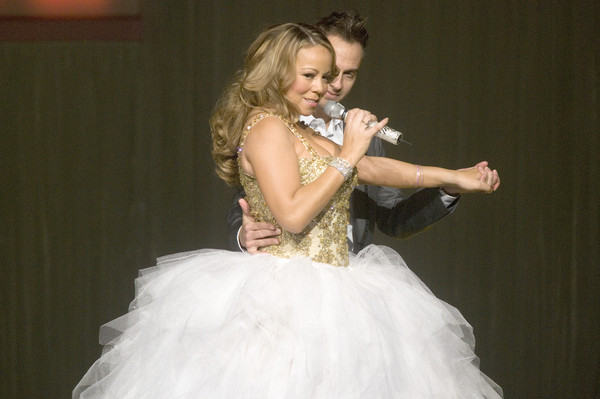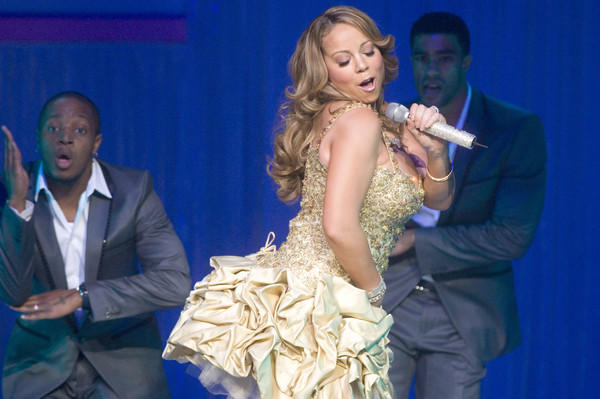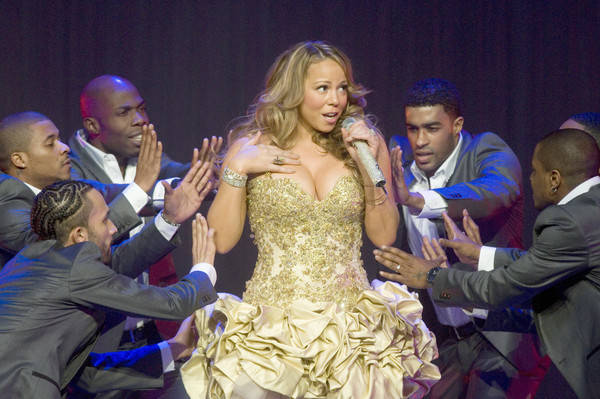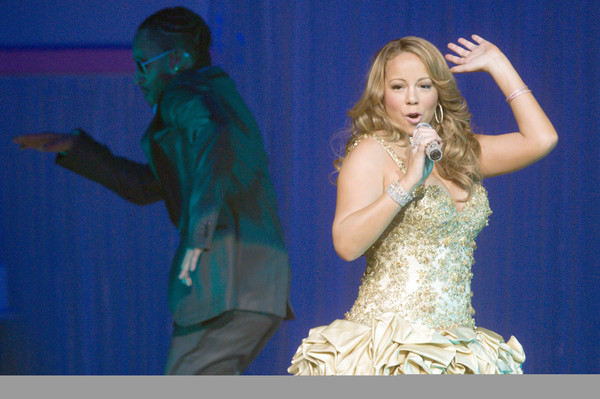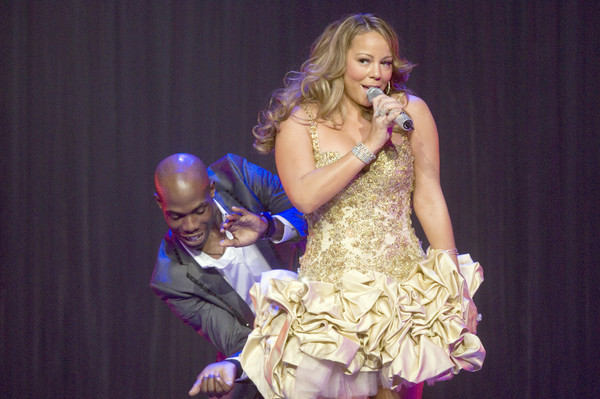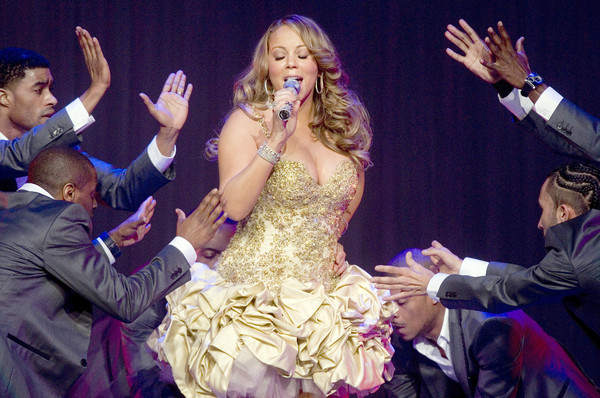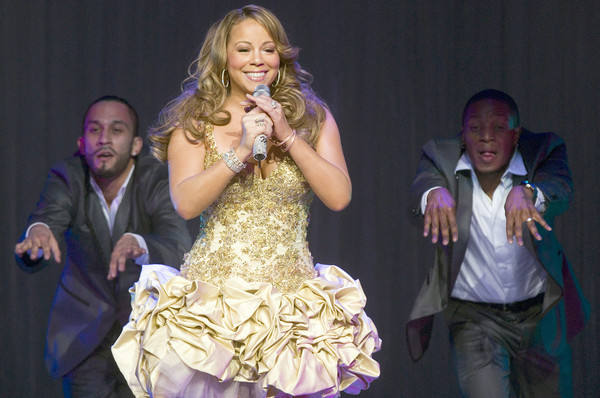 Click to enlarge
Review:
Mariah Carey Arrives Late, Sings Strong at MGM Grand at Foxwoods
Going to see Mariah Carey in concert these days is a little like catching a wild amusement park ride.
There's a lot of fun and a lot of thrills but also some not-so-subliminal fear in thinking that the ride might go right off its tracks at any moment.
The statuesque songstress with the five-octave range brought all those elements to her show before a full-house at the MGM Grand Theater at Foxwoods on Friday. It was just a little more than a week since Carey grabbed all the wrong kind of headlines for her wacky acceptance speech at the Palm Springs Film Festival, which she later blamed on "splashes of champagne."
The video of the slurred speech instantly became a YouTube classic, so when the Long Island native finally took the MGM stage an hour and 35 minutes after the 8 p.m. show time on the ticket Friday, there was plenty of concern going 'round right from the start.
The anxious and frustrated crowd had been booing just a few minutes earlier and it didn't help when an off-stage announcer said that Carey was running late due to the seemingly obligatory "accident on 95," that seems to get brought up whenever a performer arrives late for a show in the area.
Nevertheless, Carey did stage a pretty impressive if occasionally erratic 90-minute performance that was musically tight and well choreographed – even if the pacing was slightly marred by the soon-to-be-40-year-old singer's own unpredictable nature.
She definitely has a crazy side to her. One of the first things she said to the crowd was "Who's thirsty and drinking champagne?" making obvious light of her earlier incident. She said she was going to stick to water all night, but by her seventh song, which she sang while lounging like a diva on a plush couch, she did indulge in a bit of champagne saying "See this is what happens. They force it down my throat."
Carey is in the very early stages of her "Angels Advocate" tour, her first extended road show in more than three years. She was ably backed by a four-piece band, three singers and numerous exceptional dancers, who often grabbed the attention when the singer slipped off stage for a half-dozen costume changes. Her dresses were all skin tight, typically sparkling and all designed to flaunt her abundant cleavage.
After a brief introduction, the concert kicked off with the thumping dance track "Shake it Off," the erotic "Touch My Body," and one of her first vocal showcases of the evening, "Fly Like a Bird," which peaked with some of her trademark sky-high upper octave notes at the end.
Mid-set standouts included her early smash "Make it Happen," before "Angels Cry," the latter which featured two dancers spinning high above the singer's head.
In a set-up routine, she had a crew member come out and fix her hair, as Carey drew laughs when she said "I am a diva. A diva's a good thing."
She didn't totally stick to the script though. She seemed to be having problems with her in-ear monitors and was not pleased with some of the directives she was apparently receiving through them, including the set list. As the night progressed so did the pauses between songs and she blew the lyrics and had to re-start one of her biggest hits, "We Belong Together," right after saying that Billboard magazine had crowned it the most popular song of the decade.
Still with tracks such as "The Impossible" (husband Nick Cannon briefly came on-stage and gave her a long kiss after that one); a tasty mash-up of her own "HeartBreaker" with Diana Ross' "Love Hangover;" Carey's mega-hit "Emotions;" a fierce rendition of the Eminem-dissing "Obsessed;" and the encore of her classic "Hero," it was undoubtedly a crowd-pleasing night.
Hours earlier, the vocal trio RydazNRtist opened the night with a brief 15-minute set that was well received by the audience.
Source: MassLive

---
Mariah Carey has been in the news lately due to erratic behavior at a pair of recent award shows, most notably a woozy acceptance speech when she was honored at the Palm Springs Film Festival January 5 for her acting turn in the film "Precious." She didn't make it easy to forget those images during her trip to the stage Friday night for the first of two nights at the Foxwoods Resort Casino's MGM Grand Theater, where she sounded comfortable easing through her songs and a touch loopy in between them.
Sporting an enormously puffy dress, Carey descended from the rafters on a rope swing to flutter through "Butterfly," a seven-piece band adding cool dressing to its mellow flow. Carey's singing was mostly casual, building to snappy little bursts amid the puffy dance sway of "Shake it Off."
Her voice is a remarkable instrument at its high end, but her songs were frequently undeserving of the unleashing she gave it. Her simmering trip through the mechanical R&B of "Touch My Body" was neither seductive nor enticing, and the only moments that mattered in the expansive "Fly Like a Bird" were the displays of power and sky-scraping pitch with which she dappled its latter portions.
Her singing could nonetheless apply pyrotechnic enticement to an energetic reading of a stop sign, so Carey dolled up the shimmying dance wave of "It's Like That," snapping gamely at its otherwise unremarkable lyrics. With a troupe of as many as ten dancers circling her, she soared and sailed through a meshing of "Sweetest Hangover" and "Heartbreaker," clad in furry sleeves and one of the multiple abbreviated dresses she sported as the evening wore on.
When she wasn't singing, Carey meandered between songs, complaining about the lack of fans onstage to blow hair off of her face, laughing at her own circuitous asides even when there wasn't a punch line, and coming off more flaky than fun. For people who love to watch a superstar fiddle incessantly with her hair (and call stylists onstage when she's tired of doing it herself), it was a treat.
Despite her once-in-a-generation vocal tools, Carey left several numbers shapeless, among them an average take on "Angels Cry" and a reading of "The Impossible (Love Ya Like)" that, despite its swatches of rhythm, was more drowsy than hypnotic. Those moments made it all the more jarring ? in a good sense ? when she leapt into "Emotions," which stood out for its lively gait as Carey dressed it with a mix of sharp vocal jabs and almost spoken word delivery in some passages.
Carey was almost on the way out when a door hit her in the backside, courtesy of her dancers emerging from one of the set's enormous risers to join her for the percolating, static " Obsessed." That moment somehow caught up to her on the next song, as she stopped "We Belong Together" midway through its first verse and demanded her band begin again. She peppered its flow comfortably to finish her set, and then returned for a laid-back massaging of "Hero" that brought the 90-minute show to an easygoing close.
Source: Courant
1/16/10 concert
Setlist:
01. Butterfly Intro/Daydream Interlude
02. Shake It Off
03. Touch My Body
04. Fly Like a Bird
05. Make It Happen
06. Angels Cry
07. Subtle Invitation
08. It's Like That
09. The Impossible
10. Love Hangover/Heartbreaker
11. Honey
12. It's A Wrap
13. My All
14. Emotions
15. Up Out My Face
16. Obsessed
17. We Belong Together
18. Hero
Fan review:
- The second concert was unfortunately not sold out, many empty seats left in the back.
- The audience was more active and excited than yesterday, more people were standing to dance (at least in my area)
- Mariah added "Up Out My Face" to the setlist
- The cake mentionned on Heroes of Mariah was probably for choreographer Debbie Allen as it was her birthday.
- Mariah dedicated "Angels Cry" to the people in Haiti and I saw several people crying.
Source: Melissa

Copyrights and all rights are reserved to the owner of the rights.
Site owner: Gilles Ollevier
Heroes of Mariah 2000
E-mail: staff@heroesofmariah.com
Index