The Angels Advocate Tour 2010 - Phoenix, USA - Heroes of Mariah
2/20/10 Dodge Theatre
Seating capacity TBA
Click here to access the venue site.
Price range: TBA
2/20/10 concert
Setlist:
"Butterfly/Daydream"
"Shake It Off "
Touch My Body"
"Don't Forget About Us"
"Fly Like A Bird"
"Make It Happen"
"Angels Cry"
"Always Be My Baby"
"It's Like That"
"The Impossible"
"Love Hangover/Heartbreaker" "Honey"
"My All"
"Obsessed"
"We Belong Together"
Encore:
"Hero"
(Thanks to AZ Central)
Pictures: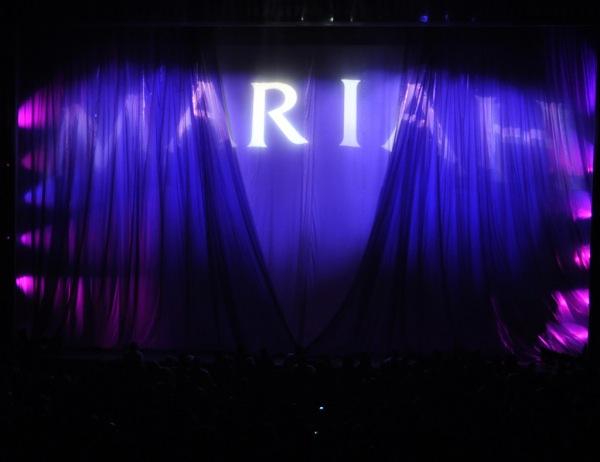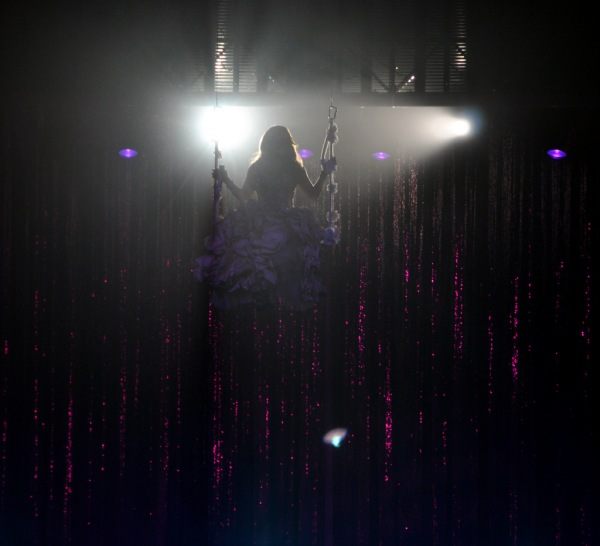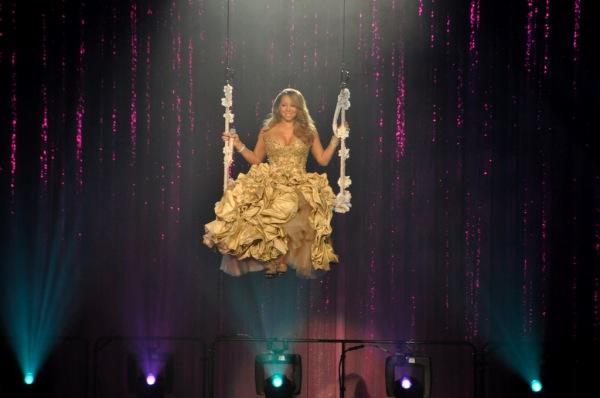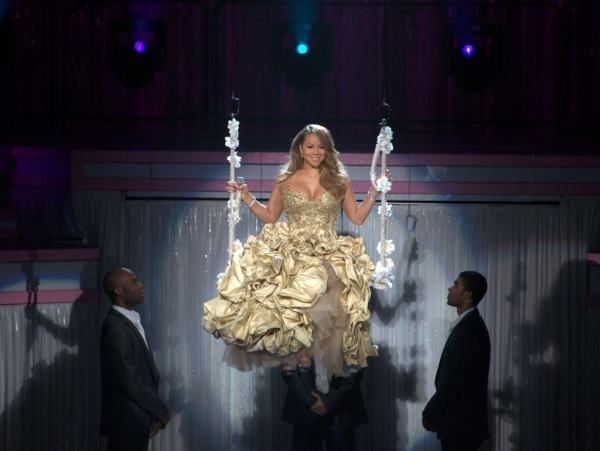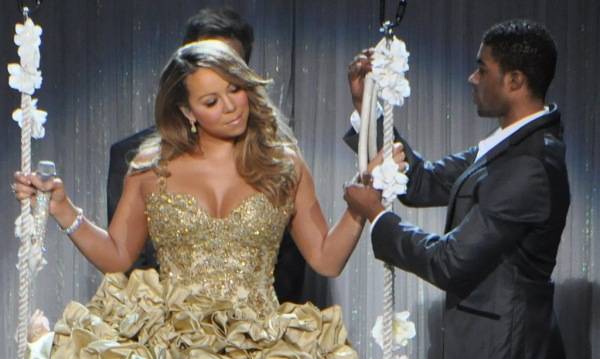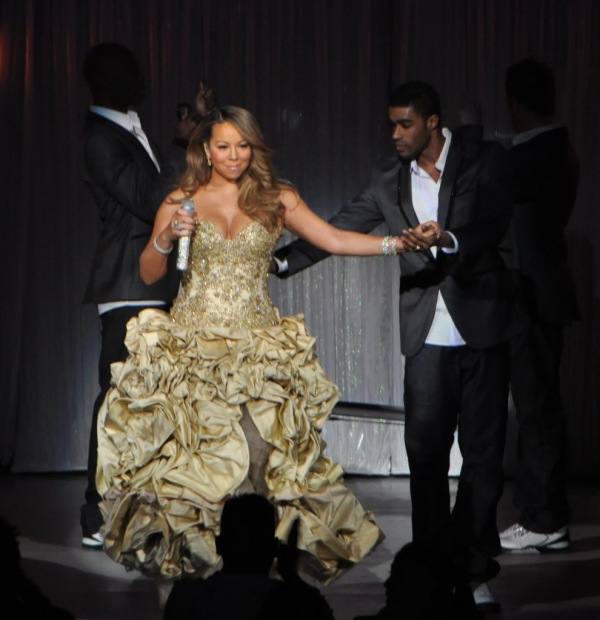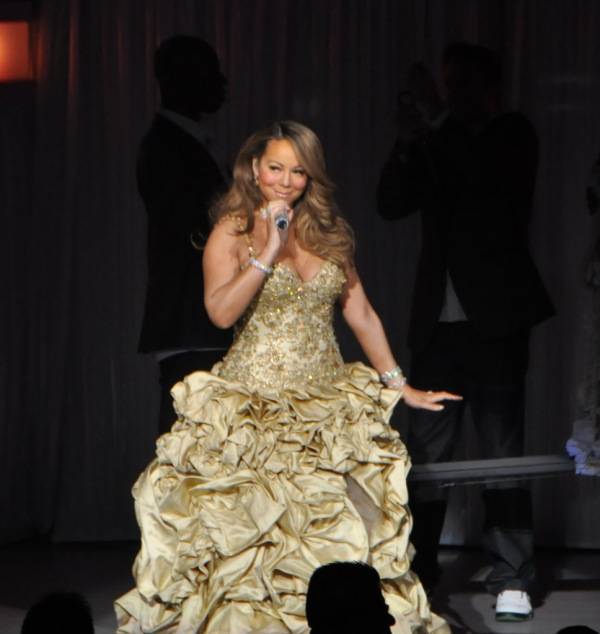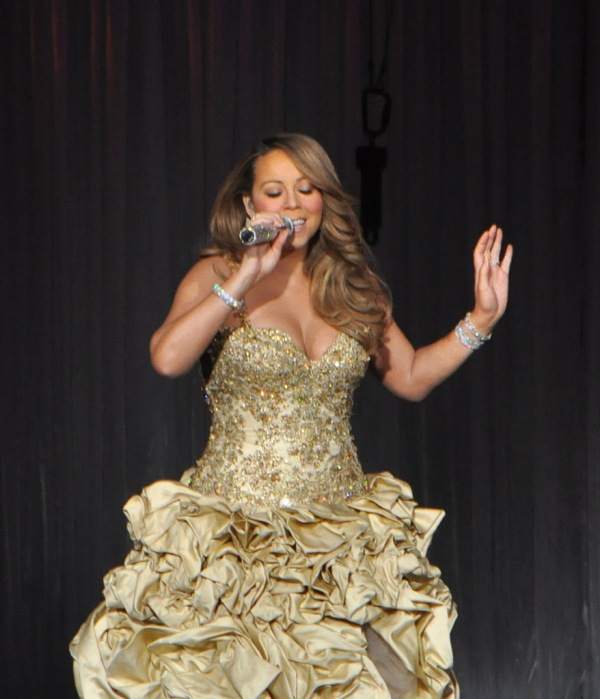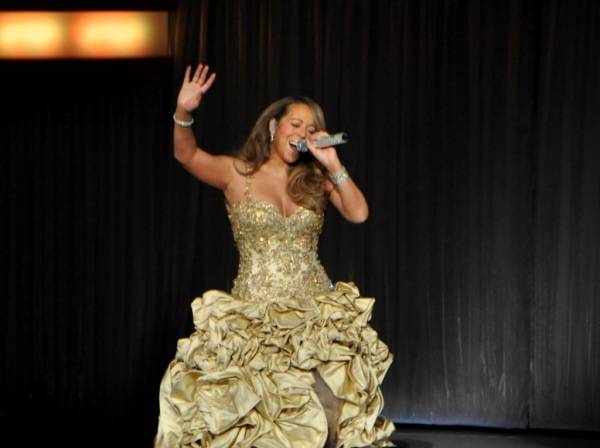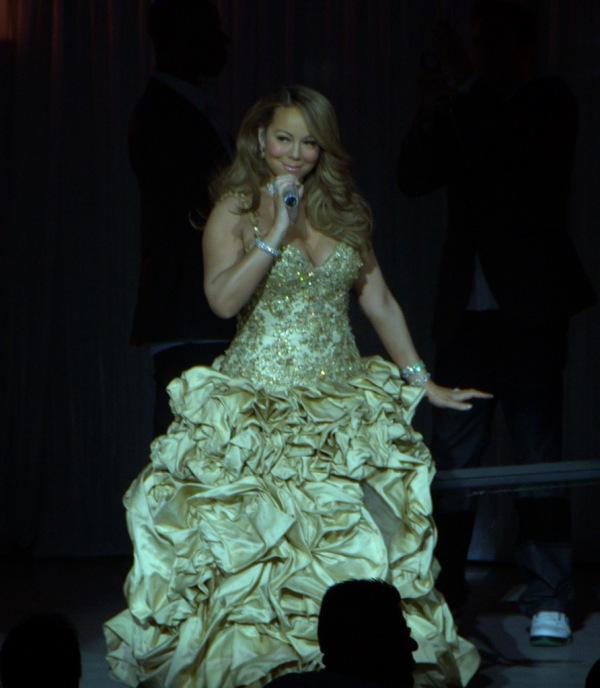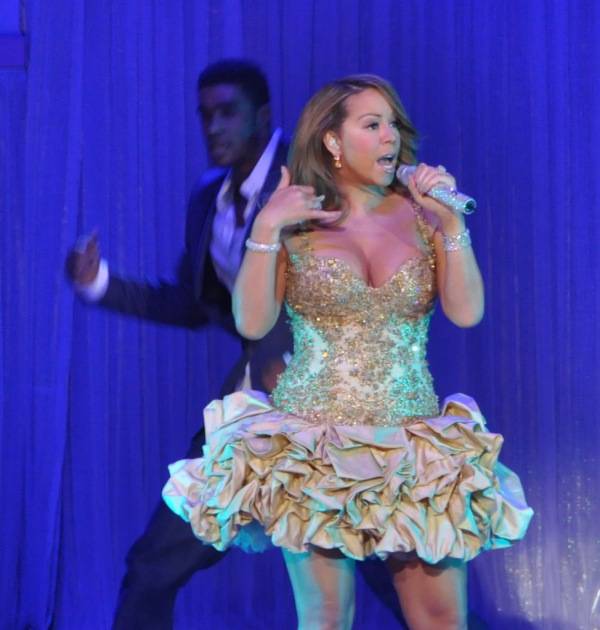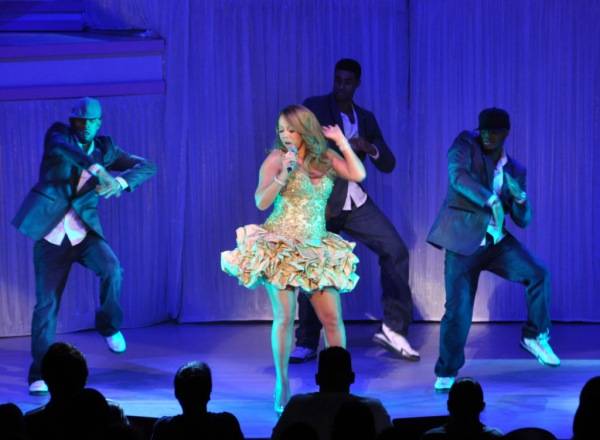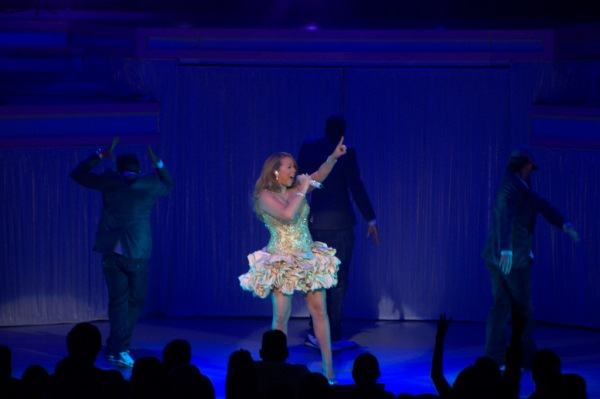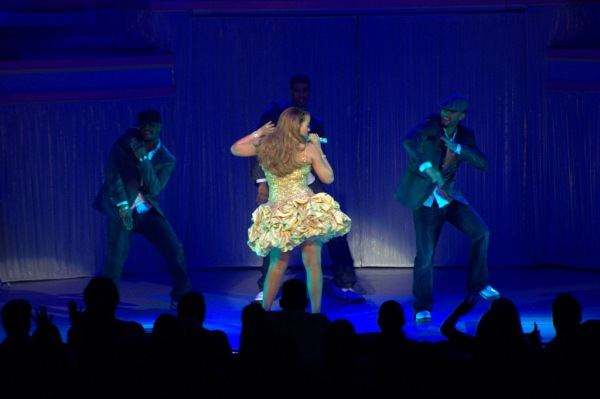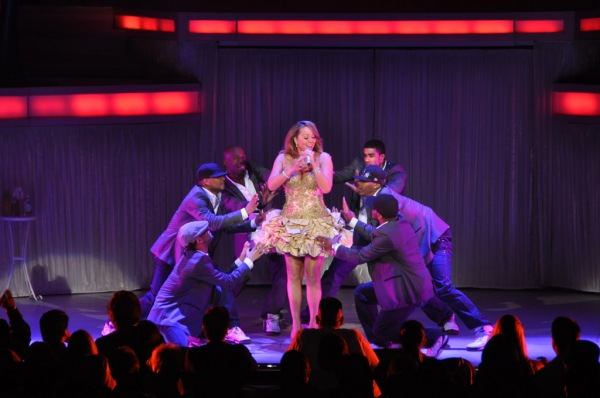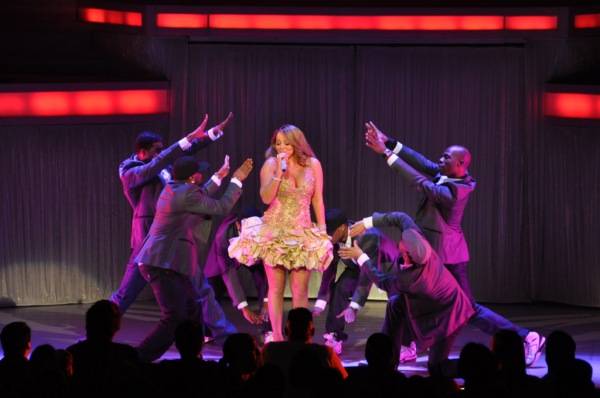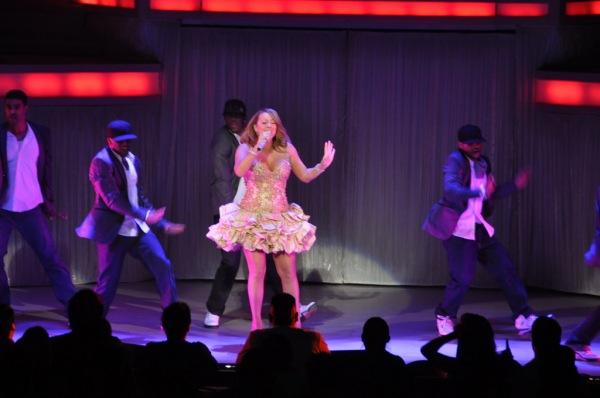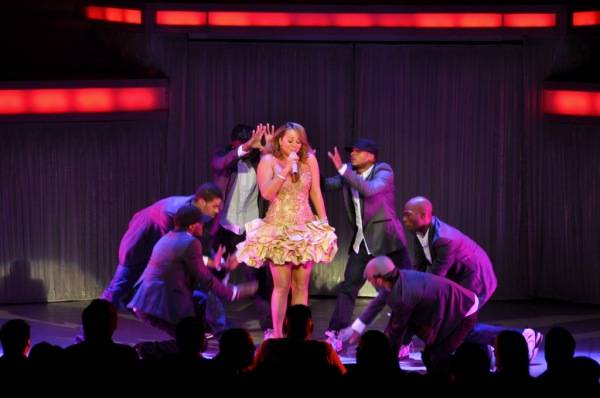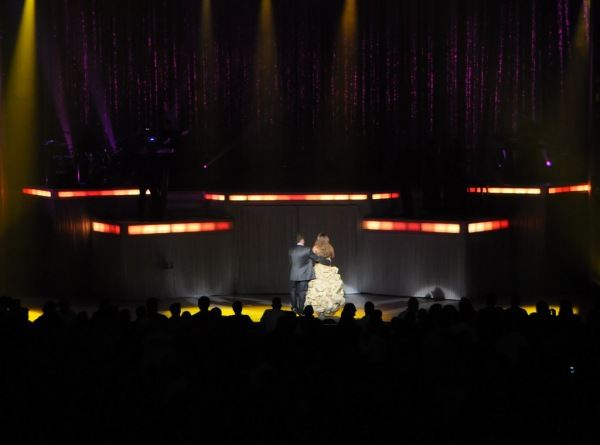 Click to enlarge
Source: Jason from
Reviews:
Mariah Carey flaunts star power at the Dodge
As she moves past the two-decade mark in her career, Mariah Carey seems to be having lots of fun with her well-earned diva image, letting her concert audience in on her lighthearted approach to life.
Carey often made herself the target of her playful stage banter as a large crowd at Phoenix's Dodge Theatre laughed and cheered her on Saturday, Feb. 20.
In between the power ballads and dance-inducing numbers in her well-executed, 90-minute set, the singer-actress repeatedly referred to her loopy speech at January's Palm Springs International Film Awards, which she attributed to "splashes of champagne" enjoyed backstage.
"No, it's not vodka in the glass - water, darling, only H-20," she quipped as she took a sip after singing 2005's "Don't Forget About Us" (which Carey said she hadn't sung yet on this tour).
"You'll never know," she added. "Maybe you will; it depends on what type of speeches I start making."
Whatever Carey was fueled on, she sounded and looked great in the series of sexy dresses that she squeezed into during the show.
With her husband, actor-rapper Nick Cannon, in the house, Carey started things off in true diva fashion, descending from the rafters above the stage on a swing in a sparkling gown with ruffles.
She quickly got down to the business of making the crowd, dominated by 20- and 30-somethings, move.
"Shake It Off" segued into the soulful funk of the chart-topping "Touch My Body." Surrounded by six male dancers, Carey let her voice soar into its upper registers, a talent that separates her from most of her contemporaries.
She largely nailed the notes in the upper stratosphere on such songs as "Honey" and "Obsessed," although she came up flat in some spots in her spiritual ballad "Fly Like a Bird," from her Grammy-winning "The Emancipation of Mimi" album of 2005.
Carey, who let her troupe of male and female dancers do most of the physical work, did a good job of mixing the hip-hop she has sampled later in her career with the ballads that have long allowed her vocals to shine.
She served it up with plenty of drama, which included a pair of acrobats suspended above her for "Angels Cry" and the singer reclining in a red robe on a divan to deliver the Latin-flavored "My All."
At one point, a makeup artist and hair stylist came out to freshen up her look as Carey joked, "If you tolerate me, I'll just love you forever."
The crowd went wild when Carey sang "The Impossible," which she dedicated to her husband. As the diva worked through her breathy vocals, a male dancer performed a steamy routine just a few feet away, pulling off his shirt to reveal his chiseled physique when the song ended.
Fans of all ages joined in to sing 1996's "Always Be My Baby," after Carey said, "I'm gonna go old-school." Everyone seemed to be dancing in front of their seats for the ultra-funky "It's Like That."
Despite some extended breaks to change costumes, Carey had the crowd on her side for the entire evening, which ended with one of her signature songs.
The global hit, "Hero," allowed Carey to dish out a few more minutes of the star power that she still possesses despite some ups and down in her career.
Source: AZ Central (All rights reserved)

---

Mariah Carey at Dodge Theatre
It's pretty much accepted fact that pop musicians have to switch identities every album or two to stay ahead of the curve. Everybody does it -- Justin Timberlake, P!nk, Madonna -- with varying degrees of success.

Mariah Carey, who brought her Memoirs of an Imperfect Angel tour to Dodge Theatre Saturday night, has demonstrated herself to be a master chameleon for very nearly 20 years. From the shy chanteuse in a simple black dress who released her first single, "Vision of Love" in May 1990, to the wizened Mottola-marrying Industry Queen who reneged on her plan to give "Hero" to Gloria Estefan, to the Ghetto Fab "Heartbreaker" Mariah who had rappers dropping verses on top of everything she recorded in the late-1990s, she's played the field.

Mariah Contemporary is a sparkly, self-effacing Ditz Diva, as she showed last night with a running joke about "very hydrating" coconut water. The Ditz Diva is a good character -- probably heavily influenced by the sensibilities of her husband, the comedian/actor Nick Cannon -- but, unfortunately, it's not quite versatile enough to wring the best out of Carey's complete catalog.

Dropping from the ceiling on a swing, dressed in a sparkly gold dress, a womanly-figured Carey showed up front she wasn't going to attempt any of the de rigueur Basic Pop Singer Dance Moves she never quite pulled off. Wisely, she barely interacted with the dancers during the show -- even as one later dangled precariously over her head doing Cirque du Soleil-style gymnastics on a rope during "Angels Cry" -- instead concentrating on cultivating the fruits of her famous five-octave range.

Two Mimi tracks, "Shake It Off" and "Fly Like A Bird," were highlights of the early part of the set. "Always Be My Baby" -- for my money, the ultimate gem of Mariah's mid-'90s zenith -- showed some chinks in the Ditz Diva armor. The song is incredibly versatile (it did accomplish the rare feat of topping both Billboard's R&B/Hip-Hop chart and Hot Adult Contemporary Tracks chart) but this tale of doomed but not forgotten love, while technically perfect, didn't quite work for the Ditz Diva. Maybe some denim and a return to the swing could've helped, but I doubt it, so long as the quest for coconut water was still such an important part of the show.

Likewise, I was almost a little offended by Mariah's half-hearted pitch for her new Angel Champagne Rose. I don't know why Mariah would even get involved in the gauche celebrity-endorsed fragrance/liquor trend at this stage of her career -- she couldn't possibly care about the money -- but if she's gonna pimp booze I'd like to see her really go all out and sip the stuff on stage before making an impassioned plea for our cash.

"Be Impossible," which she dedicated to her hubby, was another lowlight, as the song's bassline sounded like it was rattling out of the trunk of a 1988 Cutless Supreme. After that it was up to a discoed-up "Heartbreaker" and a stellar version of "Honey" to show why Mariah has earned her identity. "Obsessed" -- her 2009 Beyonce-lite smash single which is probably the least "Mariah" of any Mariah song ever released -- was delivered well, as was "We Belong Together," which Mariah called "very nostalgic."

"It was a long tone ago, but this is for you," she said before delivering "Hero" as an encore. You can't blame this nearly 40-year-old woman for nearly forgetting the feelings that drove her to write the song. By the same token, it was nice to see the Ditz Diva persona set aside for a second and acknowledge it.

Then, as the song reached a crescendo, some guy threw what looked like a flower and a note at Mariah, hitting her, then put his hands in the air so security could find him and escort him out, which they promptly did.

Maybe "Obsessed" isn't such an un-Mariah song after all.

So oh oh oh oh.

Source: Phoenix New Times (All rights reserved)



Copyrights and all rights are reserved to the owner of the rights.
Site owner: Gilles Ollevier
Heroes of Mariah 2000
E-mail: staff@heroesofmariah.com
Index