Mariah set to perform in Singapore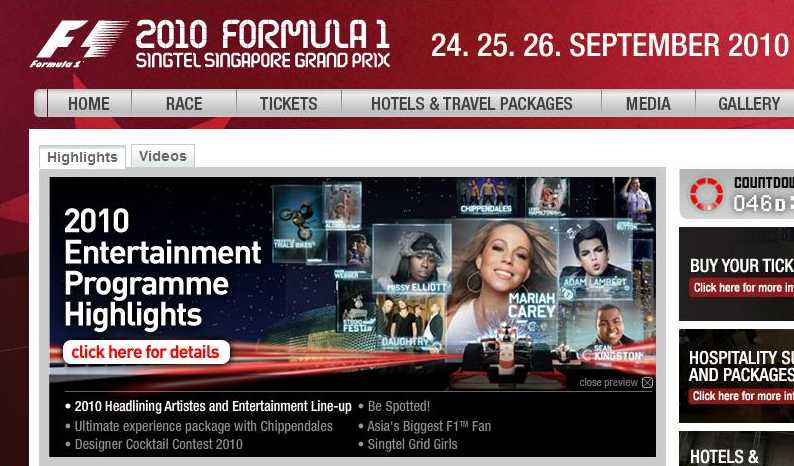 Press Release:
Singapore GP announces headliners and full entertainment line-up for the 2010 FORMULA 1 SINGTEL SINGAPORE GRAND PRIX
As part of the circuit park's multi-million dollar entertainment schedule, race promoter Singapore GP has unveiled its list of headliners at the 2010 FORMULA 1 SINGTEL SINGAPORE GRAND PRIX. This year's star-studded line-up includes Mariah Carey, Missy Elliott, Daughtry, and Adam Lambert appearing at a mega stage in the Padang, which is accessible to all ticketholders.
For 2010, Singapore GP has considerably increased the headlining acts available within the circuit park. Fans can enjoy both race action and big name music acts with the same ticket at the same venue, offering more convenience and better value.
"By combining the thrills of FORMULA ONE with a stellar entertainment line-up, fans can look forward to a non-stop carnival weekend – all with one ticket. The entire circuit park is being transformed into an urban street party. The headliners on the Padang are just the start of the story. We have over 300 performers as part of a diverse mix, ranging from international deejays
to aerial theatrical performances and from opera to even a Brazilian martial arts troupe. There truly is something for everyone on the 10 stages and in every part of the Circuit Park," said Mr. Michael Roche, Executive Director, Singapore GP.
Patrons can now choose to purchase either a three-day pass (starting from S$188) or a single-day ticket to catch the wide repertoire of acts at the Marina Bay Street Circuit on 24, 25 and 26 September 2010.
Singapore GP will be releasing single-day Zone 4 walkabout tickets priced at S$38 for Friday (24 September), S$108 for Saturday (25 September) and S$128 for Sunday (26 September) from tomorrow, August 12th, 9am.
"We're excited that the key entertainment highlight of this year's Grand Prix Season Singapore is going to be closely integrated with the race and held in the heart of the Marina Bay circuit. The strong line-up of international music artistes performing in-circuit will complement the many lifestyle offerings presented by the Grand Prix Season Singapore. Race and music fans have one more reason to book their tickets early and secure their places to this mega event in Singapore. Experiencing both the high octane race and concert together will be unforgettable!" said Ms Lynette Pang, Executive Director, Arts & Entertainment, Singapore Tourism Board.
Held from 17 to 26 September 2010, the Season will present various lifestyle and entertainment offerings including exciting parties, art exhibitions, new retail and dining experiences.
Singapore GP has also secured the support of LG Electronics as their partner for the main entertainment stage. The Padang stage will be branded 'LG Live at 2010 FORMULA 1 SINGTEL SINGAPORE GRAND PRIX'.
"As a global partner of FORMULA ONE, LG is always looking for ways to enhance the F1 fans' experience and to further build awareness and deepen consumers understanding of LG's premium style and technology positioning," says Mr. Andrew Barrett, LG Electronics' VP Global Sponsorship.
"We are very pleased that we can build on the great success from F1 Rocks with LG in 2009, by now being involved with the LG Live at 2010 FORMULA 1 SINGTEL SINGAPORE GRAND PRIX music programme happening within the FORMULA ONE Race environment and the Padang. We are also going to offer many lucky fans some great chances to experience the event in some very unique ways...stay tuned".

HEADLINERS TO JOIN OTHER INTERNATIONALLY RENOWNED ACTS
On top of the headliners, Singapore GP will also be bringing in 'old-school' R&B singer and Grammy Award winner Raphael Saadiq, as well as singer-rapper Sean Kingston, who will be performing in other stages across the Circuit Park. On top of these, fans of electro house music can also look forward to a world-renowned remix maestro with Zouk presents - DJ Tiga.
To maximise the entertainment experience for all ticket holders, many artistes will be performing more than once and in different zones and locations around the circuit park. Please see attached annex for details.
They are set to complement the previously announced adrenaline-charged performances from the Freestyle Trials Bikers (Zone 3 only) and Brazil! Brazil!, the spectacular Italian showcases from Studio Festi and DIV4S as well as the testosterone fuelled Chippendales (Zone 1 only).
These, as well as the other non-stop roving acts add up to over 300 performers spread across 10 stages throughout the Circuit Park. This is on top of the action on the track by FORMULA ONE as well as support races Formula BMW Pacific and Porsche Carrera Cup Asia.
The full entertainment programme schedule will be announced on the official website, www.singaporegp.sg shortly. Tickets are available for sale online (www.singaporegp.sg), via the ticketing hotline +65 6738 6738 as well as SISTIC and selected SingPost outlets.
Source: Singapore GP
Posted on August 11