Charmbracelet Tour 2003 - Denver, USA - Heroes of Mariah
8/10/03 Red Rocks Amphitheatre
Reports:
By justLIKEhoney420
LAST NIGHT in AT RED ROCKS (DENVER)
I'm so weird out that nobody has posted a review or anything. Anyways, I was there, and I cant even post a review, I was in the second row, cried the entire time, and it was very personalized, but we were on her level, Red Rocks stage, does not go above us we were literally in the second row, 10 feet away from her. I cried every song, and I was screaming, and you can imagine. But with the altitude, I was shocked with her voice, it was absolutely amazing, she was in top shape, and her and Mary Anne were talking a tad bit during the band introduction. I dont remember every little bit right now, because Im still in a state of shock. But Red Rocks was outside, it was AMAZING weather, Mariah was glowing, incredable, and instead of the White sashes in the backdrop, there was no backdrop, she didn't come down to the piano from the cieling, it was different, when she entered she entered from right behind us walked down the steps, red rocks looks like the smallest arena so far, but she came down I cant say anymore I'm shocked still, but I'll reply. OMG OMG OMG OMG OMG
I didn't mean ARENA from pics, it was the smallest venue!
there was NO STAGE red rocks is so small, like a theatre, but it's outside and the backdrop was THE RED ROCKS and the lights shined on the rocks, mariah was an hour late, but we knew she'd be, it was amazing, her voice was better then ive ever heard, and she sang ONE SWEET DAY as the special song, and hero last, and she came out to the audience, she was like 5 feet away from me, if I woulda shoved a bit, I coulda touched her, but I was already crying like a baby, I almost blacked out 3 times, and I was nausious, but it was amazing. omg omg omg omg, did anyone else go. it was such a religious experience, mariah is my religion =)
Im speechless...
Pictures:
Meet and Greet: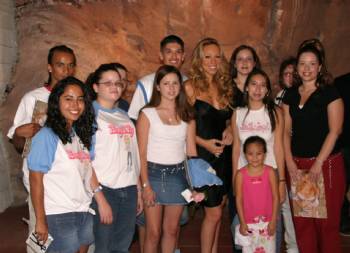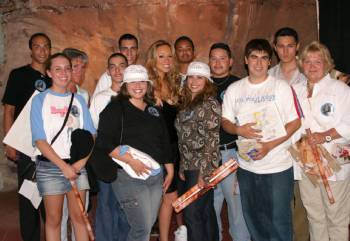 Thanks to justLIKEhoney420 at FOMM for the report and MariahCarey.com for the the Meet and Greet pics.
Copyrights and all rights are reserved to the owner of the rights.
This site is absolutly and totally against all Mariah rumors of all kind and most of all I will not tolerate any kind of fantasy.
Site owner : Gilles Ollevier
Heroes of Mariah 2000
E-mail : staff@heroesofmariah.com