Charmbracelet Tour 2003 - Las Vegas, USA - Heroes of Mariah
7/26/03 The Colosseum in Caesar's Palace
Setlist:
1. Heartbreaker Medley
2. Dreamlover
3. Through The Rain
4. My All/Morales Club Mix
5. Can't Take That Away (Mariah's Theme)
6. Clown
7. I Know What You Want
8. Subtle Invitation
9. My Saving Grace
10. Introduction of the band
11. I'll Be There
12. Bringin' On The Heartbreak
13.Always Be My Baby
14. Make It Happen
15. Vision Of Love
16. Hero
Reports:
By SuperLoverboy
OMG, BananaCakeCrybaby just called me during the performance of Clown... and WOW!!!! She did that song flawlessly!!! It was completely live as she changed up the ending belts!!! OMG... that was amazing! She's singing Cant Take Away for this concert! I'm listening to it as we speak. She sang it very similar to the way she sang it on Blockbuster Awards!!! Wow!!! She did an amazing job! She said she picked the song for that particular concert. She's doing Honey now...Its the opening to the video...The crowd is laughing.. they're loving it! I'm guessing Mariah is changing...LOL! She's doin her "oooh, yeah.. come on.. come on" to the beginning beat. She sounds great! She's using a lot of her chest/normal voice rather than her falsetto.. The whole second verse was chest voice, not a piece of falsetto!! She's dancing!! BananaCakeCrybaby is laughing! The singing part after the dance back was pre-recorded as usual. High notes are amazing! Now IKWYW is on...Mariah came out after Rah Diggas rap.. to do the bridge.. she is doing busta's part as well as her... She didn't use falsetto WHAT SO EVER... FULL CHEST VOICE Oh wow, she must have really been resting I think Subtle Invitation is on next!!!! I'm excited Ewww. the whole song was playing almost. They only cut out Flip Starr's verse...They even added a chorus.. YAY Subtle Invitation is on!!!! OMG.. :goes crazy:!!!! She adlibbed something in the beginning.. I couldn't make it out.. Why is she singing mostly in her chest voice Even on this song that works w/ the falsetto.. It still sounds great! I liked the way she does the vocals for the second verse. She is BELTING the hell outta this song!!! She's adlibbing...she's talking to the audience.. she said she loves someone... LMAO BananaCakeCrybaby just yelled for her to sing Melt Away LMAO!!! She's singing My Saving Grace...the phone just went dead... OH DEAR!!!! He just called me back.. I missed my saving grace, but I just caught her scating.. and WOW.. she's giving me goosebumps..she's singing heartbreaker retro style..she's hittin some amazing high notes! She mentioned someone by the name of Hunny Bun, omg, she is really amazing me with these scats and things. The incredible, fantasic four, im guessing she's talking about her background singers. She said someone was effervescent.. after she tells them their name.. they sing a lil something. OMG.. u guys are gonna die when you hear this band introduction!!! It's amazing.. so much soul!!! OMG.. she just said "this is one of my best friends right here" .. this is :sings: "tatum tots" omg.. amazing!!! She introduced trey as big nasty..Okay, I'll Be There is on…I'm waiting to see if she belts on the part she didn't for the Korean show…She sounds great! Trey sounds good as well! She belted!!!! "Let me fill your heart with joy and laughter"… she didn't say it!!! Oh wow!!! She even belted "Ill be there to protect you" trey just sang "sing it Mariah"… okay its time for treys high notes.. he said "baby girl u know im so glad I found you"… I like the changes they did to it.. he hit em.. sounded like he messed up!! OMG she belted "if u should ever find someone new" and sounded GREAT!!! She hasn't missd any belts!!! Even during the ending choruses! Great performance. She changed the ending.. it sounds great.. LOL!!!! "just call my na-ay-ay-ay-ay-ay-ayme" She's asking for audience members names… Wow I love this woman!! I can't wait for my show!!!! Trey is about to sing Friend Of Mine. He said it feels good to be back for the first American audience. I don't really want to hear trey perform.. so I hung up.. and tried to get online and post this.. but he called me back LOL.. oh well

---
By zondee
I am very critical when evaluating Mariah's voice and I just came back from the concert and she was magnificent. Her voice was in perfect form. She sang better than her t.v. performances. She hit a lot of high notes in full voice and held her notes long like she used to in mostly all her songs. She sounded like when she did the MSG concert in 1995. I was very impressed that I am going to see her again in LA. Her voice was had a good tune, it was sounded kind of high she really couldn't hit her low notes. She sounded fabolous when she was introducing her band mates by singing and displaying her talents in singing jazz style. She did lipsync a little bit in certain songs--all in when she performed fantasy, last part of honey, and few parts in subtle invitation mostly in the end, b.o.t.h, ending in Clown, and I think that was about it. She sang really good with Trey in I'll Be There with a lot of soul. The ballad that was chosen for the night through the internet deal was Cant Take Away.. where she was excellent no lipsinging...she recieved an outstanding ovation. She wore a really beautiful white dress when she performed SI and I'll Be There. Busta Rhymes did not show up. On the whole, her voice was superb....the old Mariah was back. She did not sing You Got Me and she did not have an opening act. What was odd for me as well was that there were a lot of older conservative people that attended. Not many people were dancing when the fast songs were on. Her voice sounded really sweet on Hero the last song. She did amazing with ABMB, hitting those high notes at the end... she really didn't hold back with her songs she really hit those high note that she usually changes to a lower note when she performs most of the time. She was very humble and sweet...a fan ran up to the stage during her I'll be there" performance and started singing. The security didn't even stop him...Trey lorenz was tripping outby Mariah was cool with it and gave him a hug and let him sing a line (which was horrible) ...he was wearing a honey b fly shirt. AFter the concert, fans were yelling out her name on our way out. Can't wait to see her in LA. GO MARIAH!!!
Pictures:
Concert: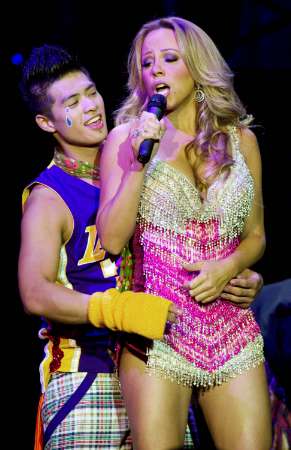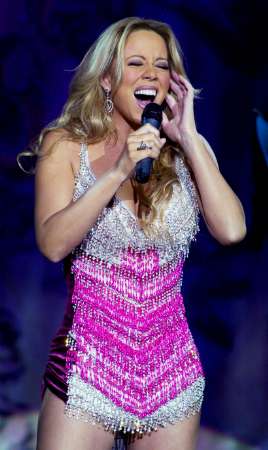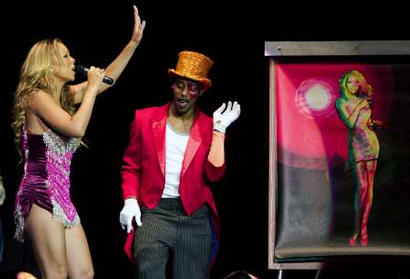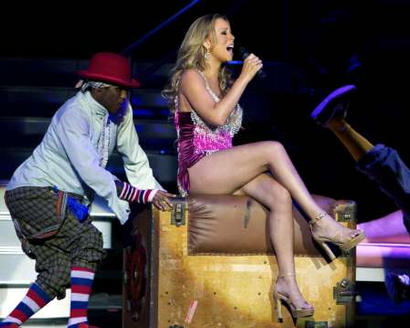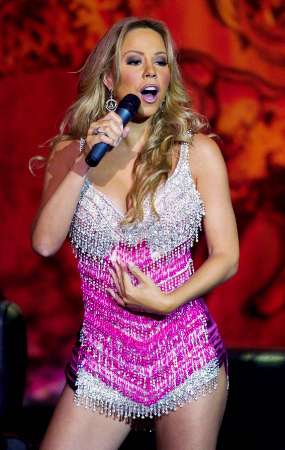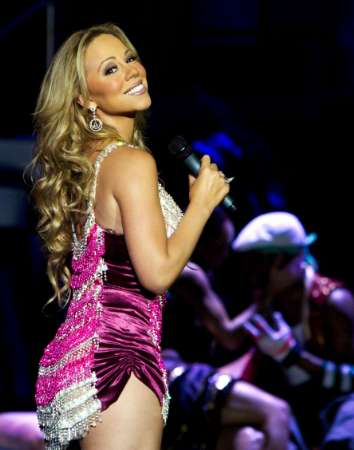 Meet and Greet: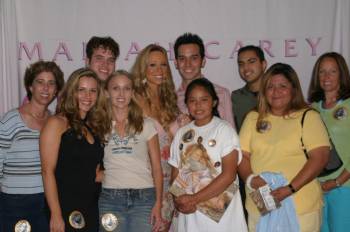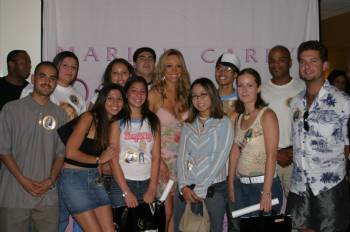 Tour merchandising:
Tour Book scans: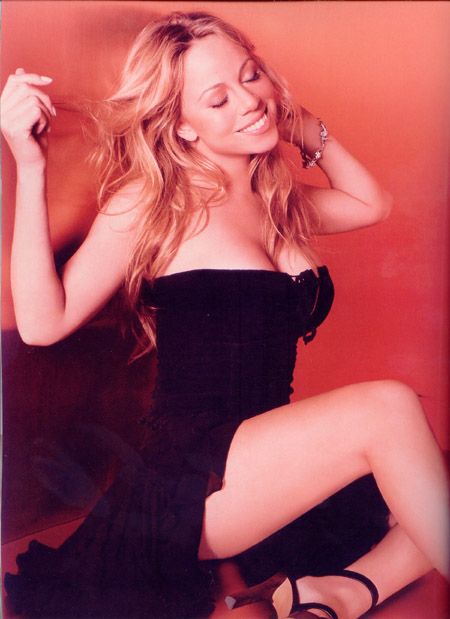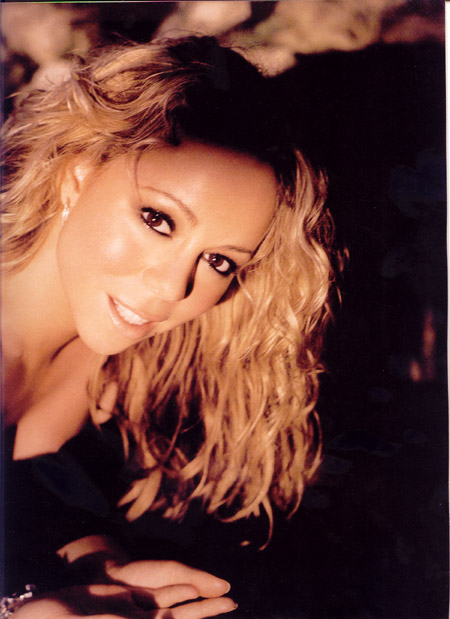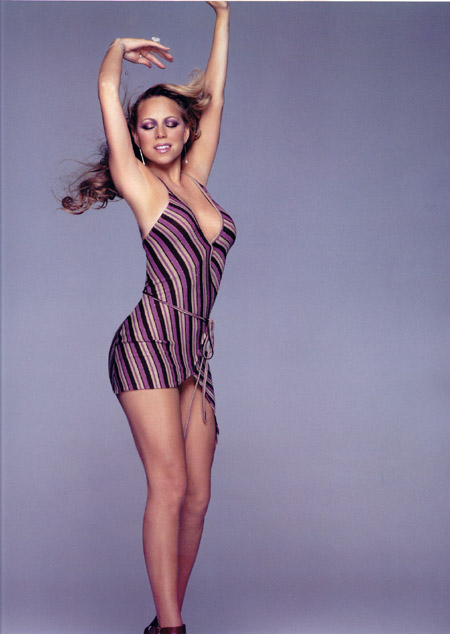 Thanks to Nick and MariahConnection for the Setlist (corrected by Gilles from Heroes of Mariah), to SuperLoverboy and zondee at FOMM for the reports, to Yahoo! News - Ethan Miller and WireImage for the concert pics, to MariahCarey.com for the Meet and Greet pics and to MCluvR4life at FOMM for the Tour Book scans.
Copyrights and all rights are reserved to the owner of the rights.
This site is absolutly and totally against all Mariah rumors of all kind and most of all I will not tolerate any kind of fantasy.
Site owner : Gilles Ollevier
Heroes of Mariah 2000
E-mail : staff@heroesofmariah.com