Charmbracelet Tour 2003 - Manchester, USA - Heroes of Mariah
9/23/03 Verizon Wireless Arena
Setlist:
01. Looking In (Intro)
02. Heartbreaker Remix / Heartbreaker
03. Dreamlover
04. Through The Rain
05. My All / My All (Morales Club Mix)
06. Clown
07. Canít Take That Away
08. Honey
09. I Know What You Want
10. Subtle Invitation
11. My Saving Grace
12. Band Introduction
13. Iíll Be There (Featuring Trey Lorenz)
14. Friend of Mine (Trey Lorenz)
15. Bringiní On The Heartbreak
16. Fantasy Remix
17. Always Be My Baby
18. Make It Happen
19. Vision of Love
20. Hero
21. Butterfly Outro
Reports:
By NhWxMaN
The seats were fantastic - we all sat 5th row center stage. The opening act, who was a comedian from Philadelphia, was good.
He was okay at the beginning, but became fantastic by the middle/end of his 30-minute show. The concert did not start until 30 minutes later. During this time, people began chanting Mariahís name and clapping. Then the lights dimmed and the Looking In intro began with sound clips of Mariahís hits throughout her 13-year career. During this intro, the screen flew above the city that Moulin Rouge was centered upon. Moulin Rouge was the theme of the concert. Alas, the Heartbreaker Remix (which preluded into Heartbreaker) began. Mariah came out from behind and walked through the crowd. Throughout the entire concert, the crowd was ecstatic and very supportive. Her first ensemble was absolutely stunning. It was a two-piece set that sparkled. To make this short, the concert was absolutely fantastic. The set list was the same as Las Vegas Ė consisting of nearly twenty songs. Her voice was phenomenal, which I am saying objectively. Her voice was absolutely amazing and was on the level of the 1996/1997 era. Her high notes (Vision Of Love, Band Intro, Dreamlover) were championed the notes in Someday, Thereís Got To Be A Way, and others from her early studio albums. She used her mid voice throughout the entire show, except a couple seconds during Subtle Invitation. There wasnít a moment during the show that had a low. I cried during Hero and Through The Rain. People (including myself) were having church during My Saving Grace. One more note, Mariahís backup singers were absolutely fantastic. They were beyond anything that I had expected.
So talented and funny!!! This was my third Mariah Carey concert, and definitely the best.
Pictures:
Concert: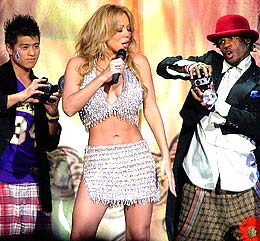 Thanks to David Lane/Union Leader for the concert picture and to NhWxMaN at FOMM for the setlist and report.
Copyrights and all rights are reserved to the owner of the rights.
This site is absolutly and totally against all Mariah rumors of all kind and most of all I will not tolerate any kind of fantasy.
Site owner : Gilles Ollevier
Heroes of Mariah 2000
E-mail : staff@heroesofmariah.com