Charmbracelet Tour 2003 - Orlando, USA - Heroes of Mariah
8/30/03 Bob Carr Auditorium
Reports:
By whateverisisright
So, I just got home from the Orlando tour leg. That theater was so small, we were unbelievably close on the 12th row! Stephanie, Robin, and Sharell all met and drove down together. And then, around 8:15, the lights dimmed and the Looking In Intro came on. The little "master of ceremonies" guy came out and did his little dance to it, and then it started. The Heartbreaker remix (which ended by going into the original version) came on and Mariah came from the back of the arena looking great.
Heartbreaker was good. Everyone on their feet dancing. Next came Dreamlover. The high note at the beginning was excellent. Also, thinking back to the Today Show performance, this was better. Everything was going good. People continued to stay on their feet for the most part during this song also.
Next, Mariah went over and had a seat on a big chair. From here, she sang the beginning of Through The Rain. From the CB Tour mp3s that I heard, I was assuming TTR was going to sound similar to the AMA performance. Actually however, she sounded more like she did on the Shining TTR performance (only with back-up singers this time). On the part "Stand tall and say...." she jumped out of her chair and belted the end of the song out. It was great.
My All was next in the line-up. Sounded great. There was one part that MAY have been lipped. It sounded like it could've been BUT it doesn't really make sense because a few seconds later, she hit the same notes again and that part was clearly live. Either way, My All was great. The song went into the Club Remix of it and Mariah left the stage for her first of her ensemble changes. While she left, the remix continued to play and the dancers kept dancing.
Circus music came on afterwards, and of course, Clown was sung. Sounded good. Its a heavier version than the cd version though. It sounds like there are extra guitars in the background.
Next came Can't Take That Away. Amazing. Sounded very similar to the Diva's Live performance and she ended up falling to her knees in it. The end notes of it sounded great. Maybe this tour has been good for her voice because, while she performs, she takes LOTS of "vocal rest" periods. CTTA was just a great performance overall and she sounded great.
Honey was next with the beginning of the video as an introduction to it (along with a costume change during the playing of the video). It was great, but I only watched her half of the time...one of her bodyguards was sitting behind me (can't remember his name right now) and there was a little girl sitting with him. I don't know if it was Sadie ("Dat Baby"), Belle or Nae Nae but, I know it was one of them...I recognized her from pictures...and she was dancing up a storm. It was really cute. She and the bodyguard kept walking backstage and then back out and sitting on the row behind me on the end---but every time that girl was sitting in the row behind me, she was getting down with her bad self
Next was I Know What You Want. The verses were scrambled up to give her ample time to change prior to coming out and singing her part, and after her part was over as the song ended, to change again. I like IKWYW, but I'm not real big on the whole video performance thing. She sounded great though. She sang more than she usually does. A rap part was cut out and instead she sang ALL of "Yes you know I'll die for you, And ya know I'll ride with you, I will always try with you, And give ya my love and cry with you" AND her part.
As I said, after she sang that, the dancers continued with the rest of the song and she changed clothes again.
When the curtain came back up, she was way up in the air wearing a white dress, sitting in a big white ribbon. Subtle Invitations music started and she sang as she descended and ended up on a grand piano. She did everything from sit on the piano to lay down on it. Toward the end (just before the "YES...if you listen to me baby...like you used to...before I even knew you,etc..." she was laying down. She pulled herself up with the white ribbon, jumped off of the piano and RAN at the crowd SCREAMING that part I just typed. She sounded amazing.
Next was another of the best performances of the night. It was My Saving Grace (complete with 'Jesus Is The Answer'). It sounded very similar to the performance at the Soul Train awards but this time, she didn't lip the chorus. One of the best performances of the night...
Next was the band introduction. It was hilarious. For ex. at one point, she was singing about her back-up singer's boyfriend...and how she heard a noise in the hall so she peeked around the corner (note that all of this was sung...if you've heard the other band intro mp3s, it was very similar to that)...and how when she peeked around the corner, she saw the boyfriend... (yes she sang this) "surrounded by three, what we like to call, 'skinny heifers.'" It was HALERIOUS. She kept singing "and then she walked up to her boyfriend and started singing her anthem...and her anthem was..." and then she sang the chorus to "Don't Mess With My Man." ( I think that's the name of the song). She also introduced the band members. The keyboard player was introduced and he hit some really low notes on the keyboard...then he went all the way to the highest note on the piano and Mariah smiled...and then sang that note---she matched it perfectly.
I could continue to tell about this...but someone else will have to fill you all in. It would take too long.
Next was I'll Be There. It was great. She sang all of it, hit all of the notes and sounded spectacular. Her and Trey of course played around during it but it was good.
Trey then sang his song while Mariah went for another costume change. Toward the end of his song, he and the other background singers played around (especially Mary Ann...she sang "and I'll bring the chicken and macaroni").
Bringin' On The Heartbreak was simply amazing. Not a lot to go into other than it all sounded live and it was breath-taking. At the end of it, Mariah left the stage again and the guitar player, band, and background singers kept going with the song. There was a long guitar solo to take up more time for Mariah to change.
After this, the video screen came on with ODB and they went into the Fantasy remix. This song sounded lipped the whole time, but hey, the woman needs a break Lots of dancing during this one and the crowd loved it.
Always Be My Baby was next and she sounded MUCH better than she did in the mp3s that I'd heard of the CB Tour ABMB so far. It was great...she reached out at one point and kinda danced holding a fans hand on the front. It was all good
AND THEN SHE TURNED IT UP.
Make It Happen was by far one of the best performances of the night. Amazing. Not a lot to say about it other than she her heart out. She said thanks for coming and went away.
Then the Encore.
By far, hands down IMO, the song of the night was Vision of Love. I get chills thinking about it. She did it all live (you could tell this because of the emotion she was pouring into it...you could hear it in her voice). She did pretty much the album version PLUS extra notes. She did the high note in it (which I haven't heard her do in a while so that was nice ) and at the end, she held "BEEEEEEEEEEEEEE" as one note. She didn't break any of the notes up. Robin'll preach to y'all about this too I'm sure because we were all in absolute shock as to how good that performance of it was. Amazing. I could write an entire post souly on this song.
Finally, she closed with Hero. Before she sang it, she thanked everyone who had stood with her through all that she had been through. It was really touching. She did it wonderfully and ended it with a high note. The Butterfly Outro came on and she left singing part of Butterfly.
Pictures:
Meet and Greet: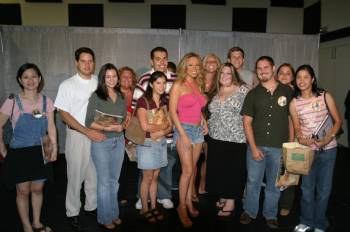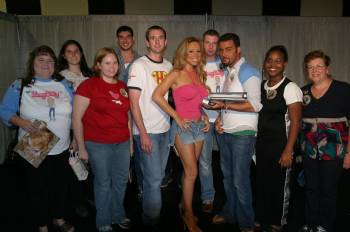 Thanks to whateverisisright at FOMM for the report and to MariahCarey.com for the Meet and Greet pics.
Copyrights and all rights are reserved to the owner of the rights.
This site is absolutly and totally against all Mariah rumors of all kind and most of all I will not tolerate any kind of fantasy.
Site owner : Gilles Ollevier
Heroes of Mariah 2000
E-mail : staff@heroesofmariah.com