Charmbracelet Tour 2003 - Phoenix, USA - Heroes of Mariah
8/23/03 Dodge Theatre
Reports:
By bader
Im so excited, I finally had the opportunity to see Mariah Carey live!!! Here is my experience of this magical evening!!
BEFORE THE SHOW
I went to the Dodge Theater around 4 pm and there were some fans waiting for her, some of them with the Maxim magazine, and posters, there also was local radio stations playing Mariah's music. I went to my hotel room and I came back around 6 pm when I saw many fans waiting to see Mariah getting into the theater. Me and my sister were waiting too, and suddenly her limo appeared everone was so shocked, but nothing, then Mariah appeared from her bus, not from her limo, as we all expected. She walked into the theater with a blue short and a t-shirt, she was looking amazing, she really looked georgeous.
Then, we went to the entrance, we couldn't enter with cameras, so we had to run into the hotel. When we came back, we bought some merchandise; there were true fans around, all you heard was "Mariah Carey."
AT THE SHOW
We were waiting to see Mariah a young singer opened, audience was already excited. When he ended they played like 4 or 5 hip-hop tracks. But we could hear some musicians preparing for the big night.
Then lights were off, in the screen appeared a cool opening film showing like a trip around the world, we all expected to see Mariah in the stage, but guess what she appeared behind the crown and she ran down the stairs singing "Heartbreaker."
The second track was "Dreamlover," where she dances and sings with her full voice. Audience was feeling comfortable and excited at the same time. Mariah introduced her host, the one who looks to paint MC in every part of the show.
Then she introduced "Through The Rain," every time Mariah hit her signature tone audience yielded like crazy!! The song was so emotional, Mariah really felt the song, I could only hear Mariah's voice, in the climax of the song, the theater seemed like a night with shining stars.
Everyone was so emotive, and she introduced the fourth track as "a song from one of her favorite albums ever," I knew she was talking about Butterfly. She song the full-version of My All, my sister was really happy since that is one of her favorite songs. At the end she mixed the original version to the remix version adding the lines "Feel your body, Feel your body." When people started feeling emotive, the remix version and the dancers made them feel happy.
The "Marionette Show" was being played on the big screen, and a clown tied up by some business men, was on the stage. Then Mariah came out with a large dress singing "I should have left in How u doin?" I was really excited and singing along with her. This track was the funny moment of the show.
After her performance of "Clown," the dialogue part of the Honey video was played, everyone was so thrilled, including us. Then Mariah came with her Chinese dress, singing "Honey," which is one of the favorites. In the middle of the song, Mariah dances so sexy along with her dancers, she moves slowly and cool!!!.
A big screen goes down and plays "I Know What You Want" video. Then Mariah sings her line
Then jazz music started playing and Mariah appeared from the ceiling, until she was upon the piano, singing "Subtle Invitation" from Charmbracelet, she sang amazingly, and sounded even better than in the album, in the climax of the song, Mariah ran in the stage singing with her full voice.
Mariah introduced "My Saving Grace" as her story in a song, she sang it using her full voice too, and in the screen you could see a film with pictures, and images of nice Mariah's moments, we all knew the song, so we were really thrilled, and in the lines "Lord, Thank you" some people reached out their hand to heaven, a very emotive moment.
She surprised me when she introduced her band, it was really awesome, she introduced each one of the band singing, she joked with some of them, then she called Trey Lorenz to sing the Jackson's 5 Favorite 'I'll Be There," where she asked audience to sing with her, obviously we did.
Her performance of Bringin' on the Heartbreak was another great moment, she sang as the whole show, the musicians, the electric guitar, everything, at the end of the song, chorus were singing, and the electric guitar playing, it was just awesome, we all were singing, and feeling the song.
Mariah's next two acts kept the show moving and at the top, she sang Fantasy with a full audience singing along, and Always Be My Baby with her pink short and her t-shirt, at the end some dancers came into the stage with some balls, some lucky fans could get them, unfourtunedly, not me.
Then Mariah asked: "I want to hear who has a dream," and introduced "Make It Happen," singing with a similar version from the Madison Square Garden's performance in 1995, with the lines "Don't let go." everyone was clapping and singing. When it ended Mariah's dancers, said good-bye and left.
Mariah came up the stairs with a large suit, she performed "Vision of Love" while some people started getting close to the stage to see MC a little bit closer. When she finished she said "Thank You, to all my fans who support me in good times and bad times, who are always there for me" Me and my sister were closer while she sang "Hero" everyone was so thrilled and I really felt the song. I was feeling kind of sad, because the concert was almost over, but happy because I enjoyed every moment. When she finished I saw people crying, and some screaming. She went down the stairs and said good bye, while Butterfly was being played. Honey BFly members could stay and wait to see Mariah, some of them were sad because they couldn't.
Pictures:
Concert: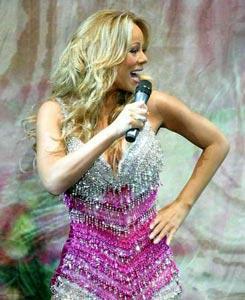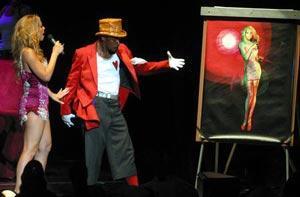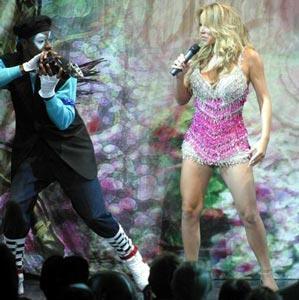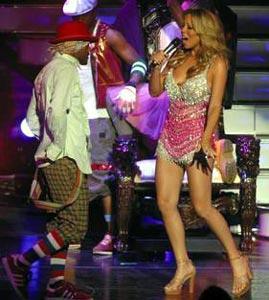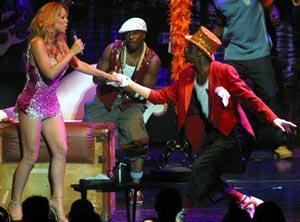 Meet and Greet: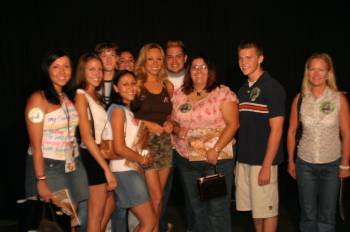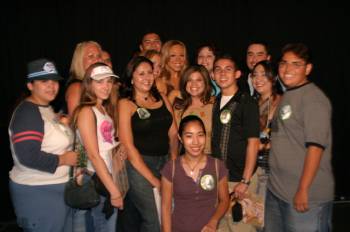 Thanks to Nick de la Torre/The Arizona Republic - azcentral.com for the concert pictures and bader on MariahCarey.com message board for the report and to MariahCarey.com for the Meet and Greet pics.
Copyrights and all rights are reserved to the owner of the rights.
This site is absolutly and totally against all Mariah rumors of all kind and most of all I will not tolerate any kind of fantasy.
Site owner : Gilles Ollevier
Heroes of Mariah 2000
E-mail : staff@heroesofmariah.com