Charmbracelet Tour 2003 - St. Louis, USA - Heroes of Mariah
8/1/03 Fox Theater
Reports:
By kevinbfly
I was at the St. Louis show and it was FABULOUS!!! Mariah was STELLAR and just blew the crowd away! The Fox Theater was such a great venue...a very intimate feel with really nice acoustics to make the songs work so well. Mariah was really working off the energy of the crowd, especially those of us in the front VIP section. I was seated in the 4th row and she came over to us all the time to wave and point at our lovely signs. I was able to throw her a teddy bear and she caught it and held it up for everyone!!! That totally made my evening! Julie and Tessa made some hilarious signs that Mariah just loved! She even had them pass one of the signs onstage so she could hold it up!!! Great moment! But besides all the silly stuff, the music was incredible! I had seen Chicago on July 29th and thought that night was the best ever, but I swear the St. Louis show might have topped that one!!! The energy and the passion, and of course Mariah's vocals were just ON FIRE!!! I can still hear the final note from "Vision of Love." She held onto that note for so long, the crowd just erupted!!! Truly a magical evening!

---
By Maggie from MariahPlanet.com
I went to the St. Louis concert on August first and was also one of the winners for the Honey B. Fly Meet and Greets!! I had an AWESOME time; Mariah was sooooo sweet, everything was perfect and the concert was simply amazing. Below are my pictures, and my review of the night! WOW!!!! I cannot even begin to tell how wonderful this concert was!! The set list was the same as the other US dates, but the song we voted for was "One Sweet Day". Mariah sang it with the OSD video playing in the background and wearing her goldish dress. I got to the theatre around 6:30 (the concert started at 8) with my brother, John, and we went to the will call to get my Honey B Fly passes for after the show. Then I got in line for a few minutes where they said absolutely no cameras, etc. but I was able to sneak one in :-P. The pictures are kinda blurry but they look good! Also, the head of security (a really nice lady) took my gift basket for Mariah, and said she would try hard to get it to her, as I was not aloud to bring it into the concert. After I went into theatre, I went to the merchandise stand and bought a t-shirt (the white one, you can take a look at the pics), the keychain, the program and the poster :). When we found our seats (really great view, 9 rows from the stage), we sat around awhile for the show to start and watched the people coming and going. There was a big curtain up, with carousel horses and other animals on it, as well as the album charmbracelet. We saw a bunch of people who worked for Mariah, including Michael Richardson (her tour manager) who I said hi to hehe. Then, the lights went off (about 8:15) and we heard the beginning of Heartbreaker Remix come on. Mariah came in through the audience like at the other shows, from the back of the aisle. My aisle was empty on my right side (about 10 or so seats) because the photographer needed them to get good shots, so I ran down to the side and watched Mariah come down, and she grabbed my hand (her hand is soooooo soft) and looked at me and smiled. From then on, Mariah performed the same set list, except for One Sweet Day which was like I said, the voted song. She sounded simply AMAZING!!!! I can't even begin to describe how wonderful she was!! I really loved "Bringin' on the Heartbreak", "Always Be My Baby", "Make It Happen", "Vision of love", and "Subtle Invitation", but everything was perfect. She made jokes, sipped tea, and talked to the audience throughout the show. Her jazz song for the band intro was tooooo cute!!! A little bit into the show, Michael Richardson came and sat down by me next to the photographer (about two seats away, but the photographer moved so it was just Michael) which was really cool since there wasn't anyone else on that side (there were some people on my brother's left but they were a few seats away)!! He seemed to be really enjoying the concert, smiling and dancing with everyone. I was afraid to take pictures, because sneaking one in is one thing and taking pictures with Mariah's manager sitting next to you is another!! But when I took one, I whipped my head around and checked to see if he minded, and he just grinned at me like it was ok (I think he remembered me from when I was talking to him before the concert) so it worked out. After the show, my brother and I went to the back of the auditorium to wait to go backstage with the other Honey B. Fly winners. We had to wait about 45 minutes until they cleared the theatre, but I got to talk a bit with one of the dancers, who was really nice. One girl asked him if he got really tired during the show, but he said not really because they were all just so excited and pumped up that they didn't notice. Ok, about the meet and greet. IT WAS SOOOO FREAKIN AWESOME!!!!!! After we waited in a little room (with food and drinks like the other ones) for about 15, 20 min. , 10 people were selected to go into the first group to see Mariah. My brother and I were in the first group at the very end of the line. We went into the photography room, where Charmbracelet was playing and Mariah was standing!!! She looked goooorgeous. We all lined up, and were asked to put anything we were holding onto chairs by the wall because we couldn't bring them to Mariah, but I asked if I could give her my gift and her sweet bodyguard Wayne said I definitely had to give it to her lol. Anyways, everyone lined up and each person stepped up individually and could give Mariah a hug, and talk to her a little bit. When my turn came, I gave her the charmbracelet project I had been working on and a hug :-D. A bunch of lambs from around the world were able to buy a charm (sterling silver) to put on the bracelet, and then wrote a letter explaining why they chose that charm for Mariah. She said she was going to read the letters on the plane. Mariah really loved the bracelet and especially liked a charm we had gotten engraved that read "To Mariah, from your lambs". Then, she said she wanted to put it on!!!!! I nearly died!! I actually got to put it on her, because of her nails she couldn't get the clasp. I am still in shock!!! Next, we all lined up for the picture, and I got right in front of Mariah, kneeling on the floor by her knees (my brother is on the right I believe). After that, since I was right next to Mariah, I told her about a special project some French lambs I know (Kristelle and Sylvain!! :-D) are planning. Mariah LOVED the idea, and told Marc not to let her forget! She also confirmed that they would be filming that concert for the DVD. I wished her luck with everything she ever does and with Sweet Science, and she remembered my sign for the concert (it read "Good Look with Sweet Science!!!"). Then, the security allowed a few people to take pictures with Mariah and she signed a bunch of autographs for everyone (I got my HBF shirt signed!!!). I was going to get my pic taken with her, and we were standing next to each other all ready lol, but her bodyguard couldn't get my camera to work and since I was the last one (of about 3 maybe? Or 4? ), they said it was time to go. But, just was we were walking out and saying our byes to Mariah, I got my camera to work, and I ran back and asked Mariah if I could get one quick photo of her with the bracelet, so she let me!! She held up her wrist :-D. Then I said thank you again and that I loved her so much and waved bye. It was sooooooooooooooo much fun and Mariah was just so sweet and beautifu!!!!!! She must have been exhausted, but she was so amazing to us. I want to say a HUGE thank you to Rob, who I owe all this to, Honey B. Fly, everyone who works for Mariah (Wayne, Michael esp.!) and of course, MARIAH!!!!! THANK YOU SO MUCH TO EVERYONE!!!!!
Pictures:
Meet and Greet: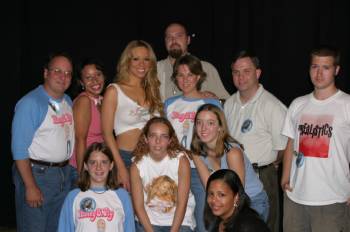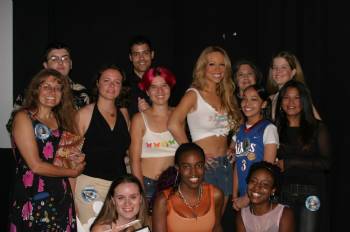 Thanks to kevinbfly at FOMM and Maggie from MariahPlanet.com for the reports and MariahCarey.com for the Meet and Greet pics.
Copyrights and all rights are reserved to the owner of the rights.
This site is absolutly and totally against all Mariah rumors of all kind and most of all I will not tolerate any kind of fantasy.
Site owner : Gilles Ollevier
Heroes of Mariah 2000
E-mail : staff@heroesofmariah.com