Charmbracelet Tour 2003 - Tokyo, Japan - Heroes of Mariah
7/6/03 - 7/8/03 and 7/10/03 Tokyo Budokan
Setlist:
01. Looking In (Intro)
02. Heartbreaker / Heartbreaker Remix
03. Dreamlover
04. Through The Rain
05. My All
06. Clown
07. Honey
08. I Know What You Want
09. Subtle Invitation
10. My Saving Grace
11. I'll Be There (Featuring Trey Lorenz)
--- Trey Lorenz - Friend of Mine
12. Fantasy
13. Always Be My Baby
14. Bringin' On The Heartbreak
15. Make It Happen
16. Hero
17. Butterfly (Outro)
18. All I Want For Christmas Is You
Report:
Report by Rei Hisamatsu
We went to Tokyo budoukan about 5pm. I attached my big"I love MC" poster at the fence and I was wearing sunvoisor with MC icon. After the lights off, we heard the melody of Heartbreaker(Remix), And then, Mariah Carey appeared from the right side of the stage. We all Tokyo fans (18,000)screamed!!! Her voice was so strong( I didn't know how beautiful her voice was by CDs) and she hit the high notes many times. Amazing!!! Wonderful!!! The stage was well designed and had lots of color. When she sang Hero,she went down the stairs and she stopped just in front of me!!! I and MC were hand in hand and I could listen the most favorite song. And I told her "Thank you, I love you" pointing my poster out. MC nodded slightly to me.

---
Report by Ayako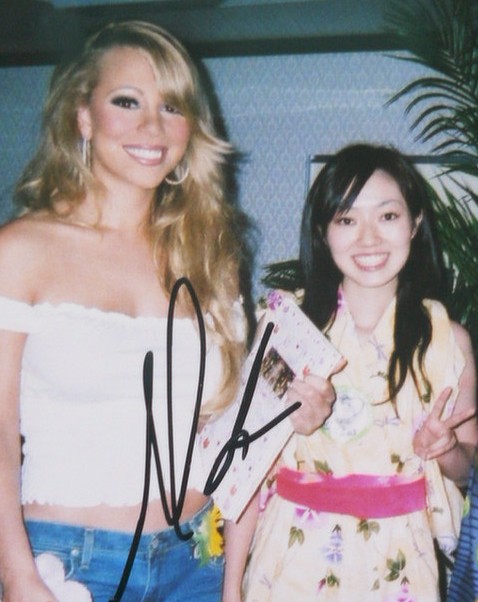 I went to Mariah's concert yesterday (7/6) and it was amazing!! I had front row seats and it was so cool:) I always needed binoculars to see Mariah at her concerts but this time i didnt lol I hanged my banner that I made for her which I also hanged it and showed it to her at the airport. The hall was really small and I heard that even if you were in the back of the arena, you can see well :) The sound was great too! Before the show, the opening acts sang and they were very good and cute I cant believe Sadie is 7 years old!! The concert began and the setting was great! It was really like the Moulin Rouge :) Mariah came from the right arena and everyone was shouting "Mariah!!" There was another song that she appeared from a suprising place. Her voice was amazing and i think she was in very well condition. During the show, she sang many high notes! She danced and spoke Japanese and it was really fun:) There were only a few people holding the pen lights which made me sad cause Mariah really likes that. So if you go to her concert, you should buy the penlights and wave it:) They sell it at her merchandise corner. When she sang Clown, on the big screen, it said "The Marionette Show" which looked like "The Eminem Show" lol The band and background singers' introduction was very cool! She was introducing them by singing and it was really cute when she sang "Genkidesuka?" (it means how are you) Mariah and the background singers also sang a little of "Big Nasty" and it was funny :) After the introduction, Mariah and Trey sang "I'll Be There" and right before they started to sing, they were looking at the audience and recognized my Big Nasty-Trey sign and they were like look, and pointed at me :) When Mariah sang "Always Be My Baby" she kicked big balloons to the audience. Some lucky fans got it and brought them home. When she sang "Make It Happen", which was the last song before encore, I was holding the Jack stuff animal and was waving it. Then Mariah noticed it and gestured something like "is it for me?" and i was like YES!! And then she was like I'll get it later I was soooo happy!! But after that, even more special things happened :) When she came out and sang "Hero", she starting to come down to the audience. When Mariah came near me, I handed her my sunflower and got my hand out to shack hands. I got to and she didnt release my hand and held for a few seconds and looked at me and sang as i sang along!! I was soooo happy!! She was so beautiful too!! And she had my sunflower all the time during "Hero"!! It was amazing!!The show ended with "All I Want For Christmas" and she was very cute :) The show went kind of fast with less talking because she had to rest and get ready for her show in 2days. Oh, and the dancers were very cool too! :) After the show, I got to go to her dressing room and she told me that she remembered my banner at the airport and during the concert:) She also told me that she noticed me holding the Big Nasty-Trey sign :) I told her thank you for the time when she sang "Hero" and that the show was great! She was really nice!!! Thank you for this great day, Mariah!!! And I would like to thank all the crew!! :)
Oh and if you wanna know how i got to go to her dressing room, go to here and read my review :) I was the leader for the Japanese Fan-Bracelet :) Ayako P.S. the picture was taken in her dressing room. you can see Mariah is holding the fanbook and the Jack stuff animal I gave her :)
Pictures:
Airport: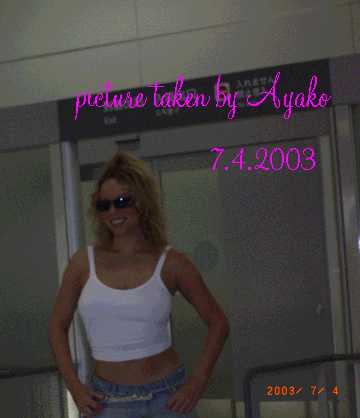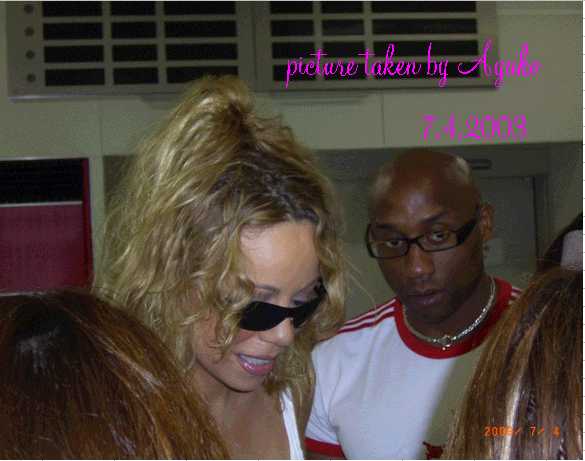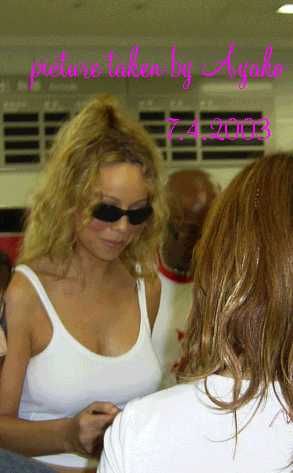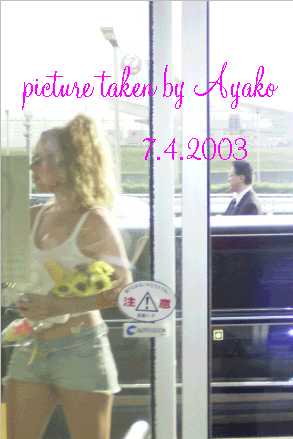 Concert: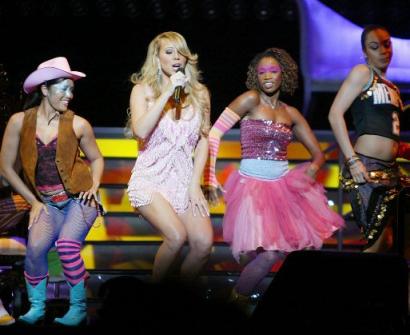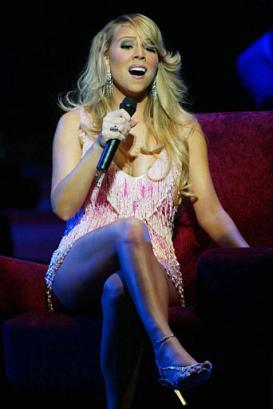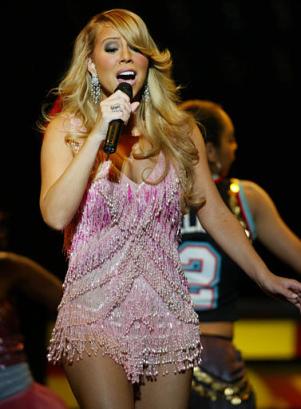 Tour merchandising: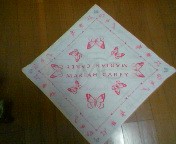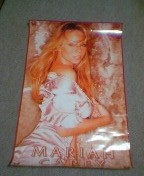 Item 1: Bandanna 1500yen
Item 2: Poster 1000yen
Thanks to Shino from Love Love Jack and Ayako for the airport pics, to Diva Mariah for the Tour merchandising pics, to Taste Of Honey for the setlist, to Rei Hisamatsu on MariahCarey.com message board, to Ayako and Butterflies Are Free for the reports and to Yahoo! News - Itsuo Inouye for the concert pics.
Copyrights and all rights are reserved to the owner of the rights.
This site is absolutly and totally against all Mariah rumors of all kind and most of all I will not tolerate any kind of fantasy.
Site owner : Gilles Ollevier
Heroes of Mariah 2000
E-mail : staff@heroesofmariah.com