Charmbracelet Tour 2003 - Zurich, Switzerland - Heroes of Mariah
10/22/03 Hallenstadion
Report:
By Adi
omg it was so fantastic! the best concert I've ever been to! better than munich last week and better than the rainbow concert in
milan.
first of all, here's the setlist:
1. Looking In Intro
2. Heartbreaker
3. Dreamlover
4. Through The Rain
5. My All
6. Clown
7. Can't Take That Away
8. Honey
9. I Know What You Want
10. Subtle Invitation
11. My Saving Grace
12. Band Introduction
13. I'll Be There
14. Friend Of Mine
15. Bringin' On The Heartbreak
16. Fantasy Remix
17. Make It Happen
18. Without You
19. Vision Of Love
20. Hero
21. Butterfly Outro
and now some random facts:
- she let the audience chose between two songs again. but this time, it wasnt WY and CTTA, but CTTA and PETALS. as you can see, CTTA won. but I would've prefered petals. I guess WY is now a fix song in the setlist
- the hallenstadion was almost full. I guess there were about 9-10.000 people (it holds about 12.500)
- her voice was fantastic, as good as in munich
- I was in the first row and could see her just some meters away from me. she smiled and looked at me a few times
- we saw mariah leaving the venue. but just for a very very short time. she waved at us from her car.
that's all I can remember.
just let me tell ya that the swiss audience rocked! everyone was singing along and screaming.
Pictures:
Concert: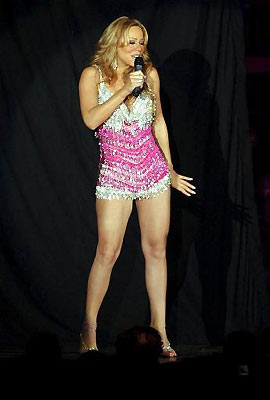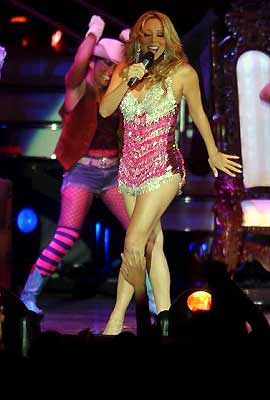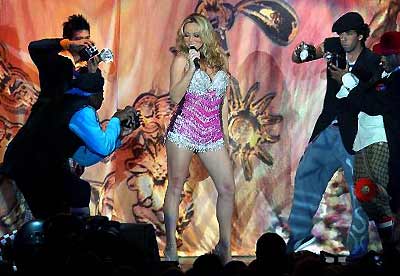 Thanks to Bluewin.ch for the concert pics and to a_dee084 at FOMM for the report and the link for the pictures.
Copyrights and all rights are reserved to the owner of the rights.
This site is absolutly and totally against all Mariah rumors of all kind and most of all I will not tolerate any kind of fantasy.
Site owner : Gilles Ollevier
Heroes of Mariah 2000
E-mail : staff@heroesofmariah.com