Heroes of Mariah - E=MC² street promo, Brussels, 04/12/08
En Français - In het Nederlands
Where do I begin? The first time we saw the "Touch My Body" video, an idea came in our mind, well especially in Kinou's mind, she already had a plan for us (well for me

) and for our street promo for the single, but as the commercial release was so close to the album, we decided to do it all at once.
This time it would be bigger than ever, we went in the biggest store in the city center of Brussels and we asked if they would allow us to eventually do a promo in the store for the release of Mariah's new album.
They agreed... the manager was not only ok with it but he was happy and agreed with all we asked (thanks Marc and the staff of Mediamarkt rue Neuve, you guys rock

). They agreed to make a special front shelve for the album at the entry of the store (all customers, even for other products need to enter at that entry), they agreed to play a DVD with videos and pictures on a tv fixed above the E=MC² cd shelve and they played the entire album two times during the afternoon. Great!!!!!
Long, long hours of work started for us, we received beautiful E=MC² posters from Universal Belgium (a big thanks

) and then we made stuffs to give out. The hardest was the printing of our flyers, but they are beautiful

.
Here are some pics taken just before we left on Saturday morning.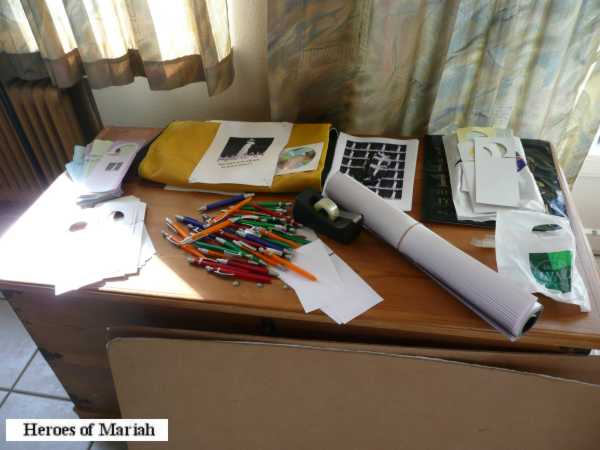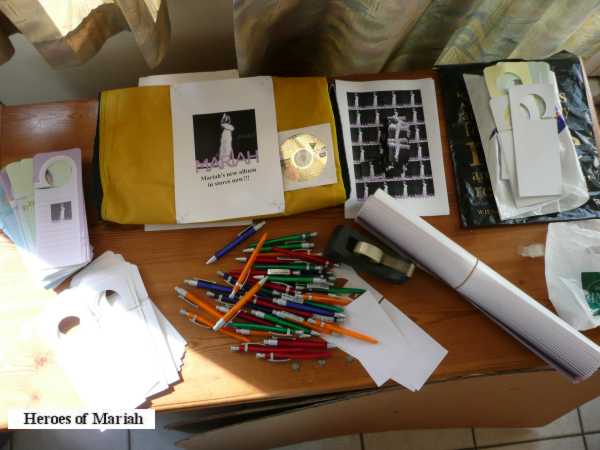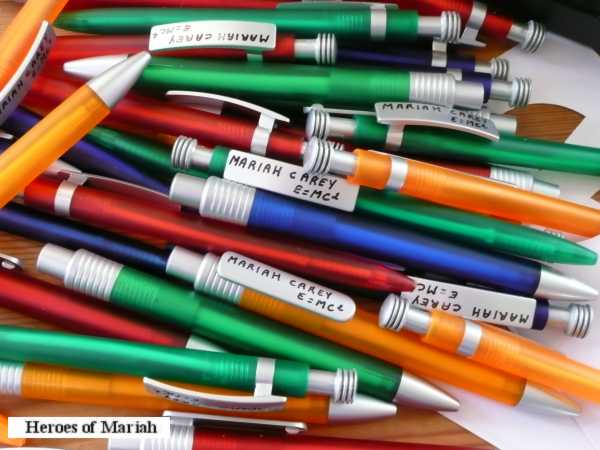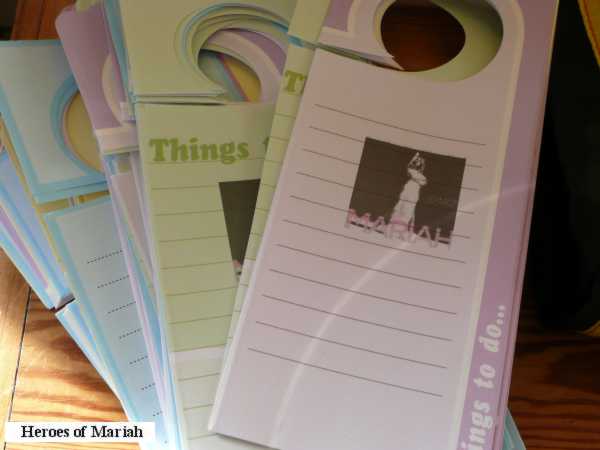 Click to enlarge.
And there we were in the city center at around 10h00am with our bags and our big promo cardboards. We decided to migrate to the store in the afternoon, so we walked in the rue Neuve several times giving flyers and talking with people. Unfortunately, our camera and camcorder were in my dad's bagpack and he only planned to join us in the afternoon, so no street pics....
After we walked several times in the street, we thought we could maybe try something new, we went inside almost each store to ask if they could play a track of Mariah's new album in the store

, we gave them the cd, they played a track, not only all customers heard the song but we also showed our promo cardboards while waiting, and for the ones who know her, Kinou is not as shy as I am and she talked a lot to the customers

.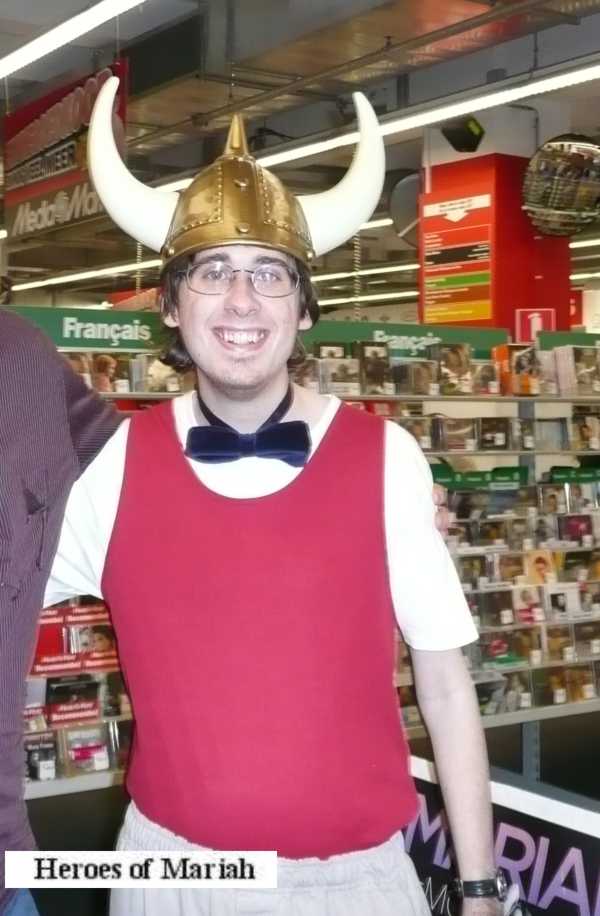 A lil' sandwich at a terrace (to show our cardboards) and we were ready for our first in-store experience. We installed our stuffs and.... it was time to take off my coat... I still can't believe I spent the entire afternoon as "the nerd".... (I had a t-shirt under the red t-shirt 'cause I didn't want to scare people with my beautiful musculous shoulders

). Click on the pic to enlarge if you dare

There wasn't a lot of people in the early afternoon, as the sun was shinning outside, people prefered walking in the street. A fan I didn't see since almost 2 years came especially to the store to meet us (hi Patrick), another fan came especially from France to meet us too (hi Fred), we talked to a lot of nice people, the sales guys of the store were amused and came several times asking if all was ok.
People who knew the video laughed when they saw me as soon as they entered the store, the other ones were curious and understood when they watched the video on the screen.
Kids were cute, they stood there looking at me, a very little girl said to her parents " oh, a cow"

. Everyone was nice. We had a long discussion with a fan of Elvis who pretended that Mariah's number 1's weren't the same as the ones from Elvis and that it was not fair 'cause Elvis didn't benefit of the same technologies as now to sell his music. We told him it was obvious that one day or another Elvis' record would be beated and beated again by other artists in the future and that today's technology had nothing to do with it as at Elvis' time there wasn't internet and piracy....
Even if he wasn't very pleased, he said that finally he was happy the King was beated by an artist with so much talent as Mariah.
What more to tell... there was more people around 5h00pm and they were interested, many teens liked the album a lot but said the cds (all cds in general) were too expensive.
After this day, we can say people's favorite tracks were "Migrate", then "I Stay In Love", then "Bye Bye", and there was a big interest for "Cruise Control", however, most of the people didn't feel at all "I'm That Chick".
Here's a video and pics of the promo taken inside the store, my dad was asked not to record or take pics when there were people around us to respect the rules of the store and probably the privacy of the customers.
Click here to watch the video on YouTube.
Click on the pics to enlarge.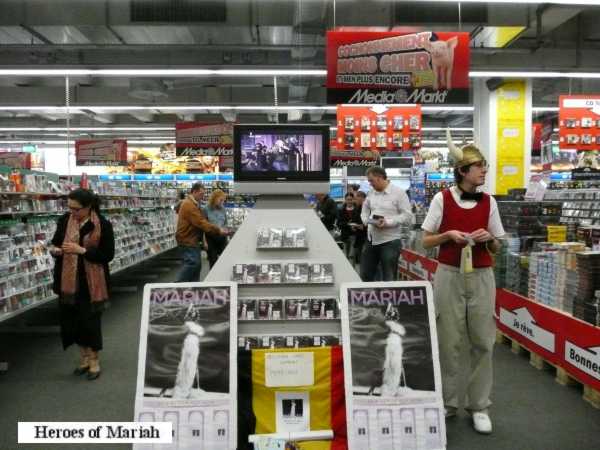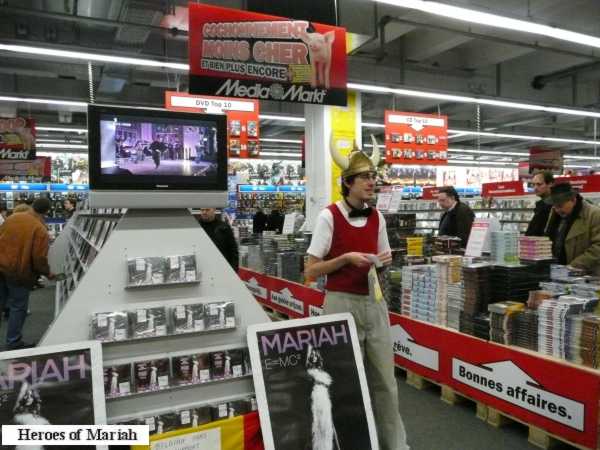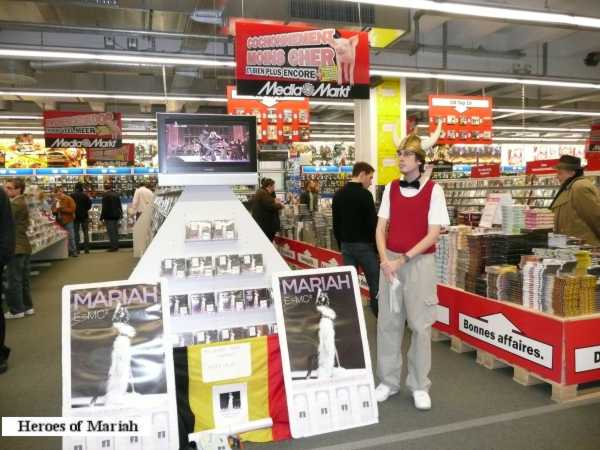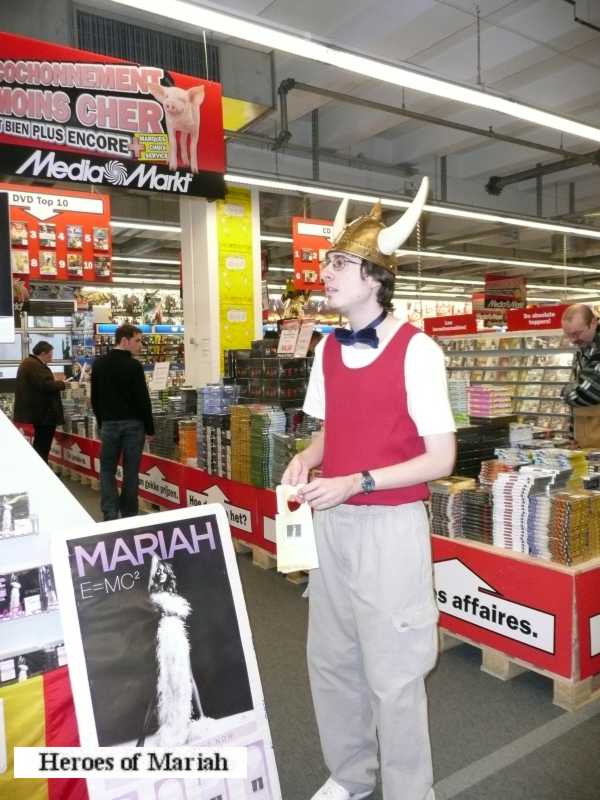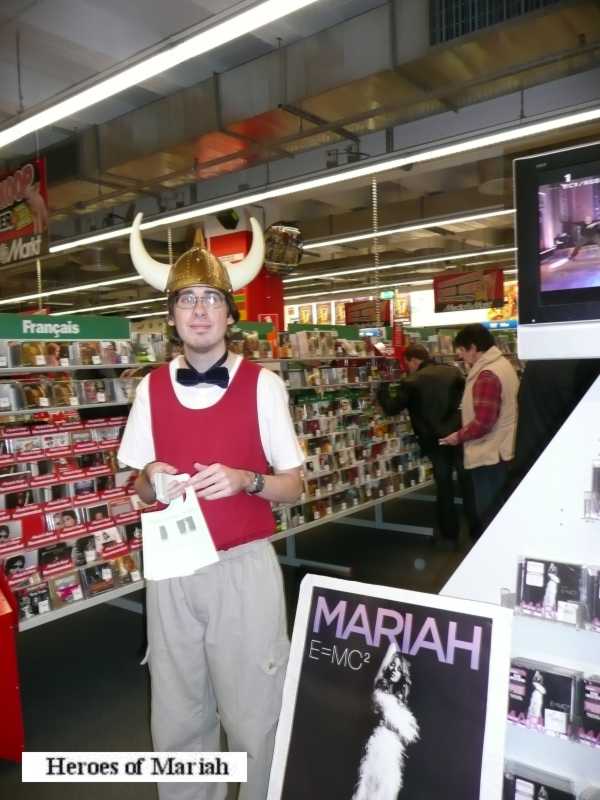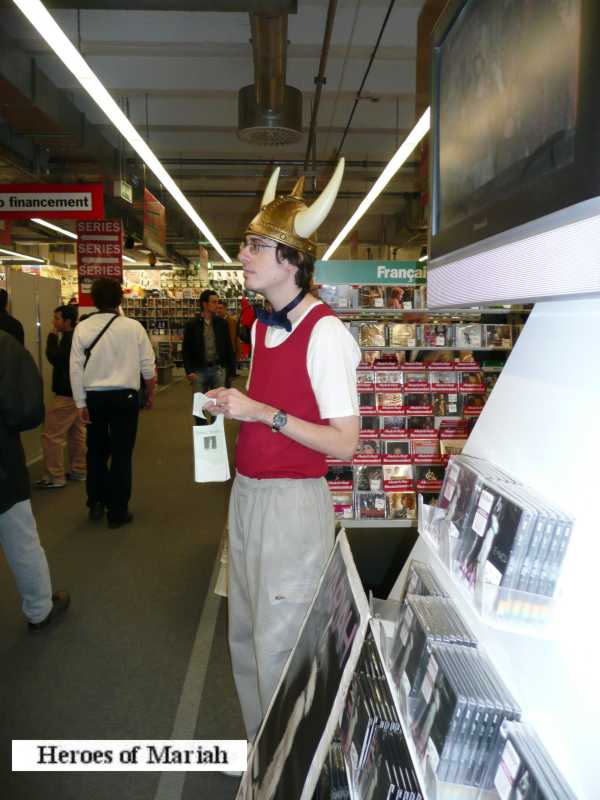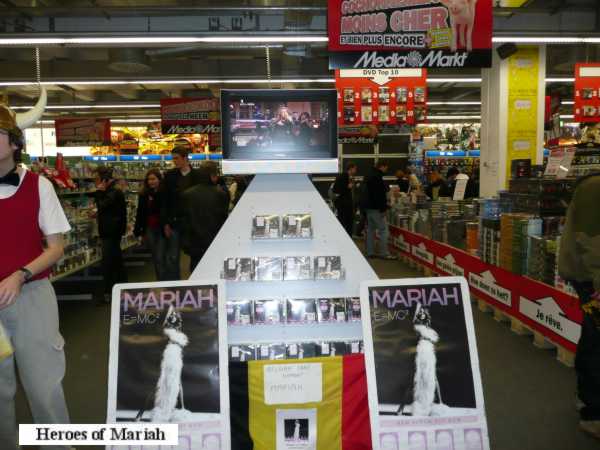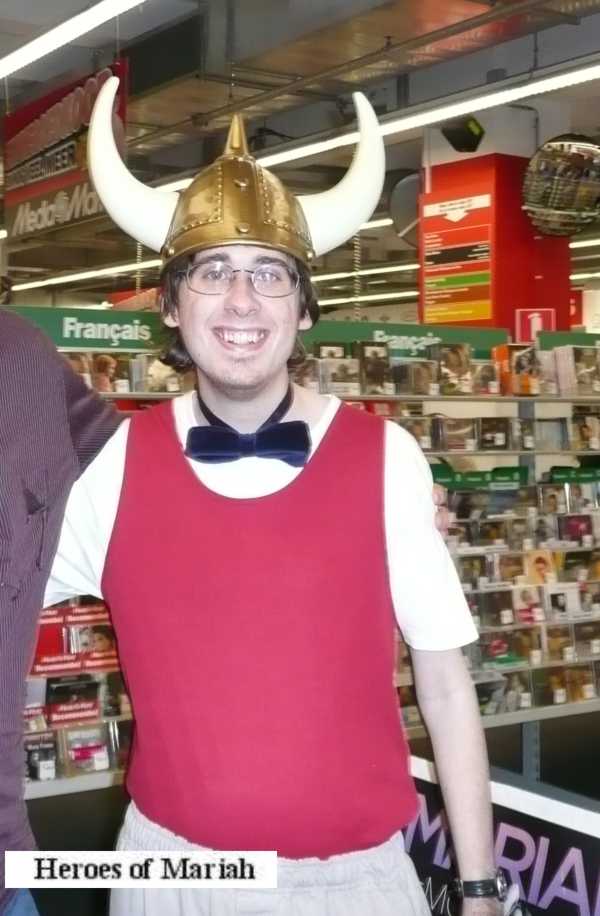 Thanks to Universal Belgium for the posters.

Copyrights and all rights are reserved to the owner of the rights.
Site owner: Gilles Ollevier
Heroes of Mariah 2000
E-mail: staff@heroesofmariah.com
Index