Can we start the party?????? The nightmare is maybe over soon


L.A. Reid on his way out?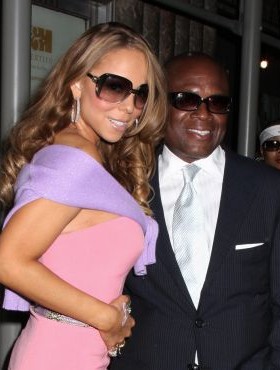 The word is starting up again at Island Def Jam Records: L.A. Reid, they say, may be on his way out.
Listen, no one criticized L.A. Reid more almost a decade ago when he took over Arista Records. He had a rocky start. that's for sure.
But Reid's promotion from running LaFace Records to Arista and then to Island Def Jam has shown him to be a mature, decisive record man. Losing him now would be a mistake for Island Def Jam and Universal Music Group.
The rumors emanate now because Lucian Grainge has come to the US from Universal International to run UMG. He's a music man but he's looking at the bottom line. And in the music biz these days, it just doesn't look good. It doesn't help that Grainge was described in Billboard earlier this year as a "killer shark."
Reid, on the other hand, is a softy. He signed up Jennifer Lopez, god knows why (

). His experiments with Janet Jackson and Jermaine Dupri failed. The last Mariah Carey album was a disappointment. Reid loves Lionel Richie and keeps pushing out new records. It's admirable. But Hello? Is it Richie young kids are looking for? Not really.
So Reid has Justin Bieber, the annoying teenager (

). Leave it to Bieber–he's a hit. You can't discount that. Reid has a hot album and promo push coming for Brandon Flowers, lead singer of the Killers, with his first solo effort. It smells like platinum. Charlize Theron stars in the video.
Reid has some other gambles about to hit, so watch out. He went to Belize and signed up rapper Jamal "Shyne" Barrow after he got out of jail. Shyne famously took the rap in the P Diddy/Sean Combs-Jennifer Lopez nightclub shooting a few years ago. Now he's out, and mad after serving nine years of a decade long sentence.Not only that, he's been deported to his native Belize. If Reid can turn Shyne into a cause celebre, he may have a hit on his hands. (PS This is funny–Barrow's mother is Jewish. And frankly, as a rapper, he sounds a little like he's been sitting around Katz's waiting for a glass of tea.)
There's also a new album from one half of Outkast, Big Boi. And Mariah Carey, as I've already reported, is hard at work on a new album for possible Christmas release. And it was Reid who "broke" Duffy, his own Dusty Springfield.
The industry wags are predicting that Home on the Grainge will look very different once he takes over in January 2011. I think not. And he's sure to see that L.A. Reid is one of the last links to what makes the record business still run or feel like it might have a little magic left.
Source: Roger Friedman on Showbizz 411
Posted on July 13