This is probably the funniest I've read since a long time





I'm not American, so I don't know how the nurses are out there, but .... really, c'mon

Wait, that's exposure and indirect promotion for the video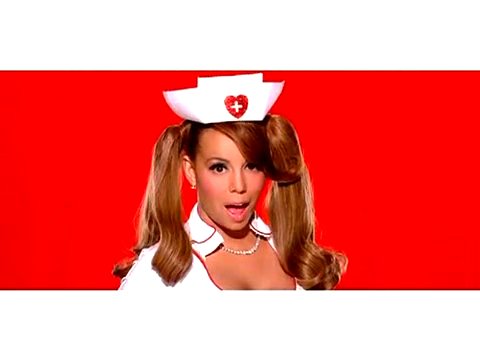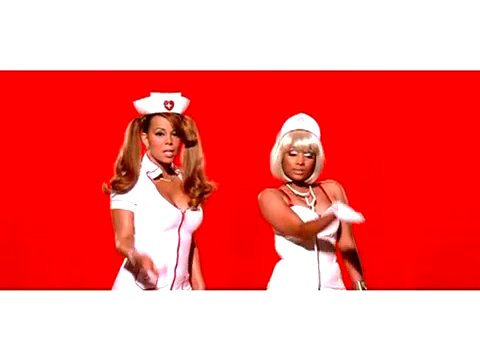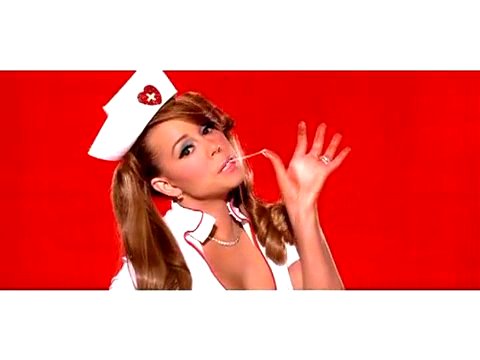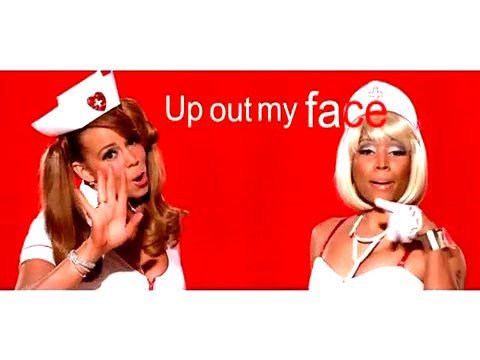 American nurses want Mariah to publicly apologize....
Enough Already! Nurses Are Not Sex Objects
Sandy Summers, MSN, MPH, RN, executive director of Baltimore-based The Truth About Nursing ask nurses and people to join the campaign to protest the Up Out My face video. They claim the video portraying nurses as a sexual image hurts the profession.
Extracts:
"In the video, "Mimi" and "Nicki" appear in different costumes, including as dolls breaking out of their boxes, and at other points in evening wear, celebrating. But perhaps the main theme for both stars, particularly Carey, is the naughty nurse outfit: a very short, tight white "nurse" dress revealing cleavage, complete with cap, white stockings, and high heels, all of which enable more effective pouting and preening. The other outfits and props echo the red and white theme established by the nurse image. At a couple points, Nicki applies her stethoscope to Mariah's chest, checking her heart rate. At another point, Mariah pulls a bunch of bills out of her nurse outfit's cleavage and throws them.
Nicki makes the song more fun, but the tossed-off quality of the video just accentuates what's weakest in the song, reminding us that it can be filed under the heading of what Carey's done for a long time: adopting "street" musical and lyrical elements in order to reach a broader demographic, and presenting herself as a sex object in an aggressively brainless way.
Unfortunately, this "here are my breasts!" approach fits all too easily with the naughty nurse. This video seems to run counter to classic naughty nurse themes, as Mariah is telling a man to go away. However, it still associates nursing with sex, because the singer is showing her ex-lover what he has lost, as the lyrics stress so gracefully ("No you ain't getting it, no you ain't hittin' it"). But could it be that Carey and Cannon are subtly suggesting that the video stars will be "nursing" themselves--or each other, with that hot stethoscope action--back to health after this nasty breakup, moving on to a better relationship? Not likely, especially since there's no suggestion of a need for healing in the lyrics, which convey only bitterness and triumphal vengeance. Or are these "imperfect angels," in "advocating" for all women who have to survive such bad male behavior, commenting on another nursing stereotype (the angel), and even nurses' very real duty to advocate for patients?
So it appears that the naughty nurse outfits are just another sexual cliché, an unimaginative way to help sell the video (that is, the remix album). And the images seem to have done their job: Well over two million people watched the video on YouTube alone in the first couple weeks after its late January 2010 release, and the naughty nurse theme got significant mainstream press coverage, such as in Marcus Barnes's January Daily Mail (UK) article, "Almost forty, but still naughty: Mariah Carey rolls back the years as a racy nurse in her brand new video." That piece also included plenty of naughty nurse still photos from the video.
Pop stars like Mariah Carey can actually use sexual imagery to sell their work without reinforcing the naughty nurse stereotype, which has undermined real nurses for decades, presenting their work as being all about female sexuality. The naughty nurse imagery that continues to permeate global pop culture tells people that nursing is just a tired sex joke, not a profession for educated men and women who need more clinical and educational resources if they are to keep saving lives. So maybe the image could get up out our faces.
And here's the link to the "Take action" letter they want people to sign and send to Mariah for a public apology, please read it, it's really funny (at least for non American nurses)
Source: Advance for Nurses - The Truth About Nursing -
Posted on March 11