The Adventures of Mimi Tour 2006 - Boston, USA - Heroes of Mariah
8/21/06 TD Banknorth Garden Seating capacity 20.000 - according to the boxscores, seating capacity 14.922, attendance 11.993 - attendance 80,3 %
Click here to access the venue site.
With special guest Sean Paul
Price range: US $17.00 - US $127.00
Setlist:
- It's Like That
- Heartbreaker
- Dreamlover
- My All
- Shake It Off
- Vision of Love
- Fly Like a Bird
- I'll Be There
- Fantasy
- Don't Forget About Us
- Always Be My Baby
- Honey
- I Wish You Knew (Snippet)
- Can't Let Go (Snippet)
- Thank God I Found You/Make It Last (Snippet)
- One Sweet Day (Snippet)
- Hero
- Make It Happen
- We Belong Together
- Butterfly Reprise
Fan pictures: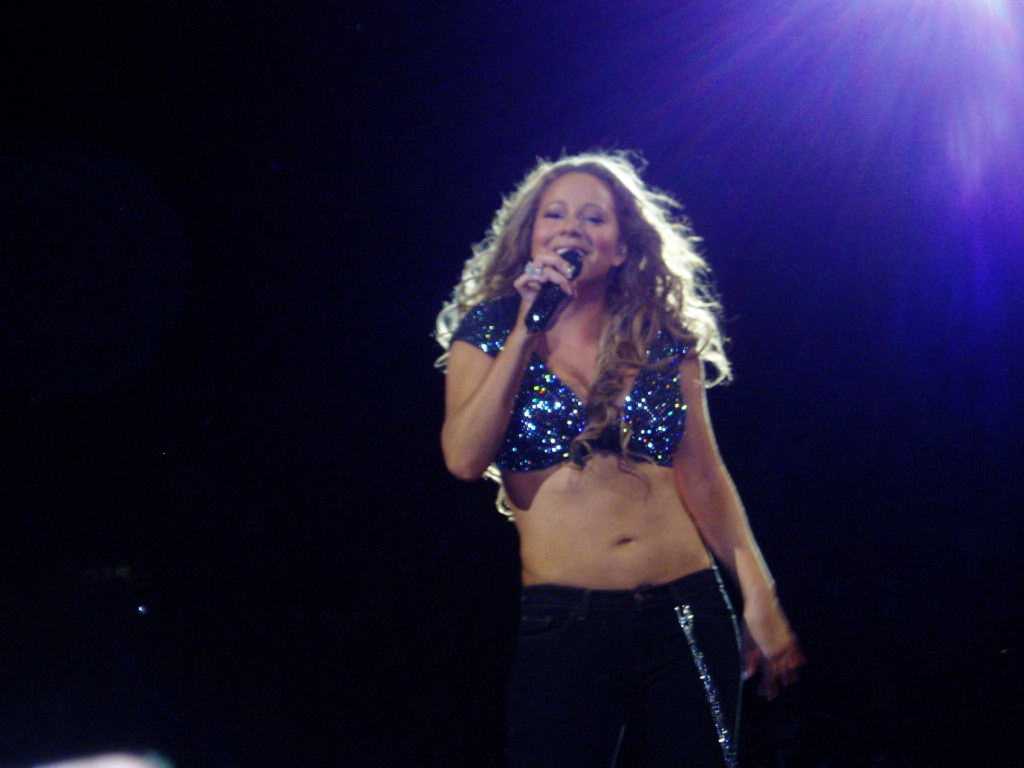 Thanks to Rory
Click to enlarge
Fan review:
From now on I will be known as "Mr Boston" ..."cuz I don't know your name!!" lol ... I was the one Mariah sang happy birthday to .. My sign said "Wednesday is my 24th BDay/ Will you sing to me at MSG? I'll Be There" so she read it out loud and right after she read "Wednesday is my 24th Bday" she goes "Yeah mine too!" so she was like "I'll just sing to you now for Wednesday" ... Definitely the highlight of my night, LOL, my mom had to grab my arm, she told me I was shaking ... Mariah also saw my other sign, it said "I came to have a party/feelin so hot tamale." During Dreamlover she saw it and looked at me and smiled and I pointed back at her then after the song was done she goes, "Yeah I did come to have a party! There's a sign up here that says I came to have a party..."
So I definitely had a good time. I can't even begin to write a coherent review of the concert right now so I'm not even going to attempt.
Thanks to jonny
Ok so I went to the concert with my friend who is also a Mariah fan but not nearly as big a fan as me lol. We got there around 7 so I actually bought a tour book before they sold out. Sean Paul went on right at 7:30 actually. He did all his hits and he had everyone up and dancing. He ended around 8:15 and an hour later, Mariah came on (I used the time to buy myself a MIMI shirt). When the rollercoaster intro played, I think I had a small heart attack. When JD was on the screen going "It's like that y'all/that ya'll" I felt faint. And when Miss Mariah came out on stage with "I came to have a party!" I just lost it. I was jumping up and down screaming like a maniac lol. Everyone in my row thought I was insane. I just wanna say, I thought Mariah's high-pitched voice at the concert was too cute for words. After It's Like That she did Heartbreaker, and let me tell you, I got even more excited for Heartbreaker than It's Like That. She did the remix into the original and it was so hot, everyone was dancing and singing along (actually, I was on my feet dancing and singing along the entire time lol).
After Heartbreaker, she did Dreamlover but for the 2nd verse she went into this hot remix of the song. It was very cool and gave the song new life. Then she did My All. I gotta tell ya, I was crying a little bit. It was so beautiful. Then she went into the dance version which was the coolest thing ever (except she left the stage for some reason lol). Then she did Shake It Off. My friend and I agreed that Shake It Off was probably the worst song that night. There wasn't anything wrong with it, it just doesn't play very well live like her other songs. Then she left for one of her long costume changes. They didn't play the Spike Lee videos for some reason but oh well. While she was gone, DJ Clue spun some really hot songs. Everyone was dancing, it was like a nightclub or something.
She then came back to do Vision of Love. It was one of my fave songs of the night. Her voice was in excellent condition. When she was building up to that final note, she was really taking her time and some frustrated guy yelled "SING IT B!TCH" but it was funny lol and then she did hit the final note and I was on my feet clapping for five minutes straight. Then she did Fly Like A Bird which was beautiful, simply beautiful. She hit every note. At this point I think is when she saw the guy with his "It's my birthday" sign so she sang Happy Birthday to him lol. It was sweet. Then she did IBT with Trey which was cute, but kinda just like they always perform it on every concert. When she left Trey sang some songs, he was ok but not Mariah. My friend and I sat down for him lol.
When she came back, she was walking through the crowd to the B-stage, and she walked right in front of our row! Two girls behind me who new I was a huge Mariah fan cause of my disturbing behavior were like "Look, look!" lol Then she did the B-stage which was awesome cause our seats were right next to it. She performed Fantasy which was great (my friend said it was her fave song) and then Don't Forget About Us. When she hit that high note, the crowd literally went wild. Her last song on the B-stage was Always Be My Baby. Now at this point I gotta tell y'all about my sign: one one side it said "Mariah, You're My Hero" with cute letters but the other side was a true work of art- it was a collage of all her album covers (with Rainbow in the center, naturally) with multi-colored butterfly stickers on it. My friend took pictures of it lol. During Always Be My Baby, I would hold up the sign and at one point I think she saw it cause she waved at me and pointed. I nearly died right there on the floor. Then she went back to the main stage to do Honey, which was marvelous, before going for her last costume change.
This is where we got to the "snippet" part of the show. First she came out doing the "I don't know if anyone else out there tonight..." part and did the chorus of I Wish You Knew, with high notes and everything. I should mention that she did a little "introduction" for every snippet. She also did Can't Let Go, which was beautiful, and One Sweet Day, which I liked more than the album version even though it was just a snippet lol. Then she introduced Thank God I Found You, she was like "This song is from the Rainbow album" and good Lord I nearly passed out just hearing her say that Thank God I Found You was simply gorgeous, and to those who say it's not well-known, I noticed a lot of people singing along in my section so ha. She then went into Hero and I was crying again lol. I've never cared for the song too much but live it is just simply amazing. After that was Make It Happen, another song which I don't like that much on CD but live...wow. The choir really added to the song. Everyone was on their feet clapping along.
She then left the stage. Some stupid people were leaving, thinking it was over. I was like, "have you crazy people forgotten WE BELONG TOGETHER???" lol So yeah she came out for the encore. We Belong Together was beautiful. There's no other word for it. I was cheering the entire time. When she went for that last "...we belong togetheeeeeer" man did she hit it. Then the Butterfly reprise came on and confetti was sprayed into the crowd. The perfect ending to a perfect show. If you haven't bought tix yet, I really urge you to. This is by far the best concert I've ever been to. Just seeing Mariah in person is worth the price lol. Her voice was amazing, my friend and I agreed she is better live than on CD cause she made both of us love songs we didn't really care for. There was no lipping that I could see. All in all, it was a wonderful night that I will never forget.
Thanks to rainbow1199



Copyrights and all rights are reserved to the owner of the rights.
Site owner: Gilles Ollevier
Heroes of Mariah 2000
E-mail: staff@heroesofmariah.com
Index