The Adventures of Mimi Tour 2006 - Los Angeles, USA - Heroes of Mariah
10/6/06 Staples Center Seating capacity 20.000
Click here to access the venue site.
With special guest Busta Rhymes
Price range: US $19.50 to US $129.00
Setlist:
- It's Like That
- Heartbreaker Remix with Da Brat
- Dreamlover
- My All
- Shake It Off
- Vision of Love
- Fly Like a Bird
- I'll Be There
- Fantasy
- Don't Forget About Us
- Always Be My Baby
- Honey
- I Wish You Knew (snippet)
- Can't Let Go (snippet)
- Thank God I Found You/Make It Last (snippet)
- One Sweet Day (snippet)
- Hero
- We Belong Together
- Butterfly Reprise
Official pictures: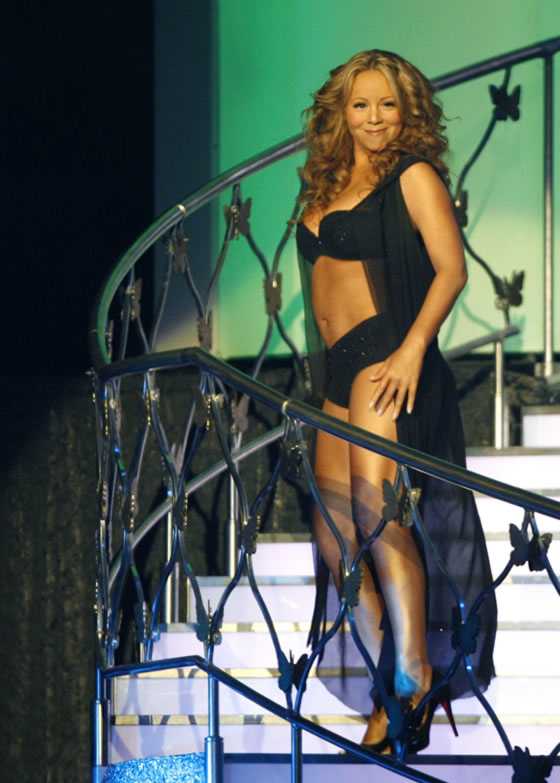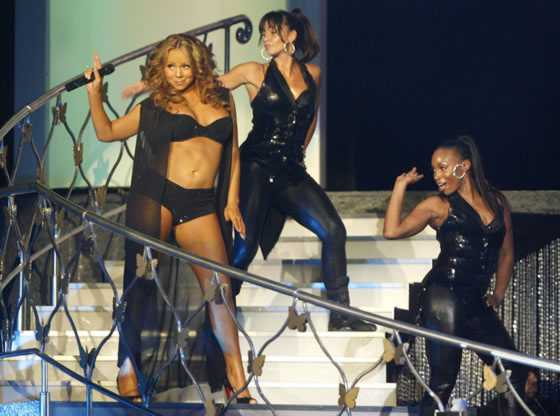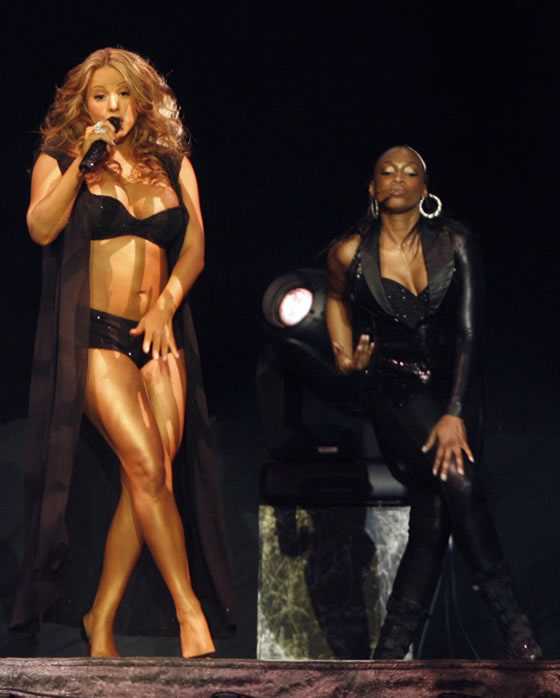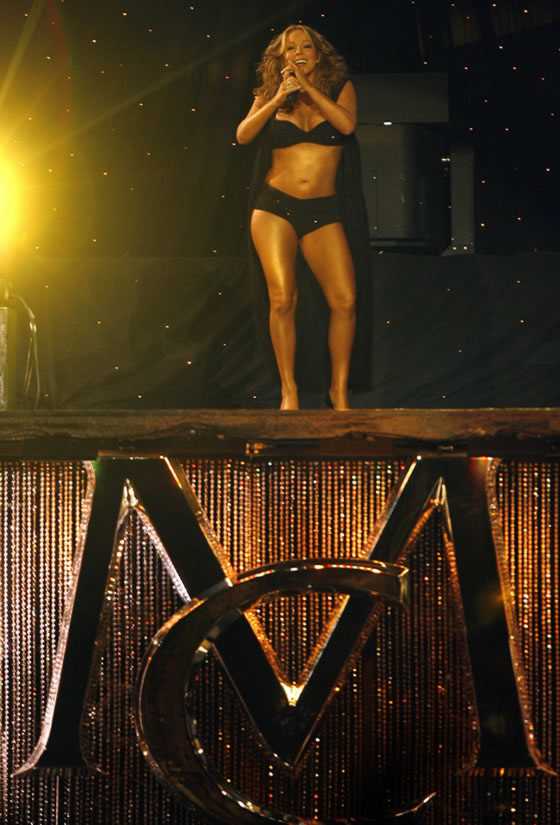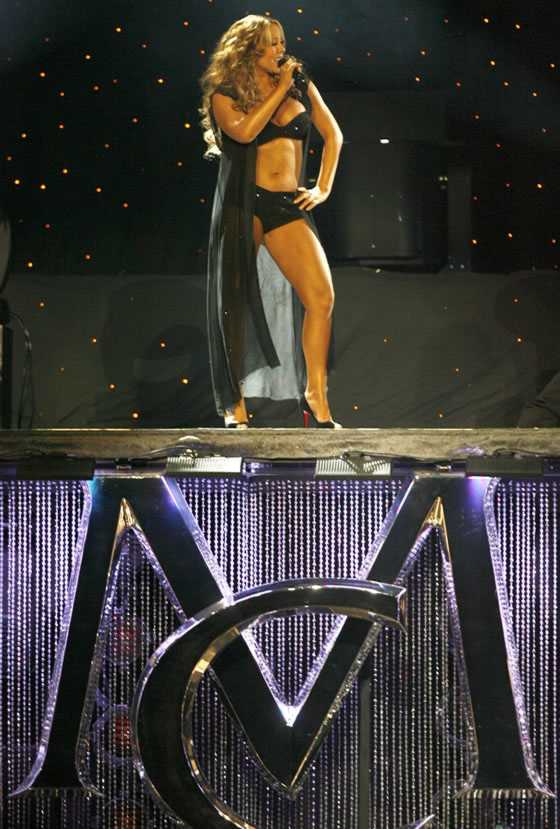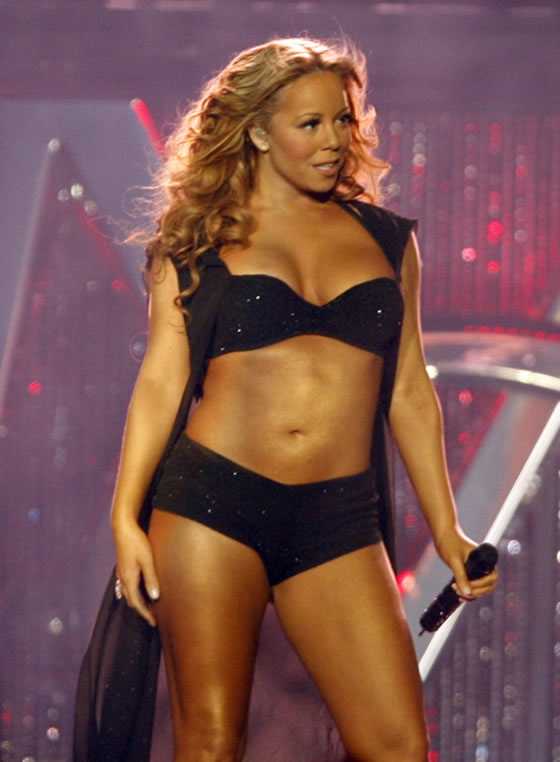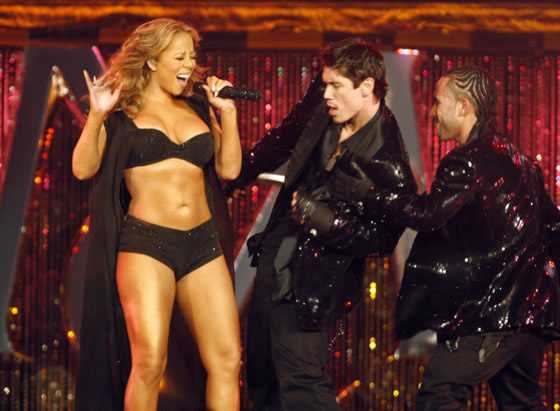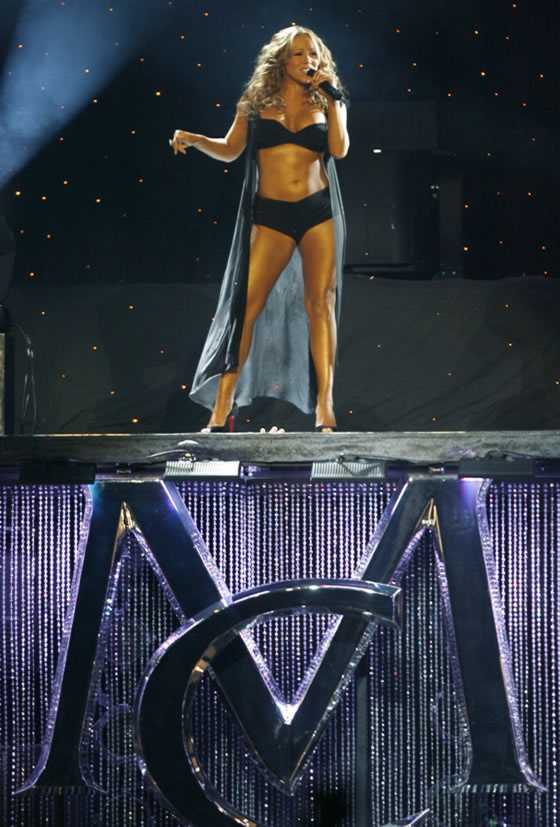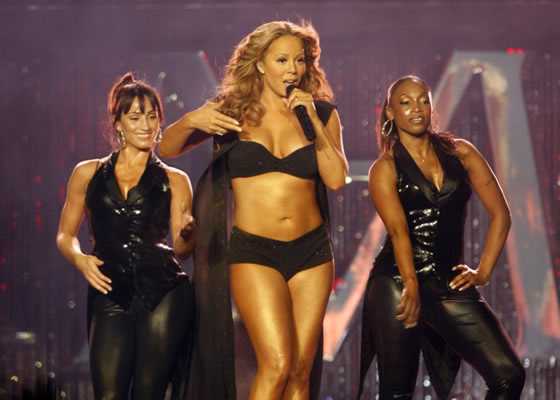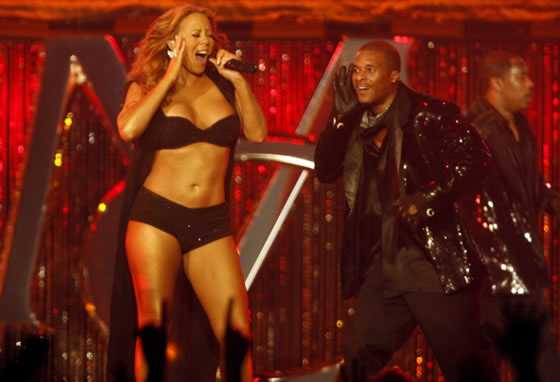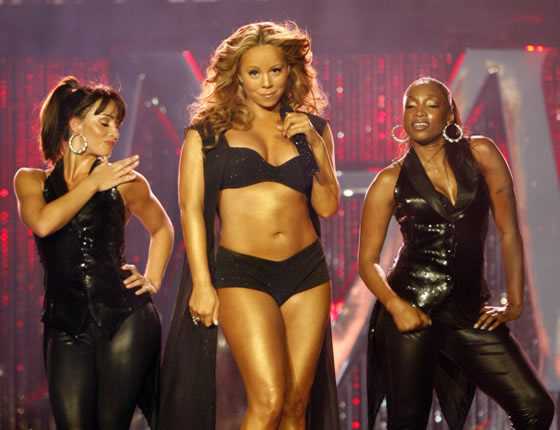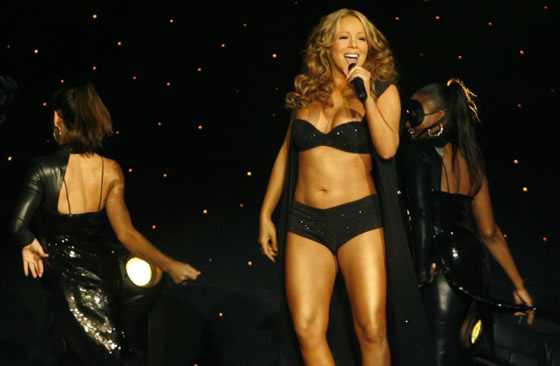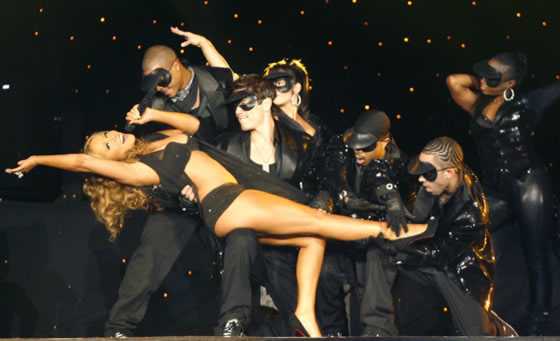 Click to enlarge.
Fan review:
Mariah Carey is amazing. Mariah Carey is a goddess. The show was amazing and I'm not just saying that because I'm a fan and I love her. Mariah is truly one of the most talented singers of our generation and she proved to everyone tonight why she is called The Voice. Mariah sounded fantastic. Her voice was so powerful and just astonishing to listen to. It was like her voice was permenantly set in a high register because she sung everything high. She was raspy during some songs and when she talked but despite this, she sung through it and didn't try to lower any notes. Yeah she cracked during Vision Of Love and Don't Forget About Us but it just made her more real and was even better when she pushed through it. The highlights for me were My All (OMG, so much power), Vision Of Love, Fly Like A Bird, and Fantasy. The reason I loved Fantasy so much is I was sitting right by the B stage and when she went on it, everyone crowded around it and when she went to our side and took off her sunglasses, something came over me and I just went freakin CRAZY!! To see Mariah, my idol, my reason for singing, my everything so up close was just something I will never forget. Damn no camera rules!! The camera nazis were in full force, even for cell phones!
The setlist was the same as all the other concerts and Da Brat was there for her verse on Heartbreaker. Trey did Never Too Much and then did one of his own songs called My Everything with the male dancers and he said they were filming the video for it. Also after that, Big Boy from Power 106 in LA came out and took a pic and proposed to his girlfriend onstage. That took a long time and I forgot I was at a Mariah Carey show....Another great moment was when a pregnant fan had a sign that said "Mariah, Name My Baby Boy" and Mariah talked to her and said that she should name it Roy (after her dad), Carey, or Trey. That was a nice segue into One Sweet Day, talking about her dad...
From a critical standpoint and as concert conosseuir if you will, I thought some changes could have been made. I think she should have changed outfits during the My All Dance Remix since she does go backstage for about 2 minutes and 30 seconds and done Breakdown but just stood in front of a microphone. I also would have only used one DJ interlude (they weren't that
long, only 4 minutes) and had the dancers dance to a house remix of a song like Say Somethin after Honey. And after I Wish You Knew, I would have had her done a full song like Circles, I Still Believe or something like that or even thrown in Stay The Night somewhere in there (whether it was before VOL or during this section, it should have been in the show). Also, at least one verse of One Sweet Day should have been sung. Other than that, I thought the show was very well put together from the video backdrops, the movements of the screens, the curtains, the set, the lights, everything. One of the best stage productions she's done.
I think at every concert the momentum is broken up when the artist goes backstage to change (the only time I've seen it work is at a Madonna concert where the music NEVER stops and the show is choreographed and moving from start to finish, no room for spontenaity). So yeah, she didn't change that much but the DJ interludes were out of place but if you let yourself go and just dance and scream during them, they were alot of fun.
Her body was amazing! Yeah she's not as skinny as she was 2 months ago but she still looks great. She's a real woman with a flat stomach, HUGE boobs and really muscular legs and if she wants to show that, I think its sending a great message.
This night just reaffirmed all my beliefs that Mariah is one of the greats. Her voice is all she needs. The best moments were when she was just singing, even when the dancers were on, all eyes were on her because she is just phenomenal. There is no doubt in my mind that she can't sing like she did way back when. When she sung Hero, it sounded like 1993, dead serious. I
thought she was lipsynching on My All but it was just that she sounded SO GOOD!!! She is so connected to her fans and you can tell that she just loves all of us and she's just having fun, being Mariah.
I'm going to the taping in Anaheim on Sunday afternoon and the show that night, CANNOT wait! I'm gonna wait after and try to get something signed. I should make a sign.......
Source: Newton by e-mail.


Copyrights and all rights are reserved to the owner of the rights.
Site owner: Gilles Ollevier
Heroes of Mariah 2000
E-mail: staff@heroesofmariah.com
Index