Heroes of Mariah - Tennessee promo page
All the infos you will find here were taken from multiple sources on the internet and personal contacts. This page will be upated regularly.

Tennessee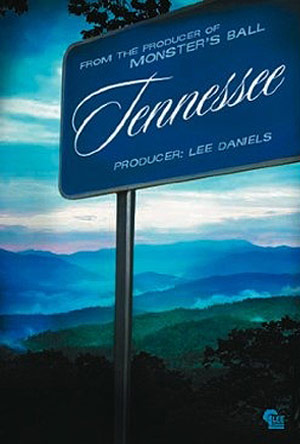 Click to enlarge, courtesy of Lee Daniels Entertainment

---

Synopsis
Carter (Adam Rothenberg) and his younger brother Ellis (Ethan Peck) embark on a journey from New Mexico to Tennessee to find their estranged father — a trip which might hold Ellis's life in the balance. Along the way they meet Krystal (Mariah Carey), an aspiring singer who flees her controlling husband (Lance Reddick) to join them on their journey..
Additional infos:
The two brothers were abused when they were kids and run away from Tennessee to escape from their abusive father.
Ten years later, the younger of the two brothers discovers he has cancer. Accompagned by his brother, he has to go back to his dad for a bone marrow transplant, during the travel they meet Krystal who wants to be a country western singer.
The girl has an abusive husband who don't want her to accomplish her dream and orders her to stay as she's his wife and needs to obey.
As I previously reported, the end is sad but not what we expect.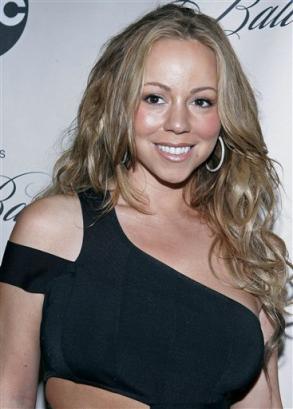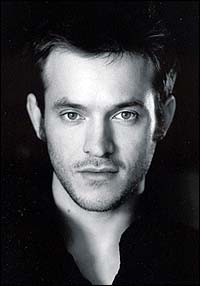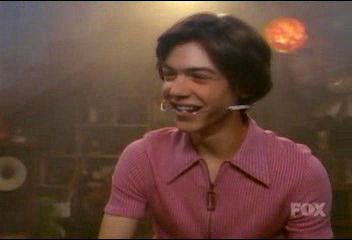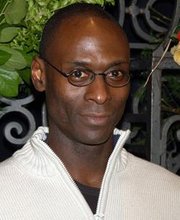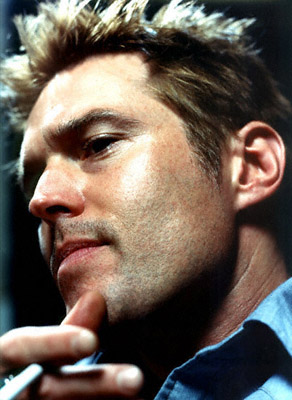 Mariah Carey Adam Rothenberg Ethan Peck (a few years ago) Lance Reddick Bill Sage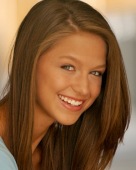 Melissa Benoist

---

Cast
- Mariah Carey as Krystal Evans, a waitress in Texas experiencing domestic violence and who dreams of being a country star in Nashville.
- Adam Rothenberg as Carter Armstrong
- Ethan Peck as Ellis Armstrong.
- Lance Reddick as Frank Evans
- Bill Sage as Roy Armstrong (Carter and Ellis father)
- Michele Harris as Karen Armstrong (Carter and Ellis mother)
- Ryan Lynn as Carter Armstrong at age 18
- Melissa Benoist as Laurel (She is Carter's high school girlfriend in the flashbacks (when he was 18)
- Jerry Biggs as Krystal's manager
- Joshua Strother as Young Carter
---

Production
Producer: Lee Daniels
Director: Aaron Woodley
Scriptwriter: Russell Schaumburg
Production Company: Lee Daniels Entertainment
Executive Producer: Jane Kelly Kosek, Dame Dash
Co-Executive Producers: Tom Heller, Lisa Cortés, Dave Robinson, Brad Kaplan, Chris Ridenhour
Co-Producer: Valerie Hoffman
Director of Photography: David Greene
Composer: Mario Grigorov
Production Designer: Aidan Leroux
Editor: Steve Edwards
Costume Designer: Deborah Everton
Casting: Kerry Barden , Billy Hopkins , Suzanne Smith
Dept Head Make-Up: Pamela Roth
Dept Head Hair: Dana Vargas
Unit Production Manager: Mark G. Mathis
Production Supervisor: Dusty Dukatz
1st Asst. Director: Alisa Fredericks
Principal Photography began: January the 29th, 2007
Music: Scott Bomar
Production Place: Tennessee, New Mexico ( Nashville, Estancia, Albuquerque)
Production Cost:
Property Master: Jeffri Welsh
Distributors: V V S Films (for Canada)
Premiere: Tribeca Film Festival (April 23rd. - May 4th.)
In theaters: December 2008 in Los Angeles, March 2009 US

---

Trailer
Click here to watch the official trailer.
Click here to watch the official Vivendi Entertainment trailer

Posters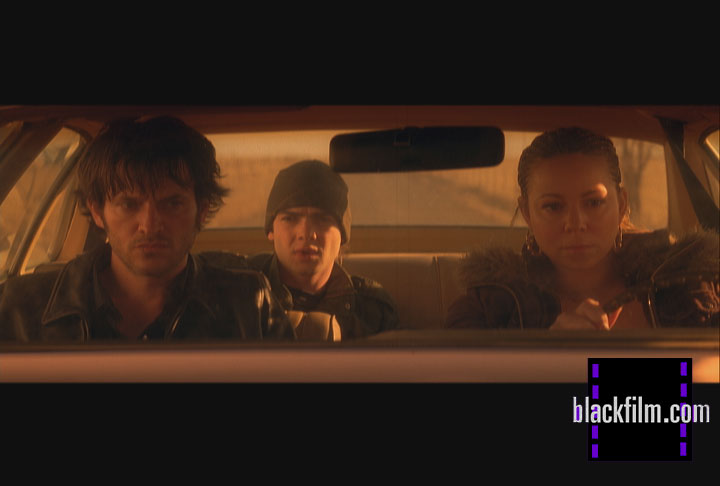 Official pictures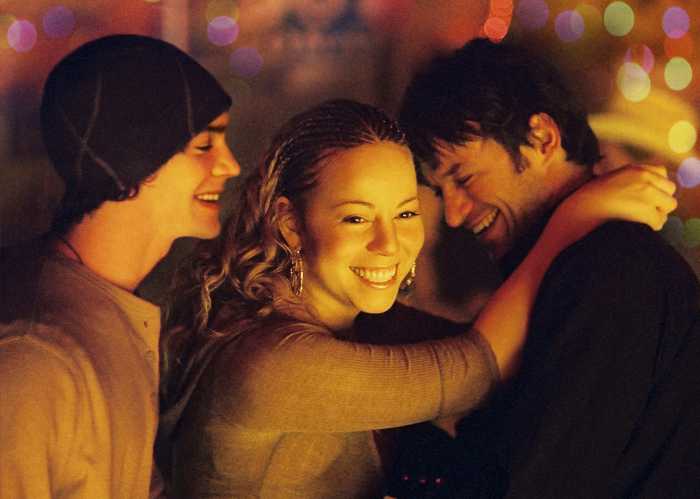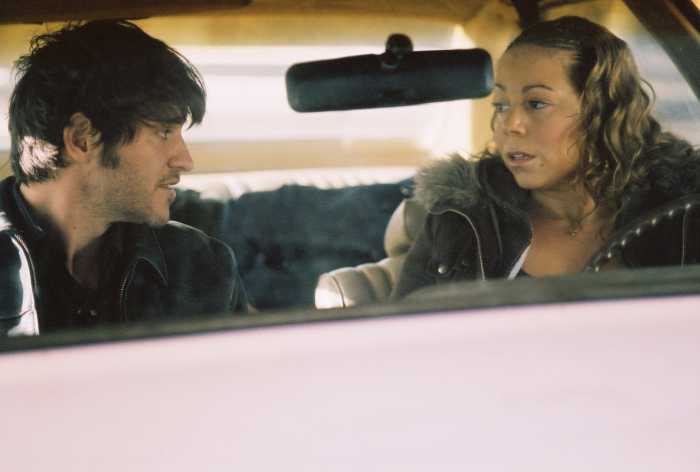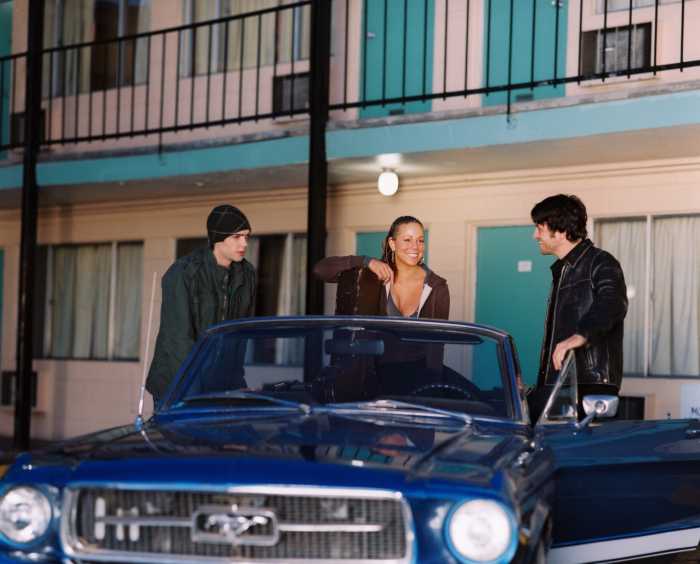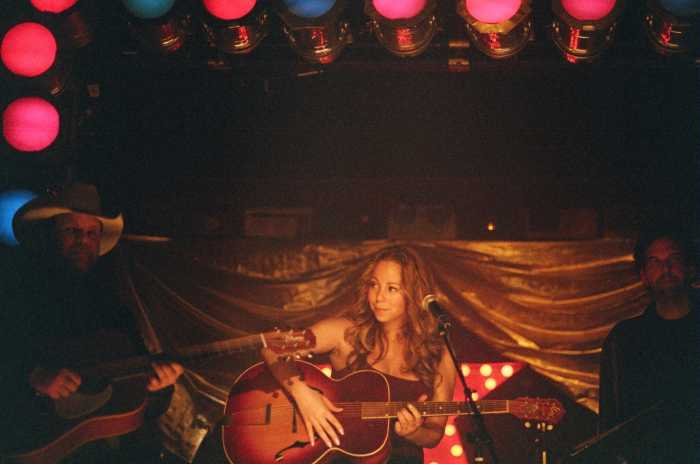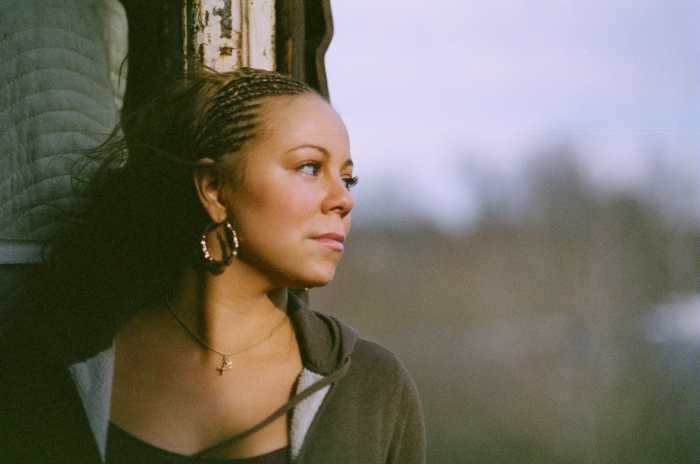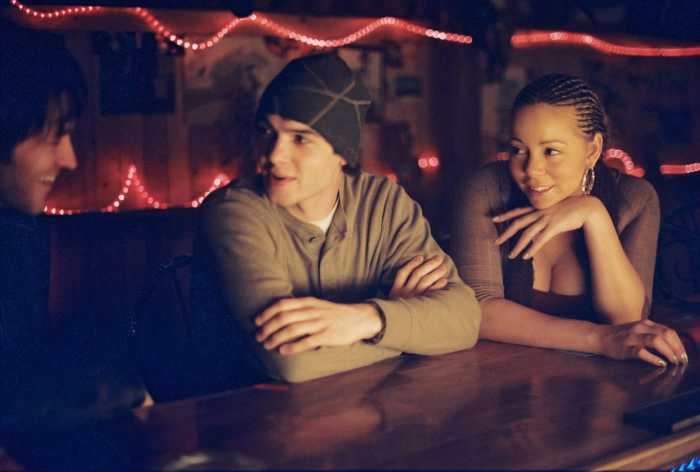 Click to enlarge
Latest news
Tennessee DVD: Official Press Release
"A rewarding and moving small drama with exceptionally fine performances all around." - Pete Hammond, Hollywood.com
"Mariah Carey is more than just the big star in this small story. She's the warm, charismatic, deliciously down home presence that fills the screen with charm to spare …" - Prairie Miller, NewsBlaze
There is Always One Last Chance
Mariah Carey, #1 Best-Selling Female Artist in U.S. Music History, Stars with Adam Rothenberg and Ethan Peck
Produced by Lee Daniels, Director of Precious
DVD Debuts January 26
Multiple Grammy Award® winner Mariah Carey, currently garnering acclaim for her moving performance in Precious, stars with Adam Rothenberg (Mad Money) and Ethan Peck (TV's "10 Things I Hate About You") in Director Aaron Woodley's (Rhinoceros Eyes) thought-provoking road film Tennessee, debuting on DVD January 26 from Vivendi Entertainment. Featuring Carey's hit single, "Right to Dream," the film is about two brothers on a cross-country search for their estranged father, who are joined by an aspiring singer fleeing her troubled marriage. Bonus features include "Road to Tennessee," a behind-the-scenes look at the making of the film featuring interviews with the cast and crew. Produced by Lee Daniels (director of Precious), Tennessee had its world premiere at the Tribeca Film Festival. The DVD will be available for $19.97 SRP.
Synopsis:
Brothers Carter and Ellis set out on a road trip to their childhood home in a desperate search for their estranged father, who may hold the key to their future. Along the way, they are joined by Krystal (Carey), who is fleeing a troubled life. Together, these unlikely companions seek to overcome their pasts and start anew.
DVD DETAILS:
Street Date: January 26, 2010
Order Date: December 22, 2009
Rated R for Language
Running Time: 99 minutes
SRP: $19.97
Language: English
Aspect Ratio: Widescreen
CAT # TN1151DVD
UPC # 883476011516
About Vivendi Entertainment
Vivendi Entertainment is a full service independent film, television, DVD and digital distribution company operating in the United States and Canada. Representing a vast range of genres including action, comedy, thriller, urban, family, fitness and stand-up comedies, Vivendi Entertainment has become a favorite distribution partner for independent content providers. The company has built an extensive catalog of over 3,000 titles, and its customer-centric business model was founded on the principles of collaboration and financial transparency. The company provides sales, marketing, and distribution services to many of the home entertainment industry's most prestigious brands including: The Weinstein Company, World Wrestling Entertainment, Classic Media, RHI, Shout! Factory, Salient, and Code Black. The company will be releasing Letters to God, a faith-based family film, on April 9, 2010. Vivendi Entertainment is a division of Universal Music Group Distribution, the award-winning sales, marketing and distribution arm of Universal Music Group, the world's leading music company.
Source: Vivendi Entertainment by e-mail
Click here to pre-order the DVD on Amazon US
---
"Tennessee" DVD release, pushed back to January 26, 2010
Source: Vivendi Entertainment by e-mail
August 17, 2009
---

Ride, Carey, Ride: Mariah and Her Mustang Hit the Road to 'Tennessee'
Opening this past weekend in Memphis, Nashville, Knoxville, Dallas, New York and a handful of other cities, "Tennessee" is a well-intentioned indie road drama with a convincingly de-glamorized Mariah Carey in the supporting role of a Texas waitress who dreams of being a country music star. (For someone typically labeled a "diva," Carey -- whose last starring role was the failed vanity project, "Glitter" -- seems surprisingly game to re-emerge onscreen as a somewhat chunky character actress.)

Written by newcomer Russell Schaumburg and directed by Aaron Woodley (and with former Memphian Chris Ridenhour as a co-executive producer), "Tennessee" stars Ethan Peck as a young teenager with leukemia who convinces his reluctant brother (Adam Rothenberg) to drive him from New Mexico back to East Tennessee, to find the drunken, abusive father the boys and their mother abandoned years before.

Heading down Interstate 40, they pick up another refugee from abuse, Krystal (Carey), who wants to go to Nashville to sing. Krystal's possessive husband is a state trooper (Lance Reddick) who uses his law-enforcement connections to track the trio. Unfortunately for Bluff City residents who enjoy seeing their city onscreen, the friends abandon Krystal's Mustang convertible and hop a freight in Arkansas, so the story leap-frogs the Mississippi River and Memphis to land on Lower Broadway in Nashville.

"Tennessee" is a well-made, occasionally moving film. It's too modest to make much of an impression, however, which may explain why it's finally showing up in a few theaters more than two years after it was shot. It exists in a sort of entertainment limbo -- it's too formulaic to be the sort of low-budget film that garners critical buzz or a cult audience; and it's too "indie" in its low-key approach to drama to click with a large mainstream crowd.

Originally, the film's music was by Memphian Scott Bomar ("Black Snake Moan"). That score was replaced by not particularly memorable new music by Mario Grigorov, who had worked with producer Lee Daniels on numerous previous projects. The movie also includes a new song written by Carey and Willie Nelson, "Right To Dream."

Rated R for profanity, 'Tennessee' opened Friday (June 5) in the Memphis area at the Ridgeway Four, Wolfchase Galleria Cinema 8, Collierville Towne 16 and Cordova Cinema.

Source: Bloodshot Eye
June 8, 2009

---

"indieWire" reported:
Aaron Woodley's Lond delayed "Tennessee" co-starring Mariah Carey, grossed only $10,000 from 15 screens.
June 7, 2009

---

Film briefs: 'Tennessee,'
TENNESSEE: 2 stars

Three outcasts hit the road. At the Sunshine (1:39). R: violence, language.

Who's the luckiest man in Mariah Carey's life right now? Nope, not Nick Cannon. It's Aaron Woodley, who somehow snagged the songbird for his downbeat drama. Granted, Carey probably came cheap, given her failure in films like "Glitter." But she's actually the best thing about this formulaic indie, in which two brothers (Adam Rothenberg, Ethan Peck) help her sad-eyed waitress escape a violent husband (Lance Reddick). The good news for Carey is that she gets to prove she's a pretty decent actress after all. The bad news, of course, is that she's done it in a movie no one has any other reason to see.

Source: NYDailyNews
June 5, 2009

---

'Tennessee,' with Mariah Carey
Aside from a Martian invasion or the birth of a unicorn, nothing could be less likely than " Tennessee," a thoughtful, sensitive drama starring Mariah Carey. Now we really have seen everything.

After recovering from the shocking sight of Carey acting - really acting - you can focus on the virtues and flaws of "Tennessee," directed by Aaron Woodley and written by Russell Schaumburg. Filled with fine moments but lacking dramatic impact, it has the feel of a fledgling effort.

Its focus is Carter Armstrong (Adam Rothenberg), a promising high-school football player abused by his alcoholic father (Bill Sage). When Carter flees to New Mexico with his mother and younger brother, Ellis (Ethan Peck), he shelves his dreams to support his family.

After their mother dies and Ellis contracts leukemia, the brothers turn to not-so-dear old dad for a bone-marrow transplant. On their journey home, they pick up yet another abuse victim, Krystal Evans (Carey), a waitress married to a menacing cop (Lance Reddick).

Carey, all small-town sincerity, plays nicely against Rothenberg's bottled rage. Unfortunately, Krystal is an aspiring country singer, which means we have to watch her enter an open-mic contest and perform a Carey original, "Right to Dream." Gosh, do you think she'll win?

OK, maybe "Tennessee" isn't so surprising after all.

PLOT: The sons of an abusive father take a journey back home.

CAST: Mariah Carey, Adam Rothenberg, Ethan Peck, Lance Reddick.

LENGTH: 1:39.

BOTTOM LINE: As a Texas waitress, Carey is convincing - more so than the film itself.

Source: NewsDay
June 4,2009

---

Traveling to Nashville through a tunnel of pain
First thing you need to know about Tennessee, a road movie about two brothers and their eventful journey from New Mexico to Nashville, is that it's produced by Lee Daniels (Monster's Ball, The Woodsman, Shadowboxer).

Like those films, Tennessee is drenched in melancholy, a trip through a tunnel of pain illuminated by a lone ray of light at the end.

Director Aaron Woodley is attentive to how that light warms the golden buttes of New Mexico and glistens on the emerald hills of Tennessee. He is, likewise, mindful of his performers - Adam Rothenberg as Carter, elder brother and surrogate father to Ellis, played by Ethan Peck.

In a Route 66 diner, Ellis meets Krystal (Mariah Carey), a downcast waitress, who instantly feels protective of the young man. Both of them share a similar family secret. Soon Krystal, an aspiring singer, is driving the siblings to Nashville, her state trooper husband in hot pursuit.

Though Tennessee feels more like a demo reel than a movie, the simplicity of Peck's performance and the naked pain of Rothenberg's are quite affecting.

Something was so familiar about the timbre of Peck's voice that I looked him up: Yes, his grandfather was the late Gregory Peck, and among the younger Peck's genetic blessings is Grandpa's resonant bass. On the subject of screen genes: Director Woodley is the nephew of filmmaker David Cronenberg.

Source: Philly.com
June 4, 2009

---
Free tickets for "Tennessee" in Memphis!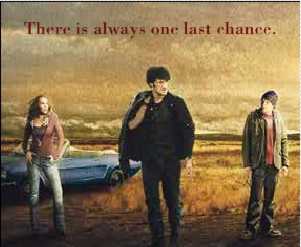 The Memphis Flyer wants to send you to a free screening of the new film Tennessee this Thursday, June 4th. No purchase necessary. All you have to do is pick up your free pass at our offices located downtown at 460 Tennessee Street on the 2nd floor. Just stop by and tell the receptionist you're here to pick up your free movie pass.
Limited to one 2-person pass per visitor. The screening for the R-rated film, starring Mariah Carey, Adam Rothenberg, and Ethan Peck, is at Malco's Ridgeway Four at Poplar & 240 at 7:30 p.m. Tennessee opens in multiple locations around town this Friday.
June 3

---

Tennessee Movie Review: Mariah Carey Is Vibrant On Screen
A bible belt cross-country youthful journey of discovery in search of family reconciliation, Tennessee is emotionally well meaning enough. But the film more than misses the mark as a road movie whose unintended sense of cultural distance and mostly generic country characters with jarring cosmopolitan leanings, come off rather like big city tourism in out of the way places.

Carter (Adam Rothenberg) is big brother and young surrogate dad to Ellis (Ethan Peck). High school football star Carter abruptly fled Tennessee and their physically and emotionally abusive father some years ago, with Carter in tow along with their mother, who has recently passed away. And Carter has been raising Ellis since then, in a trailer in the New Mexico wilderness.

When Ellis is diagnosed with leukemia and Carter doesn't qualify as a potential life saving bone marrow donor, the younger sibling convinces his resistant brother to go look for their estranged father, who might provide the necessary match instead. Along the way they encounter Krystal (Mariah Carey), a sassy Texas truckstop waitress with dreams of becoming a country singer. And she joins up with them on a whim to go make a pitch in the Nashville music scene, while escaping abuse of her own from her domineering highway patrol spouse.

Mariah Carey is more than just the big star in this small story. She's the warm, charismatic, and deliciously down home presence that spontaneously fills the screen with charm to spare, in this comparatively weak and maudlin story. Though it's unfortunate and rather lopsided, that the details of her own character lack the attention and depth lavished upon the male protagonists.

In addition, what we have here is once again the black mammy syndrome, as Carey seems to be around mostly to tend to the physical and emotional needs of those perpetually moping males. She's even repeatedly fetching them food, long after Krystal has called it quits with waitressing. And in the brief interlude when she does get to grab some spotlight and show her far too professional musical skills as a supposed amateur on a stage in an unusually receptive redneck bar, Mariah through no fault of her own, feels as fish out of water forced as you can get.

Tennessee has its moments of tenderly spun brotherly love. But all the secondary characters lack a sense of being fully realized, particularly the many abusive one-note males, seemingly on hand more to make a vague point about domestic violence not being cool, than dramatically resolving or explaining anything about that terrible trauma.

Vivendi Entertainment
Rated R
2 1/2 stars

Source: NewsBlaze
May 27, 2009

---

New official trailer
Vivendi Entertainment updated their site with a new trailer. Click here to watch it.
Feature Title
TENNESSEE- IN THEATRES JUNE 5th (LIMITED)
A moving and gripping drama of sacrifice and self-discovery; TENNESSEE is the story of three people who strive to realize their dreams. Brothers Carter (Adam Rothenberg) and Ellis (Ethan Peck) set out on a road trip to their childhood home in a desperate search for their estranged father, who may hold the key to their future. Along the way, they are joined by Krystal (Mariah Carey), who is trying to escape a troubled life. These unlikely traveling companions are guided in their mutual journey by the conviction that the only way to a new life is by overcoming their past.
Source: Vivendi Entertainment
April 23, 2009

---

In Theaters in the US
June 5, 2009
Source: Moviefone
April 15, 2009

---

"Tennessee" theatrical release later this year
In a Press Release telling Larry Levy is named Vice President, Theatrical Distribution at Vivendi Entertainment, they quote:
"On deck for later this year is Tennessee from producer Lee Daniels (Push, Monster's Ball, The Woodsman) and starring Mariah Carey."
Source: Yahoo!Finance
February 3, 2009

---

"Tennessee" official site updated
Go quick take a look!
January 26, 2009

---

Video for "Right To Dream"
The music video for "Right To Dream" is hitting the net. Clips from the movie and studio shots of Mariah recording the song makes you want to see the movie.....
Click here to see the video.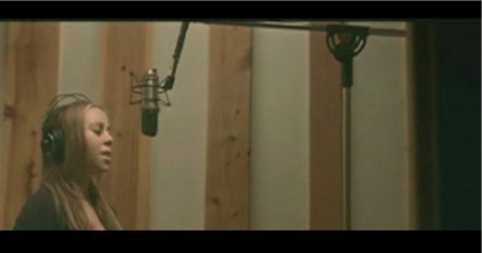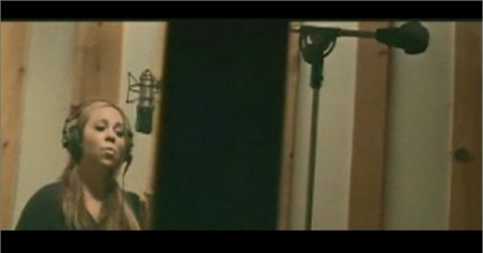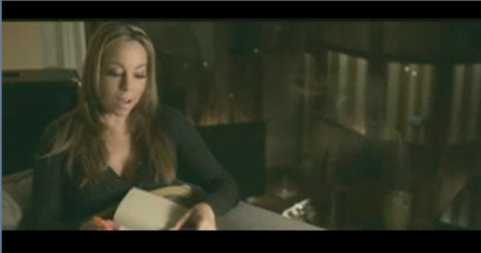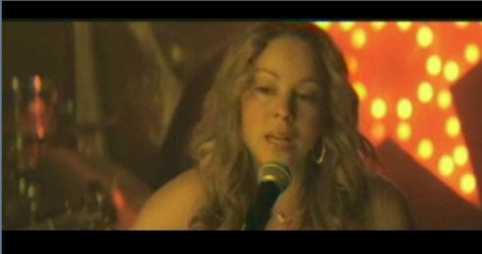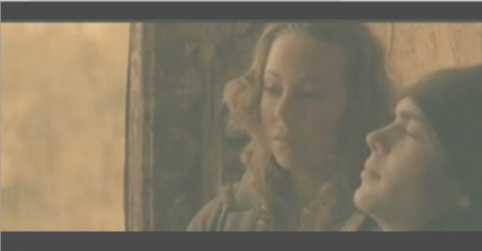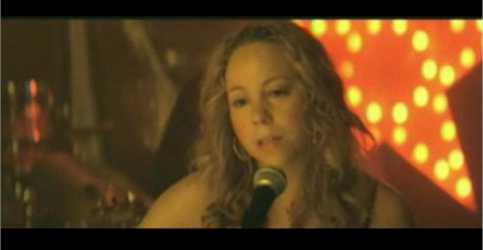 Source for the info: Ronnie by e-mail
December 9, 2008
---
There's More to see in 'Tennessee' than Mariah Carey
Sweet story about brothers with pretty pictures and a glam-free Mariah Carey
Mariah Carey and "Oscar-qualifying run" may strike you as a jarring association, but her new movie, "Tennessee," opens today for a one-week engagement to put the film into consideration.
Into consideration for what, you might ask. Those who remember Carey's stink-bomb star turn in "Glitter" might be a little gun-shy about any kind of Mimi movie, even one, like "Tennessee," that isn't a vehicle for the diva.
Apparently, what the filmmakers are hoping for (or are contractually obligated to hope for) is consideration for Carey's song "Right to Dream," a pretty, acoustic number she co-wrote with Willie Nelson and sings in "Tennessee." Academy voters have nominated dozens of songs less distinguished than this one, and, who knows, if the movie's producers are willing to pony up some free food and photo ops, maybe Carey can score a Golden Globe nod.
As for the movie itself, "Tennessee" is a low-key, sentimental road movie about two brothers looking to lick wounds from the past and start anew. It's well-acted and contains dozens of beautiful, wide shots of wintry landscapes and will probably satisfy anyone who winds up checking it out when it goes (almost direct) to DVD next year.
Brothers Carter (Adam Rothenberg) and Ellis (Ethan Peck) left their Tennessee home as teenagers, sick of suffering abuse from their alcoholic father (Bill Sage). Many years later, Ellis falls ill with leukemia and the boys must return home to see if dear old dad might be a bone marrow match for the younger brother.
All this happens before the opening credits have ended. Fortunately, the movie doesn't heap on much more tragedy after that, settling into a meandering, sweet story of brotherly love. Carey shows up halfway through, playing a world-weary Texas waitress who leaves her own abusive relationship behind to join the brothers on their trip to Tennessee.
Carey is appropriately dolled down and dialed down here, though she makes a rather startling transformation when she enters a singing contest in Nashville. It's hard to decide what's more impressive - the guitarist and harmonica player who instantly learn Carey's song without any rehearsal or the fact that Carey does a complete hairstyle change in less than two minutes before hitting the stage.
Maybe the makeup artist deserves an Oscar, now that we think about it. We'll rest well tonight, knowing the work has qualified.
Source: LA.com
December 5, 2008

---

Tennessee review
Fourteen years after they fled their abusive father, brothers Carter (Adam Rothenberg) and Ellis (Ethan Peck) decide to drive from New Mexico to Tennessee to contact him in the hopes that he's a bone-marrow match for the leukemia-stricken Ellis. If you're wondering why the guys don't save time by calling first, you're not on the wavelength of director Aaron Woodley's contemplative, pokey road movie/sibling drama, which exists in an antiquated, slow-motion world of pay phones, smoky roadhouses and kindhearted waitresses who dream of becoming country singers. Screenwriter Russell Schaumburg has a knack for subtly unrolling his script's themes of forgiveness and second chances, but while the road trip contains several nice moments — and an unexpectedly empathetic performance from pop superstar Mariah Carey as said waitress — Tennessee just doesn't add up to much. Despite the inclusion of an ill-advised chase-thriller element midway through, and a shockeroo surprise at the end, Woodley's film mostly floats along on its melancholy drift, so well-attuned to the low-key rhythms of its beaten-down characters that it never quite summons up enough energy for the rest of us, who are along for the ride.
Source: Tim Grierson for LA Weekly
December 3, 2005

---

Lance Reddick: 'Mariah Will Have a Film Career'
Sure, he'd heard about the scathing reviews for Glitter. So Fringe star Lance Reddick didn't know what to expect from Mariah Carey when they filmed the indie flick Tennesee.

But after their first scene – in which he shoves her up against a wall and grabs her face – the actor was pleasantly surprised.

"She pulled it off," Reddick, acclaimed for his acting chops on HBO's The Wire, tells PEOPLE. "She really took it seriously. She was committed to proving that she could do this."

In the movie due out in January, Carey plays a waitress named Krystal, who tries to escape her abusive husband, portrayed by Reddick, by going on a road trip with two brothers.

Says the actor: "I saw all the subtlety in her work, and it's really beautiful."

Adding that Carey is "very sweet" in person, Reddick says, "After this, I think she's going to have a film career, if she wants one. She is good."
Source: People
November 25, 2008

---

Mariah Carey enters Oscar race
Mariah Carey has no trouble topping the charts or winning Grammys. But one arena she's yet to conquer is the film world.

The latest from from the"Glitter" actress, "Tennessee," will open for a limited screening in December in Los Angeles. And the pop star will be getting an Oscar push from the film, but for what she does best: singing.

For "Tennessee's" "Right to Dream," which Amazon.com is listing with a Dec. 2 release date, Carey got a little help from a surprising source. Rather than producer/regular collaborator Jermaine Dupri, Carey turned to country legend Willie Nelson.

"I was humming different melodies while I was on the set and stuff," Carey told Pop & Hiss. "I was just thinking that Willie Nelson would be somebody fabulous to collaborate with. I reached out to him and we met after one of his concerts, and he did some guitar for me.

"I went to his concert with my mom," Carey continued. "She's a huge fan of his. We watched his show, and went back to the trailer afterward, and had a nice long talk about writing and the style of the record I was going for. It's so heavily guitar-driven, and I was just thinking his sound would enhance the record."

The resulting song is one of the more low-key and elegant turns from the singer in recent memory. Dressed with delicate, finger-picked guitar embellishments, Carey's vocals are direct and sturdy, and go for determined optimism rather than late-night desperation.

The song, says Carey, is from the perspective of her "Tennessee" character Krystal, an aspiring singer. "The song has its own arc," Carey said. "She begins by telling us where she started, like she lays in bed and wonders where she left herself. A lot of people go through that sort of thing. It's kind of about empowerment."

Directed by Aaron Woodley (2003's "Rhinoceros Eyes") and produced by Lee Daniels, whose company has produced such films as "Monster's Ball" and "Shadowboxer," "Tennessee" tells the story of two brothers who go off in search of their estranged father. Along the way they run into Carey's Krystal, who is fleeing an abusive husband.

Next year, Carey will have a role in another Lee Daniels production, "Push," an adaptation of Sapphire's novel of the same name. But Carey will have no music in that film: "I just showed up as an actress," Carey said.

Carey will appear at the Dec. 3 Grammy nomination prime-time special. She'll be performing a song from the Grammy Hall of Fame, but before Pop & Hiss could ask which tune, our time with the pop star had expired.

Source: Todd Martens for the LA Times Music Blog
November 25, 2008

---

Tickets for the Beverly Hills screenings on pre-sale
Ready Theater Tickets are pre-saling the tickets to the Tennessee screenings at Laemmle's Music Hall 3, 9036 Wilshire Blvd. Beverly Hills
Enter the date and hour of the screening, then Click on SHOWTIMES to purchase tickets.
Source: Vivendi Entertainment by e-mail
November 21, 2008

---

For a Song: Mariah Carey
With the critical backlash to her 2001 "Glitter" film and soundtrack a distant memory, Mariah Carey rises again to star and sing in the indie pic "Tennessee" as Krystal, an aspiring singer who leaves a soured marriage to embark on a road trip to the heartland. Accompanied by two brothers, she ultimately competes in an open-mike contest with her song "I've Got a Right to Dream."
"It was Krystal's multidimensional core that drew me in," says Carey about her connection to Russell Shaumburg's script. "I felt like my own experiences would allow me to bring a character to the project that's hard-edged, raw and vulnerable."

Though Carey's song "I'll Be Lovin' U Long Time" from her latest album "E=MC2" appeared over the end credits of Adam Sandler's "You Don't Mess With the Zohan" (a film in which she also makes a cameo), it's unusual for the performer to contribute something specific to a film. Deconstructing her songwriting process, Carey explains: "It was a different experience from an album project. I was very close to the story and in particular my character's struggle, so it made it easier for me as a writer. I just began channeling Krystal's pain and hope."

Between takes and guitar lessons on the set, Carey's humming and diary entries evolved into the Spanish-guitar-accented ballad that she sings during the film's competition scene. In the recorded version of the single, Carey leaned on Willie Nelson to play guitar.

"The song is basically a three-act play and chronicles the evolution of Krystal," says Carey.

"Dream" is reminiscent of Carey's '90s ballads that often evoked themes of soul-searching, lost love and inner strength.
Source: Variety
November 18, 2008

---

Right To Dream release Date: November 25, 2008
The song Mariah performs in "Tennessee" will be on sale in mp3 format, don't pirate it, buy it!!!!!!!!!!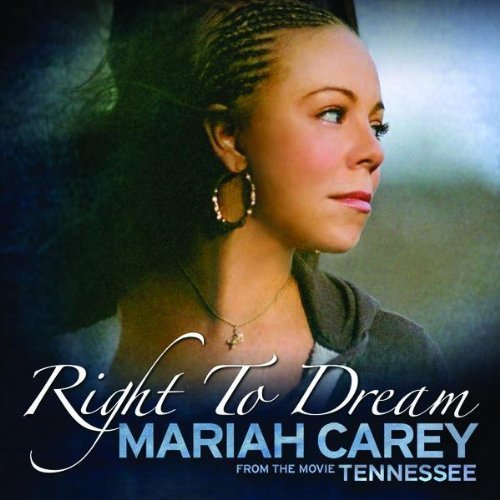 Click to enlarge
November 17, 2008
---

Tennessee screening at the Bahamas Festival
Films screening at this year's event include Ryan Fleck's "Sugar"; Aaron Woodley's "Tennessee," starring Mariah Carey; and helmer Austin Chick's "August," starring Josh Hartnett, Adam Scott and Robin Tunney.
The fest runs Dec. 4-11.
Source: Variety
November 17, 2008

---

Tennesee's Right To dream up for an Oscar?
Tennessee is set to open for 1 week on December 5th in Los Angeles in order for the song in the film to qualify for the Oscars.
The film will then open wider in the US in 2009.
Source: Vivendi Entertainment by e-mail
November 12, 2008

---

"Tennessee" screening in Santa Monica!
Santa Monica fans, there will be a screening of "Tennessee" in your area:
AMC Santa Monica 5 - November 6th. at 5:00pm
Fairmount 4 - November 7th. at 11:am
November 1, 2008

---

Mariah Carey's Surprising Performance
Music diva Mariah Carey became the laughingstock of the acting world when she starred in the box-office bomb "Glitter" -- but her performance as a battered wife in the forthcoming "Tennessee" won kudos at the Tribeca Film Festival. Her costar Lance Reddick is eager for the movie to be sprung on the public Dec. 19. "I think people are going to be very surprised. I thought she was wonderful. She was really, really serious about the work. I saw the film for the second time recently, and I was able to see a lot of the subtlety of her performance," extols the actor, who plays her controlling husband in the flick about two brothers who drive from New Mexico to Tennessee in search of their estranged father.

"There's no comparison," he adds of her previous acting experiences. And, referring to the filmmaker behind "Monster's Ball" and "The Woodsman," Reddick adds, "The other thing to remember is that this is a Lee Daniels film. He's a very serious filmmaker, and every film he does he tackles very important social issues."

Carey's reportedly already lined up for a second feature for Daniels -- "Push," about a Harlem social worker -- and has a Yuletide movie musical in development for herself.
Source: National Ledger
October 28, 2008

---

Official Tennessee trailer
ElephantEyeFilms uploaded the official Tennessee trailer on their YouTube channel (Oct. 23 update, it's now set to private)
Click here to watch it on a fan channel.
October 22, 2008

---

"Right To Dream" goes on radio
Mariah Carey's single "Right To Dream" will be added to AC formats on October 20
October 14, 2008

---

Tennessee Opens December 19 (in the US)
Lee Daniels said that the movie would open December 19 in the Q&A session at the Urban Film Festival Tennessee screening.
September 13, 2008

---

Vivendi off to 'Tennessee'
Film unit grabs rights to Lee Daniels pic
Vivendi Entertainment has grabbed all U.S. rights to "Tennessee," the latest pic from "Monster's Ball" producer Lee Daniels.
Directed by Aaron Woodley ("Rhinoceros Eyes") and written by Russell Schaumburg, the film was produced by Daniels in association with Smokewood Entertainment.

Adam Rothenberg, Ethan Peck and Mariah Carey star in the tale of two brothers on a journey to their hometown in search of their estranged father. Carey plays an aspiring singer who flees her abusive husband to join them.

In the film, Carey performs original ballad "Right to Dream," which she co-wrote with Willie Nelson.

Vivendi has set a December release.
Source: Variety
September 11, 2008

---

According to Director Aaron Woodley, Tennessee is scheduled for theatrical release in December 2008
August 31, 2008

---

Mariah Carey's Scream Startles 'Tennessee' Co-Star
Mariah Carey gets a lot of grief over being a bad actress — "Glitter," anyone? — but she was believable enough to fool her "husband."

Lance Reddick — who's known for his work on "The Wire" and "Lost" and will be a FBI agent on J.J. Abrams' upcoming television show "Fringe"– was cast late in the game for the upcoming movie "Tennessee" ("Honestly, they were going to go with a bigger name," Reddick said, "but they lost that someone"). So by the time he was signed up as Carey's character's husband Frank, "I had less than a week before we started shooting," Reddick said.

On his first day on set, he was slated to shoot a scene where Frank menances his wife Krystal, because she didn't buy the kind of beer he wanted for his card game. Krystal's a waitress who dreams of being a songwriter (at least the latter part is something Mariah could relate to). But she's married to a state trooper who believes that since he pays the bills, she better do what he wants.

"So on my first day, the first time I ever meet her, I have to go in cold and grab her arm and throw her against the wall," Reddick said. And while he was holding her by the neck, she screamed. Considering her multi-octave range, "I wouldn't even want to begin to imitate how that sounded," he said.

"I thought I hurt her," he added, "so I stopped. I said, 'Are you OK?' And she said, 'Hello? I'm acting.'"

Reddick was astonished. After that first take, they did the scene from start to finish a couple more times to get different angles, but since that moment, he's had a newfound respect for her.

"She was so committed to being a great actress," he said. "And she was."
Source: MTV
August 29, 2008

---

"Tennessee" will be distributed
Tennessee will be distributed theatrically and on DVD in the US and Europe.
Distribution plans are expected to be announced soon.
Source: Elephant Eye Films by e-mail
July 9, 2008

---

New clip added on Tennessee's official site
Click here and then on "Film Clips".
June 20, 2008

---

"Tennessee" review by BBC reporter
BBC News entertainment reporter Mark Savage attended the premiere of "Tennessee" at the Marché du Film in Cannes yesterday.

Back in 2001, soul superstar Mariah Carey had a bit of a funny turn in the wake of releasing her box office flop Glitter - a film which put the word corny into, erm... popcorny.
"Carey can act after a fashion, though dialogue gives her trouble," noted TV Guide magazine in the US.

Well, despite that setback, the singer has ventured back onto the silver screen in a movie called Tennessee and, with a low-key Cannes premiere last night, there was really no other option for our evening's entertainment.

Tennessee is a good old-fashioned road movie, where travelling along an actual highway is a metaphor for making progress along your personal journey of life.

Mariah plays a waitress who - would you believe it? - wants to break into music. She gets picked up by the film's heroes and accompanies them to Nashville, where they hope to find their estranged father.

Amazingly, Mariah is the best thing in it. Her understated, downbeat performance is so natural that pretty soon you stop wondering whether Busta Rhymes will pop up for a guest rap.

And for someone famed as an image-obsessed diva, Carey has no problem playing a character who dresses down in dowdy clothes with greasy, toussled hair. She even carries a little extra weight compared to her normal svelte image.

Carey is so good, in fact, that the film feels rather flat when she's off-screen. The denouement, which is presumably supposed to be a heart-rending tear-jerker, kind of passed me by.

Maybe we wrote Carey's film career off too soon?
Source: BBC (All rights reserved)
May17, 2008

---

Mariah Carey surprisingly effective in "Tennessee"
It's slightly unfair to describe "Tennessee," which had its world premiere at the recent Tribeca Film Festival, as the new Mariah Carey movie, but that's the way most people will talk about it.

Carey is not the main character in this story of two brothers trying to make peace with their past, but her presence will give this road picture a whole other level of visibility. This is not necessarily a good thing because of Carey's notorious 2001 bomb "Glitter."

So the first surprise of "Tennessee" is that Carey gives an understated and very effective performance. Because her musical career is soaring higher than ever, the timing could be right to win an audience for this modest rural drama.

The picture has something else going for it: a religious undercurrent that could resonate in the heartland. Carter (Adam Rothenberg) and younger brother Ellis (Ethan Peck) fled an abusive father years ago and are living in New Mexico. But when Ellis is diagnosed with leukemia, they decide to travel back to Tennessee to see whether their father might be a match for the bone marrow transplant that Ellis needs. Along the way, they encounter Carey's Krystal, an aspiring singer who also is a victim of domestic abuse. The journey does not play out predictably because Ellis has a secret plan that might lead to redemption for the other characters.

The biggest problem with the movie is believing in Ellis' preternatural wisdom. He's a Christlike figure, and you either buy into his saintliness or you don't. But even nonbelievers might find themselves moved by the film's final scenes. This is partly a tribute to the performers.

Rothenberg, who's known mainly for his stage work (he played Stanley Kowalski to Patricia Clarkson's Blanche in a Kennedy Center revival of "A Streetcar Named Desire"), has a strong masculine presence. Peck, the grandson of Gregory Peck, exudes innocence and decency.

Director Aaron Woodley demonstrates visual talent, but the pacing is off, and the movie meanders until it reaches its unexpectedly powerful conclusion.
Source: Reuters/Hollywood Reporter
May 1, 2008

---

"Tennessee" review
Ah, the road film. The formula is tried-and-true: usually two people, taking to the back roads of America in order to get somewhere by a certain time or for a particular reason. Along the way, cars break down, trains are jumped, and quirky characters are encountered. It can be funny, sweet, or darkly dramatic. But the formula rarely strays. Because of this, the key to a good road film is what happens during the journey. You want to see lessons learned, growth, and bonding. But you also want to see interesting characters and maybe a good car chase thrown in, too.

Tribeca seems to have at least one of these films every year. Last year it was Chasing 3000. This year, it's Tennessee, a slow-moving but sweet story of two brothers who go back home to find their abusive father; what they find, though is that there's more than one reason to go home.

The story is pretty straightforward: in 1993, after finally confronting his alcoholic, abusive father, Carter Armstrong (Adam Rothenberg) escapes from Tennessee to New Mexico with his mother and little brother Ellis. Fifteen years later, the mom is dead, Ellis (Ethan Peck) has leukemia, and Carter is not a bone marrow match. Ellis suggests that they go back to Tennessee to find their father for a possible marrow donation. Carter, who sacrificed a future as a college football star to protect his family, reluctantly agrees.

So they set off on the road in Carter's taxi. Along the way, Ellis befriends Krystal (Mariah Carey), a diner waitress who decides to join the brothers in order to escape her own abusive relationship, with state trooper Frank (Lance Reddick of The Wire). The usual spiritual journeys ensue, with Frank's relentless pursuit of his wife thrown in for good measure.

Watching Tennessee, one can tell that director Aaron Woodley is in love with the varying landscapes in these United States, as he takes loving wide shots of terrain ranging from the dessert of New Mexico to the lush green hills of Tennessee. It makes for a great backdrop for the story, which is low-key in every sense of the word. Even the menacing specter of Frank isn't played up any more than it needs to be. In essence, Woodley makes sure that the exploration of how people can overcome their pasts and redeem themselves is at the forefront of his film.

The performances are what's most notable about the movie. Rothenberg plays the booze-addled Carter with the right combination of self-pity, rage, and restraint. His Tennessee accent goes in and out, but otherwise, his performance is fine. Reddick is realistically scary as Frank. Peck, in his first film role, is remarkable as Ellis, stoic in the face of his illness, but with a sense of responsibility that his older brother never really had. And, if anyone was worried that Carey was going to overwhelm the picture with her star power, there was no need to worry; she properly eschews her glam persona to play Krystal, whose dreams have also been squashed by abuse. She even sports a passable Texas accent, which is no small feat for a girl from Long Island.

As you'd expect to see in most road movies, there are some leaps of faith that need to be made in order to ensure that the journey is completed. It's interesting that none of the stories end the way a person would expect, but sometimes those twists work and sometimes they don't. But those details shouldn't dissuade you from checking the movie out. Tennessee isn't action-packed, but it has a story that should keep you engaged from start to finish.
Source: Joel Keller for Cinematical
April 30, 2008

---

"Tennessee" review (focused only on Mariah)
Mariah Carey, "Tennessee"

Albums sold: Over 160 million worldwide.

Previous acting experience: "Glitter," the straight-to-DVD "WiseGirls"

Role believability: We're inclined to believe that Carey's early moments in the film, as a forlorn waitress longing for a better life, might've been inspired by the fact that shooting in New Mexico was probably not that exciting to Mimi. And once we see her sitting by the side of the road in front of the Route 66 Restaurant where she works with a notebook, humming, we know "Tennessee" isn't going to be a real stretch for Carey as an actress. The same can't be said for her character's plunging neckline.

Stunt double justification: Mariah can't drive...sort of. For a relatively slow speed chase away from her husband, who just happens to be a state trooper, Carey's character Krystal manages some nifty wheel work to evade a fast-approaching tractor. Although Krystal gets away by hopping a train, Carey can't escape the end credits, which reveal that she had a stunt driver.

Huh? Moment: There are a few, but if we have to choose, the gem is when Krystal overhears a guy who she just met telling someone on the phone how great she is — she's really nice and boy, she should go to Nashville with him and his brother. He then asks her to greet the mystery person on the other end of the line. When she picks up the phone and realizes no one's there, she continues the conversation. The runner up for this category is Carey's delivery of the following phrases: "You don't know your limits. You know what happens to people who don't have limits? They cross the line."

Interesting character quality: Teaches the guys how to drink tequila shots at an Oklahoma dive bar.

Does she sing? Well, yeah. In fact, the more cynical members of the audience might wonder if the only reason Carey signed on was to sing "Right to Dream," a sort of "I'm Not a Girl, Not Yet a Woman" for those old enough to be in the latter category, but who've come of age since watching Britney Spears cover the same territory in "Crossroads." Never mind that Carey's coming out moment happens during a Nashville talent competition where her R & B stylings seem strangely out of place.

Scene partner from acting royalty: Ethan Peck, grandson of Gregory, plays the leukemia-stricken man who, along with his brother, invites Carey's character to Nashville.

Hit song that needs reevaluation after "Tennessee": "Shake It Off," because really what else can Carey do?

Should she give up her day job? No, though we'll give her some credit, since the three gentlemen sitting next to us during Sunday night's screening of "Tennessee" came ready to laugh, complete with a flask of booze, which they managed to get to the bottom of without even letting out a chuckle.

Source: The Independant Film Channel
April 29, 2008

---

Mariah makes another road-trip flick
Seven years after making what is widely regarded as one of the worst movies ever, Mariah Carey is back with another road-trip flick.

But her new movie, "Tennessee," has little in common with 2001's "Glitter."

Premiering at New York's Tribeca Film Festival last Saturday, it follows two brothers seeking their estranged father. On their travels, they meet Krystal, a waitress played by Carey.

"Mariah said, 'This is going to be refreshing for me; this is actually something that I want,' even knowing that it was a gritty, hard shoot," director Aaron Woodley told Reuters in an interview. "Some people even told me that they forgot it was Mariah Carey when they were watching the film."

In 2001, Carey released the semi-autobiographical film "Glitter," which was a commercial and critical flop. She also appeared on MTV's Total Request Live, nearly disrobing in front of a baffled Carson Daly, amid rumors of a nervous breakdown.

Carey, 38, has spent the years since atoning.

"The whole 'Glitter' experience was very, very hard to go through, but I learned a lot from it," she said in a statement.

In 2005, the Long Island, New York native made a big comeback with her multiplatinum album "The Emancipation of Mimi" and won rave reviews for her performance in "WiseGirls," a comedy-drama that premiered at the Sundance Film Festival.

"She's not a diva and she came to work -- and work hard she did," said "Tennessee" producer Lee Daniels, who acknowledged: "People do feel negatively about her as an actor."

But that didn't stop him from offering her the lead female role. Daniels, producer of the Oscar-winning film "Monster's Ball," said he saw Carey in "WiseGirls" and decided "it was clear that she's a very talented actress."

Source: Reuters
April 29th.

---

Carey Kinda Glitters in Tennessee
Tennessee had its world premiere over the weekend at the Tribeca Film Festival, and, sit down for the big shocker, Mariah Carey is decent in it. A tale about two grown brothers trying to get back to their father in Tennessee, the flick is riddled with child abuse, domestic abuse, a car chase and only one instance of Carey singing.

Radar caught up with some of the cast and director Aaron Woodley at the Cadillac Lounge at Manhattan nightclub Tenjune and learned that sometimes, the best thing for a film festival audience is a good smack ...

The brothers get stranded following a bad car breakdown. What's your worst car mishap story?

Woodley, director: I never had a car. I live in Toronto, so I either walk or take public transportation. My wife has a car but I can't drive it because it's standard. I do have a license though.

Ethan Peck, star (and grandson of acting great Gregory Peck): I had a first date once where the cooler on my car busted. My date played it cool and called AAA and saved us both.

Lance Reddick, star: I was an understudy for a Broadway show in Manhattan, but still was living out in Connecticut with my wife. I had to commute to the city six days a week, so I would always drive. One night, I fell asleep behind the wheel coming back, and I rear-ended a Jeep, which totaled my car, and the Jeep only had a minor dent.

There are some shocking scenes of child abuse and domestic violence in the movie. Were you shocked when you saw the final cut for the first time?

Woodley: Honestly, I was really excited to hear the gasps of the people in the audience tonight. You never actually see a child get hit, but the scene has a massive impact on the audience. It was a good feeling.

Peck: It was a lot to watch, but I'm pleased with how it all came out.

Adam Rothenberg, star: I saw a rough cut a while back, so I wasn't really surprised by it, but the audience's reaction was very satisfying. We actually shot more violence than made it into the movie. I think the audience gets the violence point very quickly, so it wasn't all necessary.

Maybe on the DVD.

Source: Radar Magazine
April 28

---

Mariah Carey is the 'diva next door', Songstress talks about move to 'Tennessee'
MARIAH CAREY survived her childhood, but it wasn't easy. A miraculous singing talent saved her from hum-drum obscurity and possibly much worse. Today Mariah is at the pinnacle of a career that has seen some amazing pinnacles already. I know Mariah. She is sweet and funny. She used to be the girl next door, before fame came knocking, but now she doesn't try to pretend she's not, as she puts it, "the diva next door." ... Recently she spoke about the possibility of having children, and said that even the idea of giving birth, would leave her "feeling violated." She cites her upbringing, her parents constant fighting. And she added, "I don't think I could properly educate a child right now. Maybe in the future, but I actually haven't thought about it." ... Saturday, at the Tribeca Film Festival, Mariah's movie "Tennessee" bowed. Produced by Lee Daniels and directed by Aaron Woodley, this is a touching tale of two young brothers -- Adam Rothenberg and Ethan Peck -- trying to re-connect with their father. (Ethan is the grandson of film legend Gregory Peck.) This indie puts Mariah back where she was before "Glitter" pulled her down. Carey had displayed considerable promise in her first film, "Wise Girls" with Mira Sorvino, but the overwrought "Glitter" shoehorned her in a typical high-camp showbiz rise and fall story. In "Tennessee," Mariah plays against type as a drab waitress with musical aspirations who joins up with the boys on their road trip. She is also escaping an abusive marriage. This is a natural, effortless performance. Nothing grand or showy. I think she just wants to be a good little actress, who can connect emotionally with an audience; to make people love her in a different way. ... When pressed about marrying again, Carey says: "It would have to be somebody who would take care of me emotionally and make the effort to understand me deep down. To know who I am, not what I am."
Source: Liz Smith - Variety
April 28

---

Mariah not a diva, say co-stars
Mariah Carey is not a diva, according to the co-stars in her new film.

Starring newcomers Adam Rothenberg and Ethan Peck, Tennessee is about two brothers who embark on a journey to find their estranged father. On the way, they meet Mariah, a waitress running away from her abusive husband.

"She was great, and a hard worker," Ethan Peck told us at the film's world premiere at the Tribeca Film Festival in New York.

Director Aaron Woodley was also struck by the singer.

"Directing Mariah was wonderful. She was a joy to work with," he said.

"Being in a film with very little money that we had, we had very little time. Things had to move very quickly, and she was incredible. She was so prepared to hang on every time. There were times when we were chasing the sun, and she would do it in one take. She was just lovely, and very little diva-like behaviour."

He added: "After meeting her, she said to me, 'I don't want all the bells and whistles. Whatever all the other actors have, that's what I'm going to have. I don't want anything more than anyone else'."

Lance Reddick, who plays Mariah's abusive husband, admitted he had initial concerns.

"The biggest, most dramatic scene that I had with her was on the first day," he said. "That was scary, but she was so open and so wanting to do the work."
Source: Evening Post
April 28

---

"Tennessee" at Cannes Film Festival
The Marché du Film is the most important meeting of professionals worldwide. It's here that meetings, negotiations and deals take place, in parallel to the Festival de Cannes. Global vision of the film production world, the Marché du Film offers a unique platform for the cinema industry. Favouring the creation and consolidation of professional relations on an international scale, the Marché du Film brings efficiently together creative and financial dynamics.

Tennessee Market Premiere
16 May at 20h00
18 May at 12h00
20 May at 10h00
Source: Elephant Eye Film - Festival de Cannes
April 27

---

Official site for "Tennessee" is upadted
Click here to take a look at the beautiful site.
April 26

---

Watch a lil' footage of "Tennessee"
Click here to watch it.
Source for the link: NYmag
April 16

---

Program Notes (Tribeca Film festival)
When Carter Armstrong left Tennessee in 1993 with his mother and baby brother Ellis, he didn't look back. Years later, however, a diagnosis of leukemia forces the two now-motherless brothers to hit the road again, heading home at last in search of the abusive father who may or may not be a marrow match for dying Ellis. Car trouble in Texas leads Carter and Ellis to make the acquaintance of a diner waitress, Crystal, who has her own demons to flee and singing dreams to pursue in Tennessee. The relationship that brews between the three is a heartwarming, contemporary spin on the American road movie.

With a poignant script by Russell Schaumburg, Tennessee is borne along by a lyrical alt-country score and subtle psychological momentum. The film owes much of its staying power to its real and tender sense of place. Cinematographer David Greene really knows how to shoot the hardscrabble west, and Woodley draws unerringly specific performances from every member of the principal cast. These are people living accidentally small lives in a grand space, and it's time for their worlds to expand. Adam Rothenberg brings a magnetic intensity to his portrayal of the laconic Carter, Ethan Peck gracefully balances the hard edge and sensitivity of Ellis, and Mariah Carey delivers a subtle performance as songbird Crystal. And the movie in general has a musical sense of pace: By turns suspenseful and meditative, Tennessee builds to its surprising conclusion by hitting new notes that feel instantly familiar.
--David Kwok
April 12

---

Mariah Carey's Movie Magic
Has it really been almost seven years since Mariah Carey's tragic film debut in "Glitter"? Even now, nothing can erase the memory of the unintentional hilarity of that misbegotten project. That is, almost nothing.
A year after "Glitter," Carey co-starred with Mira Sorvino in "Wise Girls," a Mafia comedy that debuted on Showtime. That film showed Mariah could do comedy, was actually funny when not saddled with having to be Mariah Carey in a film.

Now comes "Tennessee," a mixed bag drama that will open during next week's Tribeca Film Festival. If you remember an old Kevin Costner movie called "American Flyer," this is a similar idea: two brothers, one of them is terminally ill, on a road trip to find their missing father. Along the way, they meet Mariah, an aspiring singer, who joins them for a while on their mission.

This is what you want to know: Carey is very good in the role as Krystal, even though I think it's the wrong part for her. She should be doing comedy. To her immense credit, she somehow relaxes her naturally cherubic face to portray an abused wife who has a dream. "Tennessee" is full of clichés, but Mariah provides the least of them. She hangs in there even when the drama is more contrived than real.

And she does sing, just a little bit, but that's what almost undoes the film. Mariah Carey cannot play a wannabe. She opens her mouth and The Voice comes out. Luckily, in "Tennessee," it's just one song. But as in "Wise Girls," she's better off not playing a singer unless the character is a star, a la "The Bodyguard."

Mariah's two co-stars are Adam Rothenberg and Ethan Peck, two actors who seem to be having a good time with her. No one is embarrassed here, and there's no invocation of "Glitter." Still, the director and screenwriter are treading in really derivative territory, making "Tennessee" more likely to join "Wise Girls" on cable and video.

A lot of famous singers over the years have dabbed in films, from the successful (Barbra Streisand) to the failed (Madonna). Mariah falls somewhere in between. At least she doesn't have to quit her day job. Her new album, "E=MC2," is out next week and poised to be a huge hit. In her 19th year working in the public spotlight, Carey could be doing a hell of a lot worse!

Source: FoxNews(All rights reserved)
April 7

---

First Look At Mariah Carey's New Film - Tennessee
In her first film since she did 'WiseGirls' back in 2002, Mariah Carey will have a prominent role in an independent drama produced by Lee Daniels (Monster¹s Ball, The Woodsman, Shadowboxer) called 'Tennessee'.

Two brothers, Carter (Adam Rothenberg) and Ellis (Ethan Peck), embark on a journey from New Mexico to find their estranged father in the hopes of saving Ellis, who has been diagnosed with terminal leukemia. Along the way they meet Krystal (Mariah Carey), an aspiring country singer, who becomes the brothers' guardian angel and joins them on their fateful road trip.


Directed by Aaron Woodley, the film also stars Lance Reddick of HBO's The Wire, and Damon Dash serves as one of the executive producers.

Carey will perform a tune, co-written with country legend Willie Nelson, in the flick while also singing an a-cappella version of Nelson's 'Help Me Make It Through the Night.'

While Carey's movie resume is overshadowed by the disappointing 2001 film Glitter, Daniels got the idea to cast her after watching her Grammy-winning album "The Emancipation of Mimi" become the biggest selling disc of 2005 and viewing her work in 2002's WiseGirls.

'Tennessee' will be premiering at The Tribeca Film Festival on Apr 26 at 6:00PM,, with subsequent showings on Apr 27, 6:15PM, Wed, Apr 30, 3:00PM, Thu, May 01, 10:30PM, and Sat, May 03, 8:30PM
Source: Black Voices
March 29

---

2008 Tribeca Film Festival: APR 23 - MAY 4
Box Office
- Sat, Apr 26, 6:00PM - BMCC Tribeca PAC
- Sun, Apr 27, 6:15PM - Village East Cinema 1
- Wed, Apr 30, 3:00PM - AMC 19th St. East Theater 2
- Thu, May 01, 10:30PM - AMC 19th St. East Theater 1
- Sat, May 03, 8:30PM - Village East Cinema 7

---

"Tennessee" full story
If you don't want to know the full story, don't click, I began to read to see what it was exactly, but I stopped to keep the surprise and the suspense, if you still wanna know the full story with all the details, click here at your own risk.
March 3

---
"Tennessee" will premiere at the Tribeca Film Festival. The Festival will take place April 23rd - May 4th.
February 27
---
"Tennessee" premieres Spring 2008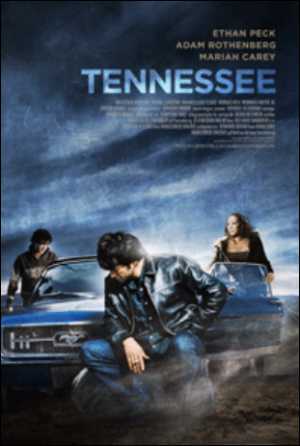 According to Elephant Eye Films, "Tennessee" is now set to premiere in Spring 2008. The NY based company that produces, distributes and sells independant movies has also another poster up for "Tennessee".
Click on the poster to enlarge
February 10
_______________________
Adam Rothenberg about working with Mariah in "Tennessee"
In an interview with Movieweb, Adam Rothenberg who plays the character of Carter Armstrong (the oldest brother) in "Tennessee" talks about his experience working with Mariah.

One last question. You have an upcoming movie called Tennessee. How was that experience and what was it like getting to work with Mariah Carey?
Adam Rothenberg: That, again, was great. I am always surprised when I meet super famous people. It is not that exciting. Well, it's not that. It's just that they are so real. Everyone on set is very nervous on that first day. We want people to like us. So you generally come together pretty perfectly, because you have a common goal. Mariah Carey was really nice. She was great. And I'm sure we will hear more about the film as it gets closer to its release date.
Source: Movieweb
January 16
________________________
Elephant Eye Films, a New York City-based company that produces, distributes and sells independent feature films has added "Tennessee" to the sales section on its website.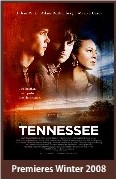 TENNESSEE - Premieres Winter 2008
Cast: Mariah Carey, Adam Rothenberg, Ethan Peck, Lance Reddick
Director: Aaron Woodley
Writer: Russell Schaumburg
Producer: Lee Daniels
Executive Producers: Gary Magness, Sarah Siegel-Magness
Status: Post-Production
Synopsis: Two brothers, Carter and Ellis, embark on a journey from New Mexico to find their estranged father in the hopes of saving Ellis, who has been diagnosed with terminal leukemia. Along the way they meet Krystal, an aspiring singer who joins them on their journey.
Source: Elephant Eye Films
December 14
________________________
Brian Wright And The Waco Tragedies perform in the movie
Brian Wright and The Tragedies will be performing an original tune for a short scene in the movie. The band flew out to Nashville for a few days to shoot at the Second Fiddle on Broadway in downtown Nashville. The Tragedies will be performing the song before a Mariah Carey performance that will follow in the movie.
Brian was so kind to give some more infos for the Heroes of Mariah promo page:
" The song we performed in the movie is called Glory Hallelujah. It can be found on our new album "Bluebird" due out in early October. It's sort of a Rock and Roll, Gospel, High Energy, rave up that has the crowd in the movie dancing and clapping along in smoky Nashville bar. After our performance, Mariah's character takes the stage to sing a really beautiful ballad, that if I'm not mistaken, was written by Willie Nelson for the movie. She is accompanied by Mickey Raphael (Willie Nelson's long time harmonica player) and a guitarist, though i think the guitarist may have just been an actor. Mariah was very cool to us, very professional, and it was a pleasure to work with her, though it was only for one day.
The entire team from the writer, to the production team, to the cast, etc. were all very cool and I'm glad to be a part of it. The scene that we are in with Mariah is all I've seen of it, but it looks great and her performance is fantastic.
September 19
_________________________
According to Aaron Woodley, the movie will not be released by the end of the year as it is not yet completed.
September 17
__________________________
In order to have the Heroes of Mariah "Tennessee" promo page very up to date, Aaron Woodley let me know that the movie is still in post production and that they are working on the music at this point.
July 16
___________________________
"Tennessee": Interview with Lee Daniels
Lee Daniels shares his excitement about his new movie Tennessee starring Mariah Carey:
Is there any inside dish you want to share about your new movie Tennessee, starring Mariah Carey?
- The dish is that Mariah Carey is wonderful. I just decided that I love her to bits. I wasn't expecting to love her as much as I did. She's a diva, in the greatest sense of the word.
Sometimes you equate diva with bitch. But she makes fun of it all. The movie was a party working with her from beginning to end.
So she's your new favorite diva now?
- For the moment. (laughs) No, no... she's my good friend and I love her.
Who's your favorite diva of all time?
- I think my favorite diva of all time would be the psychotic Sylvia Miles. She is the one. Then there is Patti LaBelle, Mariah Carey and Catherine Bell.
What's Lee Daniels like on set?
- My director was interviewed by somebody while we were on the set of Tennessee. All three of us were there—me, Mariah and the director and the interviewer asked Aaron Woodley what it was like working with a diva. And he said, 'Well, Lee Daniels is not as difficult as as they say that he is.' I laughed so hard. Mariah and I were on the floor. I'm such a diva on the set.
If you had your chance to build your own gay pride float what would it look like?
- It would be leather and sprinkled with nice big chains dangling from the alter. It would have two very hot, hot, hot men dancing to the song in my new film Tennessee.
And what song is that?
- I can't tell you yet, but Mariah Carey is in the movie.
June 8
___________________________
"Tennessee" soundtrack update
As already reported and posted here on March the 12th., it's Scott Bomar who will compose the music for "Tennessee".
Today, there's some additional news:
Bomar is currently working on his first non-Brewer score for the Mariah Carey film "Tennessee," produced by Lee Daniels ("Monster's Ball," "The Woodsman").
Bomar said he created an intimate score for the film, playing most of the instruments himself and recording mainly at his home Electrophonic studio.
June 2
____________________________
Tennesse premiere
The film is still in post production and has not been submitted to any festival at this point.
May 26
_____________________________
David Cronenberg (Aaron Woodley's uncle) about Mariah in Tennessee
Director David Cronenberg who is currently in Cannes for the Film Festival talked about Aaron's upcoming movie "Drones" (the story of a boy who has an obsession with bees) in Cannes at the Film Festival. David, who is Aaron Woodley's uncle and the person who gave him the desire to direct movies.
David has already seen a rough cut of "Tennessee" and is full of praise and admiration for Mariah's performance: "If I had not known she was a star, I would have said it was terrific casting. She was really very impressive."
May 22
______________________________
Daniels promises Carey will surprise
Liz Smith asked Lee Daniels about his latest film project, "Tennessee," filmed in that very state and starring Mariah Carey. It seems the divine diva next door, as she calls her, had been a doll to direct, even forsook her six-inch heels when the characterization called for flats, and it's Lee's belief that she is going to surprise us this time out.
Source: Liz Smith for Baltimore Sun and Variety
May 10
_______________________________
"Tennessee", Mariah had a body double
Contactmusic reports that Casey Jean Messer, who was picked to represent New Mexico at Friday's (23 march 07) Miss USA pageant, worked as Mariah Carey's body double on the set of new movie "Tennessee".
March 24
_______________________________
Jerry Biggs about Mariah:
"you know when you are working with somebody if you make a connection...you check your egos at the door and get down to business...that's how she was."
Fan Story: "My surprise encounter with a cast member of "Tennessee"
I met Jerry Biggs who plays Mariah's manager in "Tennessee". He was very surprised when I mentioned that I knew he was working on Tennesse with Mariah. His eyes lit up and he was quick to lavish praise on Lee Daniels (he said he respects/admires him tremendously and is a genius). I asked him about working with Mariah and he said he plays her manager at a greasy spoon and the scene calls for him to be really mean to her. (The location they shot at was an actual greasy spoon and he said the 'kitchen smelled really bad' so it added to the atmosphere.) Between takes him and Mariah chatted and developed a rapport. He was very happy and surprised to see how professional and nice she was. His words were: "you know when you are working with somebody if you make a connection...you check your egos at the door and get down to business...that's how she was."
When the director said it was a wrap, Mariah went straight to him and gave him a BIG HUG and said "I love working with you!" and gushed how much she enjoyed their scene. He was taken aback and mentioned over and over how sweet, nice and down to earth she was. I tried to explain to him how big this movie was and how much it meant to us lambs and assured him that even if it was just MC fans, millions of people will watch it and he seemed so shocked, like, this little film? But he understands the impact of having Mariah and Lee Daniels involved.
He said, "when we had breaks and could get away from our characters, we just talked and she was so great". I asked if he saw Krystal's scene when she sings the Willie Nelson song and he was soo shocked that I knew her name and so many details about the film, he kept asking "how did you know"? lol. To his credit, he's not anti-media as he referred me to his IMDB page, but he was surprised because the film has barely finished shooting. He said that Lee Daniels' aunt (Aunt Dot) is in the scene too and she is in alot of Daniel's movies.
A big thanks to only1mc for sharing
March 23
_________________________________
Willie Helps Make Mariah's 'Dream' Come True
Willie Nelson teams with Mariah Carey for ''I've Got a Right to Dream,'' a song for the movie ''Tennessee''
''She and I hung out and decided to do something together,'' 74-year-old Nelson told us on his tour bus, following a press conference announcing the launch of his new label, Pedernales Records, and its first signing, the promising jam-band 40 Points, which features his sons Lucas and Micah. ''It's a song called 'I've Got a Right to Dream' that's for the movie [Tennessee]. It's [Carey's] complete idea and melody. I threw a few words at her, but she made everything sound great.''
According to Nelson, Carey was recording in Nashville as of last week, and shooting for Tennessee is completed, though no release date has been set. But don't expect Carey to ditch her trademark stilettos for cowboy boots just yet. ''It's not really [country],'' says Wilson. ''It's more Mariah.'' We wouldn't have it any other way.
Source: Entertainment Weekly (All rights reserved) (extract)
March 21
__________________________________
Mariah, extraordinary woman!
"Tennessee" still photographer, Anne Marie Foxx, had the following to say about Mariah:
"First, I must say Miss Carey is an extraordinary woman. She was so kind and easy to work with and her performance in this film will blow people away!"
March 14
___________________________________
Music info
Scott Bomar ("Hustle & Flow," "Black Snake Moan") will compose the music for "Tennessee"
March 12
___________________________________
On the set
Pictures taken during a break on the set of Tennessee in Nashville, Tennessee on Friday, March 2, 2007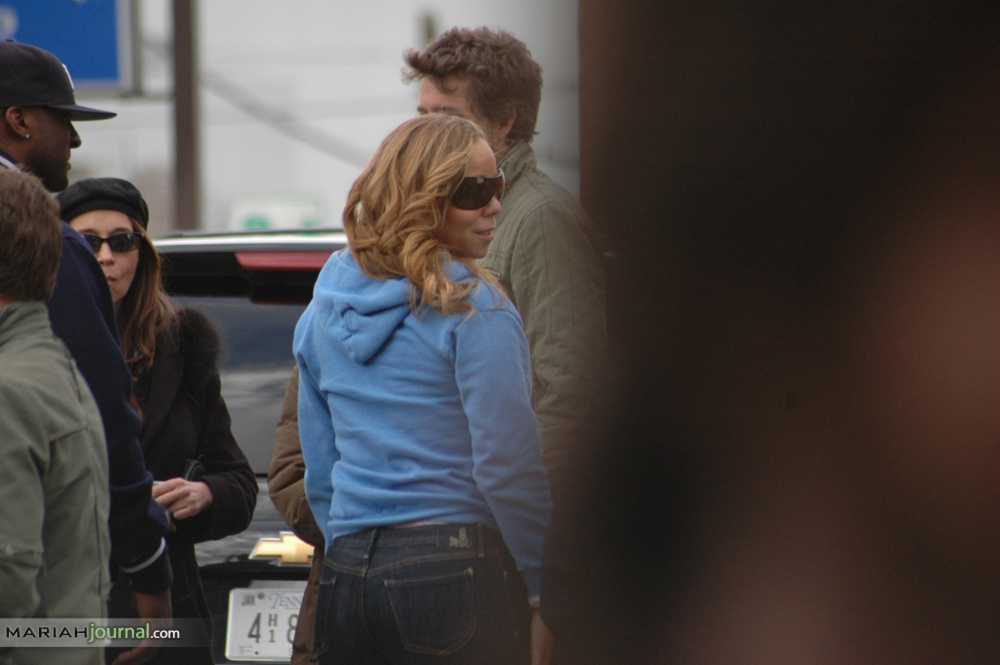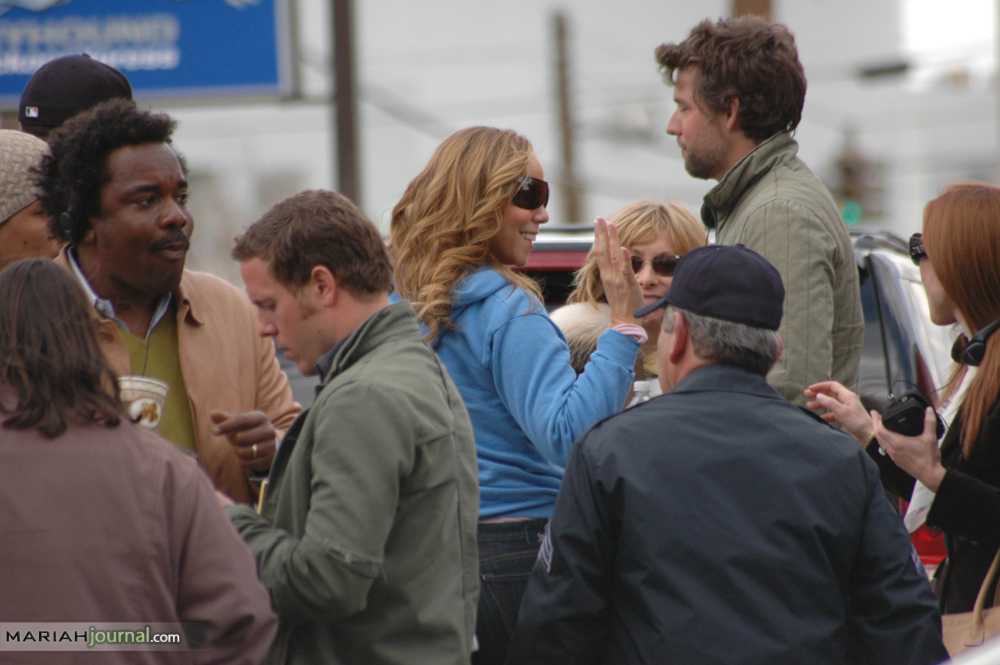 Click to enlarge
March 10
_____________________________________
"Tennessee" additional info
The song "Help Me Make it Through the Night" was written by Kris Kristofferson and Willie Nelson's rendition of the song is heard in the film.
March 5
_____________________________________
Mariah Carey plays Second Fiddle for movie shot in town
Mariah Carey sang country music in Nashville last week. Don't get excited — it was just for a movie.
She was filming the independent film Tennessee with Lance Reddick, Ethan Peck and Adam Rothenberg. She plays a waitress and aspiring country singer who flees her controlling husband to join two brothers on their journey from New Mexico to Tennessee to find their estranged father.
On Thursday, director Aaron Woodley and crew were at Second Fiddle at 420 Broadway, where Mariah performed "Right to Dream," a song for the movie she co-wrote with Willie Nelson. She was joined by dreamy Mickey Raphael, who plays harmonica for Willie. "People were weeping on the crew when she sang it," Aaron says. "It's very moving, especially in the context of the film and her character."
On Monday, they shot in Dunlap, Tenn., and on Tuesday filmed at Cumberland Caverns in McMinnville. "I always knew Tennessee was lush and picturesque and incredibly cinematic, but on film it is even more than I expected," Aaron says. "The film is called Tennessee, and I hoped that I captured it in all its glory. I hope I did the people of Tennessee proud because I love this state, and I love Nashville."
Midweek, they filmed a railroad scene in downtown Nashville, and even rode boxcars from Nashville to Lebanon a couple of times. "There I am, sitting on the edge of a boxcar with Mariah Carey, breezing through town. We slowed down to go over a bridge, and there were people sitting in cars. I think they did a double-take: 'I swear I just saw Mariah Carey on a boxcar.' "
They had planned to shoot on Lower Broadway Thursday, but swapped with the Second Fiddle because of the rain. So they wrapped the week Friday night on Lower Broad.
"As we've been shooting downtown, I've been constantly wishing I wasn't working because everybody is having a great time," Aaron says. "I love country music and wanted to walk away and listen to some bands and drink some beer."
He got his wish after Friday's shoot wrapped.
Source: Tennessean (All rights reserved)
March 5
_____________________________________
Mariah in Nashville, first pic on the set!!!!!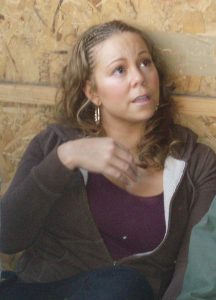 Mariah Carey has been in town shooting scenes for her latest indie film "Tennessee." News 2 obtained exclusive photos of Mariah from one of the scenes. Yesterday, Mariah was at Second Fiddle on lower Broadway shooting a final scene. An extra says they were at the honky-tonk for 12 hours, but mariah was only there for 2. The source says that in the scene Mariah goes to a writers night, takes the stage and the crowd is blown away by her performance. The extra says Mariah seemed friendly, but the extras were told not to talk to her.
Later Thursday night, things almost took a nasty turn when a crew truck backed into a large double lamp post on Broadway. The post fell, hit Second Fiddle's neon sign and awning.The owner of the bar says the sidewalk was packed when it fell, but everyone made it out of the way safely.
Mariah dined at the Palm Thursday night and signed a blank spot on the wall. Her caricature will be added later. I am told the Grammy Award winner has now left Nashville.
Source: Steph In The City (All rights reserved)
Click on the picture to enlarge
March 2
_____________________________________
Mariah Shoots Movie At Nashville Honky-Tonk
Singer Mariah Carey has been in Nashville shooting a movie and news 2 entertainment video journalist Stephanie Langston tells us there was a close call with her movie crew on lower Broadway .
Singer Mariah Carey has been in Nashville shooting scenes from her latest movie "Tennessee."
On Thursday, Carey was at Second Fiddle on Lower Broadway. An extra in the movie said they were at the honky-tonk for 12 hours, but Carey was only there for two.
The extra said they shot the final scene of the film, where Carey's character goes to a writer's night. In the movie,...
...the Grammy Award singer takes the stage and blows everybody away.
There were about 40 extras at the Second Fiddle on Thursday.
News 2's source said Carey seemed friendly, but the extras were told not to talk to her.
Later Thursday night, things almost took a nasty turn when a crew truck backed into a large double lamp post along Broadway, knocking it down.
The lamp post hit the Second Fiddle's neon sign and tapestry.
The owner of Second Fiddle said the sidewalk was packed when it fell, but everyone scattered out of the way.
Brenda Sanderson said, "We are fortunate there is a little damage toour neon and canopy, but we are just really thankful that no one got hurt."
Insurance is covering the damage.
Source: WKRN (All rights reserved)
March 2
___________________________________
Update, on Tuesday (Feb. 27) they shot at Cumberland Caverns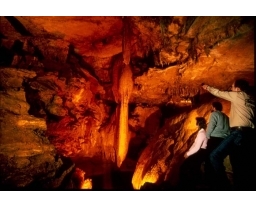 My contact on the set of Tennessee told me they finished shooting in New Mexico and came into Tennessee this weekend for their last week. On Tuesday, they shot inside a huge cave, Cumberland Caverns, which is a tourist atraction there (they closed it for them). They're in Nashville now and finish tomorrow!
About the Cumberland Caverns: Cumberland Caverns is located in the heart of Middle Tennessee. It is also centrally located between Nashville, Chattanooga, and Knoxville. They are situated just off of Highway 8, which is six miles southeast of McMinnville. The cave displays some of the largest underground rooms and spectacular formations in eastern America, featuring waterfalls, gleaming pools and even a 3/4-ton chandelier. It's an historic 1812 saltpeter mine and "God of the Mountain.
March 1
_____________________________________
Update, Wednesday Feb. 28 in Nashville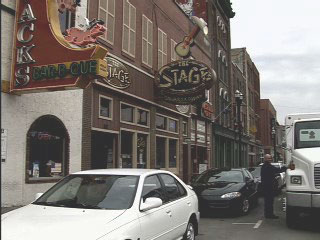 Hollywood comes to Nashville and singer Mariah Carey is the star.
Carey's last movie , "Glitter," garnered neither big box office numbers nor critical acclaim. She is, however, thinking good thoughts for her new Indie movie entitled "Tennessee."
In the film, Carey plays a waitress whose two brothers travel to Tennessee to find their dad.
Filming started Monday in Dunlap, Tennessee, outside Chattanooga. Cameras will start rolling in Nashville on Wednesday.
Producers tapped the 70-year-old Cardwell's Market on Hermitage Avenue near Riverfront Park for one......scene. Owner and Metro Trustee Charlie Cardwell said filmmakers liked the old-school feel of his place.
Other locations include historic Second Avenue, honky-tonk packed lower Broadway, the Greyhound station, Printer's Alley, the Willow Street Railroad Crossing and the riverfront, where the new Sounds' Stadium is will be.
The filming will continue through Friday. City officials said there won't be any street closures.
Feb 27
____________________________________
"Tennessee" filmed at Sequatchie County High
A Tennessee High School turned into a Hollywood sound stage on Feb 26 at night.
Filmmakers are using the school's auditorium and football field
Feb 27
___________________________________
Mariah Carey will sing Willie Nelson's"Help Me Make It Through the Night" a cappella
Krystal's song is being co-written by Carey and Willie Nelson. Carey hasn't shot the scene yet (it will be filmed next week), but in another part of the movie, she'll hint at her influence by singing a bit of Nelson's "Help Me Make It Through the Night" a cappella, according to the film's rep.
"This character is really far from who I am in a lot of ways," Carey said. "There are some parallels, some internal things, nothing that people would ever look at and go, 'That's very Mariah.' But this is not me at all. The character is so not what you would think. This is not about hairdos and ensembles. The girl's in the trenches. And I'm the third lead, so it's nice to work with an ensemble cast and to really just be able to do my work and go home at night."
Carey started shooting "Tennessee" in and around Albuquerque, New Mexico, last month. She's back there shooting this week, before shooting her bar scenes in Nashville and wrapping her one month of production. No release date has been set for the film.
Click here to listen to a sample of Willie Nelson's song
Feb 21
_____________________________________
Speaking about the film, Mariah said: "It is a complete departure for me. It's a great role for me to play and it's totally different from my persona."
Carey says that if it wasn't for Wise Girls she wouldn't have been chosen for the role. "Lee Daniels saw Wise Girls at Sundance (film festival) and we knew each other sort of and it all came together," she said.
"He (Lee) is a creative genius. He is a risk taker but I feel safe. The script was amazing.
"All three (characters) find their way in the end. It will hopefully come out in the fall."
Feb 16
_____________________________________
Update on characters, cast and additional infos, thanks to a source close to "Tennessee"
Note: James D'Arcy and Bernie Mac are not part of "Tennessee"
Feb, 11
______________________________________
Lee Daniels Entertainment updated with new infos
Click here
Feb 9
_______________________________________
Stars Come Out in Estancia
Lights, camera, action!
The Blue Ribbon Bar and Grill in Estancia was temporarily transformed late last week into a set for a movie starring Mariah Carey and Ethan Peck.
Trucks, vans and trailers lined Estancia's main street and the bar was closed off from outside view with plastic sheets as shots were filmed for "Tennessee."
"It's a film about two brothers who make a trip cross-country in search of their father who they've been estranged from," said Reid Rosefelt, a publicist for Lee Daniels Entertainment, the production company behind the film.
The movie's characters take a trip from New Mexico to Tennessee in search of their father, according to a synopsis for the film on the company's Web site. On the way, the brothers meet Krystal— played by Carey— "an aspiring singer who flees an unhappy marriage to join them on their journey," the synopsis says.
Daniel Ortiz, who owns the Blue Ribbon Bar and Grill, said film crews worked in his bar from about 10:30 a.m. until 10:30 p.m. Thursday.
"Last year ... (the) Sci Fi Channel shot a sequel here ... and one of the gentlemen that was a locations guy talked to me then and told me he thought they might be coming back a little later for another movie," Ortiz said.
Ortiz said about 16 to 18 people came to survey the location to make sure it was suitable for the film.
"I guess they kinda liked this old, western setting," Ortiz said.
The bar closed Feb. 1 so the film crew could use the space, Ortiz said.
Ortiz said the experience was a positive one and ended up with a special present for his daughter's birthday, which was also Feb. 1.
"We managed to get a couple of shots with Mariah and they talked for a while," Ortiz said.
Ortiz said the production company was also utilizing a local church for a set on Monday.
Feb 8
____________________________________________
Country legend Willie Nelson working with Mariah on a song
In an interview, Willie Nelson told he's working with Mariah on a song and a film.
____________________________________________
"Tennessee" first shooting day January the 29th.
My contact on the set of "Tennessee" let me know the first shooting day for the main actors is January the 29th.
_____________________________________________
At a recently closed convenience store in Albuquerque, New Mexico's South Valley, trailers are packed like sardines in the small parking lot. The scene at Sonny's Mini Mart is well, a scene, and I am confident Sonny's asphalt has never had this much traffic. We snapped these shots the morning of January 24, 2007.
ABQblogs.com was told the film, Tennessee, starring Mariah Carey, James D'Arcy and Ethan Peck, is filming at a "small farm house" off Isleta Boulevard, near the shuttered Sonny's. Melissa Benoist, the Denver Post's Ovation Award winner for best younger actor of 2006, has also landed a role in the film.
Apparently, Tennessee will be filming in Albuquerque through mid-February. Mariah Carey took over the role from Janet Jackson, who put on weight to play Krystal Evans, a waitress and aspiring country singer in the film. However, Ms. Jackson withdrew from the project in favor of her music career.
ABQblogs.com has learned Mariah Carey will be signing on the Tennessee soundtrack. According to the New York Daily News, the Grammy award-winning songbird trained with a dialect coach to develop the twang and drawl that she needed for her new role.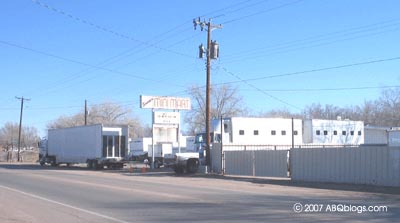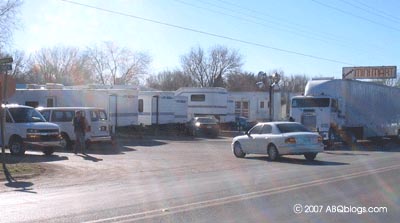 _____________________________________________
V V S Films has acquired all Canadian rights to TENNESSEE, the upcoming feature from acclaimed producer Lee Daniels (Monster's Ball / The Woodsman / Shadowboxer). "We're very happy to continue our successful relationship with Lee Daniels and his company" stated Ernie Grivakis, president and CEO of V V S Films "He's a talented producer with a proven track record and we're confident that TENNESSEE will be another winner."
_______________________________________________
Melissa Benoist, the Post's Ovation Award winner for best younger actor of 2006, has landed a major role in the film "Tennessee,"
Benoist plays the teen love of D'Arcy's character. She begins filming Valentine's Day in New Mexico, then in Tennessee.
As previously reported a part of Tennessee will be filmed in Albuquerque, at least Lee Daniels will be there in February.
_______________________________________________
"Tennessee" casting Extras Call
According to the New Mexico Film Commission site, a casting call has gone out for extras for Tennessee. The shoot days are Jan 22 to Feb 21. No locale mentioned.
Title: Casting Call: Tennessee
Date: 01-05-2007
Url: no data available
Info:
Lee Daniels Entertainment is seeking extras for an independent film called
"Tennessee". This film stars Mariah Carey, Ethan Peck and James Darcy. The shoot days are Jan. 22-Feb. 21.
They are asking for reliable actors whom are passionate about their craft!
Please submit headshot and resume ASAP to:
tennesseeproductions@hotmail.com or drop them off in person at 500 Copper Ave. NW, Ste. 100, Albuquerque, NM 87102.
Source: New Mexico Film Commission Website

---

Lee Daniels - Director/Producer
Monster's Ball (2001) - Woodsman, The (2004) - Shadowboxer (2005) - Tennessee (2006) - Iced (2007)
Lee Daniels is most notably known as the Oscar winning producer of Monsters Ball starring Halle Berry. He also produced the Woodsman starring Kevin Bacon, and most recently Shadow Boxer starring Cuba Gooding Jr. and Helen Mirren. This time around with Shadowboxer he was also the Director.
Lee Daniels, President and CEO of Lee Daniels Entertainment, began his career in entertainment as a casting director and manager after a chance meeting with a Hollywood producer, who recognized that Daniels had the business and artistic savvy to succeed. He initially started out as a music video casting director for Prince and continued his work with the artist as Associate Casting Director for the films Under the Cherry Moon and Purple Rain.
Since the launch of Lee Daniels Entertainment in 1984, Daniels has managed a roster of A-list talent that included Nastassja Kinski and Academy Award nominees and winners such as Morgan Freeman, Hilary Swank, Cuba Gooding Jr., and Marianne Jean Baptiste.
Monster's Ball, the first production of Lee Daniels Entertainment, was a remarkable pioneering achievement. The film marked Daniels as the first African-American sole producer of an Academy Award nominated movie and earned him a place on Variety Magazine's 10 Producers to Watch list for 2002. A critical and box office success, Monster's Ball was nominated for two Academy Awards in 2002—Best Original Screenplay and Best Actress, for which Halle Berry won an Oscar. To date, the picture is Lions Gate's most profitable film. The film earned more than $31 million at the U.S. box office (more than ten times its production cost of $2.5 million).
Outside of his work in film, Daniels briefly stepped into the world of politics and community development. He was asked by Harlem neighbor and former president Bill Clinton to produce public service announcements to inspire young people of color to vote. The effective campaign was launched in March 2004 and featured actor/musician LL Cool J and Grammy winner Alicia Keys. Daniels was honored with the President's Award from the Philadelphia Chapter of the National Association for the Advancement of Colored People (NAACP) and currently serves on the board of The Center for Community Change based in Washington, D.C. A native of Philadelphia, Pennsylvania, Daniels was 13 years old when his father, a police officer, was killed in the line of duty, leaving his mother to raise five schoolage children on the inner city streets of West Philadelphia. After leaving Lindenwood College, Daniels moved to Los Angeles and opened the first health care agency in the United States to be under contract with the renowned AIDS Project Los Angeles. The agency also held contracts with such major organizations as the American Heart & Lung Association and the American Sickle Cell Anemia Association. After one year of the agency's launch, the initial employee roster grew from five nurses to over 500. In just two years, Daniels sold a significantly profitable business that grossed over several million dollars.
In 2002, Daniels was the recipient of the Urbanworld MECCA Visionary Award (Minority Entertainment for the Cinematic and Creative Arts), the Blockbuster Filmmaker Award from Minorities in Business magazine, and was featured in The Vibe 100, Vibe magazine's list of the 100 most influential black individuals in America. He is also the recipient of the Japanese Academy Award for Best Foreign Language Film released in 2002.
Daniels, who is based in New York City, is the father of twins, Clara and Liam.
Official site.
Aaron Woodley - Director
Rhinoceros Eyes, Aaron's first feature film, made its premiere at the 2003 Toronto International Film Festival, where it won the coveted Discovery Award. The film stars Michael Pitt (Last Days, The Dreamers) and Gale Harold (Queer As Folk).
In 2005 Aaron co-founded Twilight Films with Rhinoceros Eyes co-producer Jessica Levin to develop and produce films with Aaron's unique and magical vision.
Official site.
Lisa Cortés - Co-Producer
Lisa is known for her creativity in developing and producing highly successful projects that cross over genres, inventively weaving music and narrative in a variety of media. Lisa began her tenure with Lee Daniels during production of the Academy Award winning feature, Monster's Ball. She served as Co-Producer on The Woodsman and, most recently, as Producer on Lee Daniels' directorial debut Shadowboxer. As head of production, she is responsible for finding and developing new projects and directors. This fall she'll be producing the feature, Tennessee. Lisa also produced the 2004 Sundance selection, Prashant Bhargava's, Sangam. Her multifaceted career began as a member of the original team that founded Russell Simmons' Def Jam Records. For a decade she served as Vice President of Artist and Repertoire for Mercury Records, where she signed the seminal rap group Black Sheep. During her tenure, she produced several Grammy-nominated albums and founded Loose Cannon Records. A graduate of Yale University, she serves on the New York boards of City at Peace and Trajal Harrell Dance Style.
Russell V. Schaumburg - Scriptwriter
Russel Schaumburg was a 2001 Nicholl Quarterfinalist with "Tennessee". The Nicholl Fellowships in Screenwriting program is an international competition open to screenwriters who have not earned more than $5,000 writing for film or television.

---

Interviews
- Extract from an interview with Aaron Woodley who will direct "Tennessee":
His latest feature, an American production, rather unexpectedly stars diva Mariah Carey as a Texas waitress dreaming of country-music stardom. (Janet Jackson was originally up for a part too, but she recently dropped out of the production, which is due to begin this summer.) Woodley says it centres on "relative unknowns" as brothers under duress.
"The writer, Russell Schaumburg, is terrific, and this is a straightforward tearjerker of a drama. It's told in broad strokes—something they can relate to in the red states. For my second movie, I definitely didn't want to get caught in esoteric limbo." (03/30/06)

- Extract from an interview with Aaron Woodley who will direct "Tennessee":
Then came another call, from producer Lee Daniels. Daniels had put Halle Berry on an Oscar track with Monster's Ball, and now had in mind giving Mariah Carey a serious film to work with. The movie, Tennessee, stars Carey as a waitress and wannabe country singer. It'll be Woodley's next directing effort.
"Lee Daniels called me at Cuppa Coffee," Woodley says. "Somehow a copy of Rhinoceros Eyes had made its way to his desk. And he said 'I love your movie, it's incredible. Come and meet me.' And he gave me the job on the spot. "Let's just say it's not going to be Glitter 2," he says of the road movie, which films in Tennessee and New Mexico soon. "We went to her place in New York and she gave me a tour of her closets which are like rooms in themselves. It's two floors of a condo building. She's incredibly nice and really, really committed to this role. It's not glamorous, and this is what we immediately brought up with her. This is independent filmmaking."

- Extract from an interview with Aaron Woodley who will direct "Tennessee":
Not my first thought after watching Rhinoceros Eyes. I never found myself thinking this guy is going to off and work with Lee Daniels and Mariah Carey next.
So that is what is I'm doing, and nobody is going to stop me! (Laughs). It's a road movie, it's a drama, it's a personal story. Not a script I've written, but I'm going to try something different. Glitter is not the best example of what she is capable of. I'm convinced she has talent, and we are going to shoot that in the spring [in New Mexico].( Twich, 03/09/2006)

- Extract from an interview with Aaron Woodley who will direct "Tennessee":
All That Glitters
How's this for an understatement? "My next film is gonna star Mariah Carey, so that should be really interesting."
I initially interpret Aaron Woodley's words as a Colbert-ian jape but, no, he's quite serious. Reports published in the industry trades last week confirm it. Produced by Lee Daniels (Monster's Ball, The Woodsman), the film is called Tennessee and is slated to start shooting in the spring.
"It's a straight-ahead drama about two brothers on a road trip," Woodley continues. "The younger brother has leukemia and they're searching for their estranged father to help save his life through a bone-marrow transplant. They haven't talked to him in 10 years and he was an abusive alcoholic. Along the way, they meet Mariah Carey's character, who's working in a diner and has dreams of being a country singer."
Woodley admits that this is about as far away from Rhinoceros Eyes as he could get. But he's determined not to be pigeonholed "as the director who does these weird quirky movies." (Perhaps he's recalling the time his uncle nearly directed Basic Instinct 2.) As for Carey's contribution, Woodley believes it will banish any unpleasant memories of her first movie venture. "Glitter," he says, letting the title hang in the air for a moment. "Whatever -- that's the past. People will see what she's really capable of."
She really liked Rhinoceros Eyes, too. She told him so while she was giving him a tour of her closets. No, he's still not making this up. (Eye, 03/09/2006)

- Extract from an interview with Aaron Woodley who will direct "Tennessee":
Sharky spoke with film director, Aaron Woodley.
Sharky: Hey, man. I'm tapped out. Buy me a drink.
Woodley: You sound like you've had plenty.
Sharky: Plenty is good. Plenty more is plenty better.
Woodley: Maybe not in this case.
Sharky: I watched your movie tonight; it was pretty weird. What's your next project? Blue Velvet II?
Woodley: I'm directing a film starring Mariah Carey.
Sharky: What? Wow! I love Mariah Carey! I'm her biggest fan!
Woodley: What's your favourite song?
Sharky: You know ... that one ... um ... uhhhh ... I LOVE THEM ALL!
Woodley: You don't have a favourite?
Sharky: Oh, oh! I like that one that goes:
Too high, Can't come down
Losin' my head, Spinnin' 'round and 'round
Do you feel me now?
Woodley: That's not Mariah Carey.
Sharky: Sure it is.
Sharky: Have you ever listened to Mariah Carey? It's freakin' Mariah Carey.
Woodley: That's not even her style or ...
Sharkey: Where's a freakin' computer? Google it if you don't believe me.
Woodley: You don't need a computer. You're wrong.
Sharky: If I'm wrong, will you buy me a drink?
Woodley: Yes ... wait, I mean no!
Sharky: Too late! SCORE! (blamblog, 03/08/2006)

Lee Daniels quotes: "Mariah is an underdog"
Talking about "Tennessee" with "Gay Life", he said:
"Because I'm such an underdog in the system, I identify with and understand other underdogs. Halle was an underdog, Cuba was an underdog and Mariah, the lead in my new film Tennessee, is an underdog. We underdogs stick together because we have a connection. It's invigorating and inspiring taking a chance on people."

From Philadelphia Daily News: He's out to prove Mariah can act
Lee Daniels says he's excited that more people will be able to see his film "Shadowboxer," which had a limited theatrical release over the summer.
Daniels' tale, featuring Helen Mirren and Cuba Gooding Jr.as stepmother and stepson who are also contract killers and lovers, is out on DVD tomorrow.
The Wynnefield native shot his directorial debut here in 2004.
He's gearing up to begin production on "Tennessee," which stars Mariah Carey. He says Carey, widely dissed for her work in "Glitter," is "a survivor" who is going to prove her critics wrong.
"The studios don't believe in her," says Daniels, who is producing the film. "They think I'm crazy for hiring her, but people said the same thing when I hired Halle Berry." Berry won an Academy Award for her role in "Monster's Ball," the first film Daniels produced. (11/6/2006)

Extract from an interview with Lee Daniels:
iF: Do you feel at this point that you legitimize actors to any degree?
DANIELS: I think so. I try to. I think we have an obligation to our thespians and to what it is that we do for a living and so I try to desperately, in all of my work, legitimize actors, I think. I mean, If I ain't doin' it, I better go back to sellin' something.
iF: Your next film, TENNESSE, has Mariah Carey as the lead. Has that made producing and raising money easier for you, given the types of films that you make?
DANIELS: I'm not gonna lie. It's much easier now to get the funding for films. It's not like I'm knocking on doors. I mean, I still do knock on doors, but the doors are far grander.
iF: Your hair is like literally your trademark, what's going to happen if you cut it?
DANIELS: Dude! I'm gonna cut my hair after this film. When I begin my movie Tennessee it's time to cut my hair, it's time to shed it off. It's time to take it all off, and I don't know what. That has been an on going delimma. I don't know what to do about the logo then, cause I'm going bald in two seconds. I've been wearing it straight cause I've been hanging out with Lenny Kravitz. We're working on a film together and he said that I should wear it straight. So it reminded me of those gangsters I used to see on the street with the Ike Turner look.(iFMagazine, 08/18/2006)

- Extract from an interview with Lee Daniels:
"I have two strikes against me in this world, I'm black and gay. I don't give a fuuck. I'm gonna do my thing. And Mimi loves me! Mariah's in my next movie, and she came to the Casa del Mar in Santa Monica in her bikini in the middle of the lobby with her stilettos, saying, "You like?" And I'm like, "No, I love. You're gonna make me question my motherfuuckin' sexuality!"
(HX, 07/2006)

- Extract from an interview with Lee Daniels:
DM: Everything that you do is raw and edgy…how much further can you push the envelope?
- Lee Daniels: I'm not gonna push the envelope no more—you're gonna see rainbows and bunny tails for the next film. Shadowboxer is the end of the days of the dark period for me. I got all my demons worked out with the last three films that I've done.
DM: What's next?
- Lee Daniels: After this I'm working with Mariah Carey on a film called Tennessee. It's uplifting and it's like a Terms of Endearment. It's a sad ending but not what you'd expect from the beginning.
DM: Shadowboxer was your directorial debut—did you direct Tennessee as well?
- Lee Daniels: No, I'm not going to direct Tennessee, I'm producing Tennessee because I had a heart attack after filming Shadowboxer which was due to the stress that I was going through with working 24 hours a day literally…But the end result is my beautiful baby that's on screen.
DM When do you start working on Tennessee?
- Lee Daniels: We started pre-production for Tennessee and will start up again in November after Mariah's tour.
DM: How different is Tennessee from the Lee Daniels trademark?
- Lee Daniels: Tennessee is a musical. ( CM, June 2006)

- Extract from an interview with Lee Daniels:
In May, principal photography will begin for Daniels' next big project; a family drama titled 'Tennessee" with pop diva Mariah Carey attached as a waitress with singing aspirations, experiencing domestic violence. "It's my version of 'Terms of Endearment," Daniels says of what he considers "lighter" fare. "Mariah is very complex and she has had a very interesting career and she brings all of those complexities to this film. She's on it. Just like Halle Berry, just like Kevin Bacon and just like Cuba Gooding, Jr, she is hungry for this and that's when superb-ness and brilliance comes."(AOL BlackVoices, 03/31/2006)

- Extract from an interview with Lee Daniels:
Lee Daniels: " Mariah is an underestimated genius"
"I'm very excited about working with Mariah Carey because she's an underestimated genius.
Keith Boykin: Interesting. She's definitely a musical powerhouse, but I don't know if she's known for her acting, especially after Glitter.
Daniels: But people didn't see that [other] movie she did, WiseGirls, with Mira Sorvino. She was to die for. I saw that movie and she was brilliant. Everybody wants to point to the bad. We always look to the bad instead of looking to the good. An actor is as good as his or her director. And I think that people want to point fingers and hate. It's instinctive. It's nature. And that does not make for great film makers.
Keith Boykin: You've mentioned Mariah Carey, Mos Def, Macy Gray. Those are all musicians who are transforming to acting. What do you think about that trend?
Daniels: I think some of the most brilliant actors come from a place of comedy or music. They're all artists at the end of the day. And I find that when you're working with comedians or musicians they're more hungry for direction and more eager to jump through hoops. Hence often times brilliance comes. ( Keith Boykin, 03/29/2006)

- Extract from an interview with Lee Daniels:
NM: I was going to ask you about that because between Monster's Ball and The Woodsman you've got P. Diddy, you've got Mos Def and Eve. There's been a little controversy if you will or concern and various schools of thought about do rappers make good actors and should rappers take actors jobs.
LD: I go against the grain on that too. A lot of black actors in Hollywood don't respond because I'm constantly doing that. I feel that, black people, give us a basketball and we're the best at it. Give us a pen and nobody's better at spewing out some of the most original thoughts. I think that we're great at what we do and that these rappers are artists, ultimately at the end of the day. And if directed properly, they're exquisite sometimes and they bring a sense of reality, which is at times lost through Julliard. The actors for the most part are brain washed by the studios into thinking that this is the way they're supposed to act. And they lose, often times, a sense of color. Not that I'm saying this in general. What I'm saying is that it would make sense to me in theory that that's sort of the way the cookies fall. There are many actors that [are great] so I'm not categorizing but rather just stating that we have a very interesting culture that's often time lost in translation. I try to bring that culture that often times hip-hop or rappers [bring]. They speak the truth.
NM: Absolutely. So are there any rappers in Shadow Boxer?
LD: No but I got a rapper/producer.
NM: Oh yeah? Who is that?
LD: Damon Dash. He executive produced The Woodsman. He and Lisa Cortes who runs my company, she's the first woman [as well as] the first black woman to be the president of Polygram records. They are the producers of the film. [Damon] came in and helped me finance The Woodsman.
NM: Yes, definitely. Do you have your next project identified?
LD: It's one of two. I'm definitely doing a lighter film. I've been in a dark place for a long time. I need to come up and see the light. So I'm probably going to do this fun little movie called Ladies Night with Beyonce, Missy Elliot, Mo'Nique, Macy Gray, Diana Ross, and Patti LaBelle. It's like a modern day, edgier version of Waiting To Exhale. It's about a group of ladies who get together and go out for a night on the town and deal with everybody's problems. But it's going to have a little Lee Daniels hot sauce on it. It's as close to a comedy as I can come. (Blackfilm, 12/10/2004)
---

Articles
- "Monster's Ball" producer Lee Daniels says Mariah Carey's musical comeback inspired him to cast her in the lead of his indie drama, "Tennessee." Daniels told Daily Variety he was impressed with Carey's Grammy Award-winning and best-selling 2005 album "The Emancipation of Mimi" as well as her work in the 2002 film, "Wisegirls."
Her 2001 film flop, "Glitter", had no effect on the decision, he said.
"I never saw 'Glitter,' but I liked her work in the other film. Because this character is interracial and struggles with all sorts of issues because of that, I thought she was perfect", Daniels told Variety.
Aaron Woodley will direct "Tennessee", which was written by Russell Schaumberg.
In the film, Carey will play a waitress who embarks on a search with her brothers for their estranged father when their youngest sibling gets sick with leukemia.
The film is scheduled to shoot in Tennessee and New Mexico in the spring. (Variety, 02/27/2006)

-Mariah Carey apparently subscribes to the old adage: "If at first you don't succeed, try, try again."
After making a musical comeback with her award-winning, chart-topping album The Emancipation of Mimi, Carey is ready to take another shot at the big screen.
The singer has signed on to star in the independent film Tennessee, playing a waitress who teams with her two brothers to search for their estranged father in an effort to help the youngest brother, who has leukemia.
If you're thinking that whomever made this casting decision must not have seen Glitter, it just so happens you're right.
Tennessee producer Lee Daniels admitted that he never took in the box office flop that earned his star the Razzie Award for Worst Actress in 2001, but said he decided to cast Carey based on her work in 2002's WiseGirls and the success of The Emancipation of Mimi.
"I never saw Glitter, but I liked her work in the other film," Daniels told Daily Variety. "Because this character is interracial and struggles with all sorts of issues because of that, I thought she was perfect."
The film is scheduled to begin shooting this spring in Tennessee and New Mexico. ( Yahoo! Movies, 02/28/2006)

- If Lee Daniels can get Mariah Carey as naked as he got Halle Berry in "Monster's Ball," then we're all for the producer's choice to cast her in "Tennessee."
Wynnefield-reared Daniels, 46, told us yesterday that he had a heart attack a few months ago, but is feeling better now.
He says songbird Carey's "a very complex girl who is perfect for this character." She'll play a waitress who, with two brothers, tries to locate their estranged father to help another brother who has leukemia.( Philadelphia Daily, 02/28/2006)

---
Copyrights and all rights are reserved to the owner of the rights.
Site owner: Gilles Ollevier
Heroes of Mariah 2000
E-mail: staff@heroesofmariah.com
Index