Mariah at her scent event Monday and details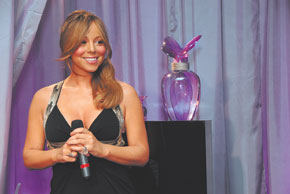 Your average celebrity may not care what the difference is between Moroccan incense and Manhattan street incense — but then again, your average celeb doesn't have 500 hours of beauty school under her jeweled Roberto Cavalli evening-dress straps like Mariah Carey does.
I always knew what I wanted to do with my life — my mother was an opera singer, and I'd been singing since I started talking and writing songs since I was 13," said Carey during an interview Monday evening before the launch event for her first fragrance, M by Mariah Carey. And Carey — the best-selling female recording artist of all time, with 17 number one singles — clearly didn't need a career plan B. "I just went to beauty school in 11th grade because you could leave school for half a day — and that was cool! — and also because I always did people's hair. But I was always singing during my beauty school classes, so I think my teacher really hated me. I'm actually a beauty school dropout, because by the time I was in 12th grade I was so focused on doing what ended up being my first record [the eponymous ';Mariah Carey,' released in 1990] that I had to let that go."

But it did have a lasting impression on her. "Honestly, if I'm not working with someone who's a really great makeup artist, or someone who really knows how to do hair, I'll be like, ';No, you can't do it this way because hair grows from the roots, not the ends, and cutting it isn't going to work...' and quoting all this theory I learned in beauty school. They'll say, ';How do you know that?' And I'll be like, ';I have 500 hours of beauty school!'"

The fragrance, created by the singer along with perfumers Carlos Benaim and Loc Dong of International Flavors & Fragrances, opens with top notes of marshmallow and sea breeze accord; has a heart of Living Tahitian Tiare flower and gardenia petals, and a drydown of sheer amber, Moroccan incense and patchouli. "I was never a perfume wearer, because some scents would irritate my skin," said Carey. "But this doesn't, and this is the first fragrance I've ever worn."
Each of the ingredients represents something special for her, said Carey. "The inspirations were multiple — places I've been, moments in my life, childhood things like the marshmallow scent in the top note. It's like a subliminal thing — a lightly toasted marshmallow. We were working hard fine-tuning that to the right toast degree, very much like when you sit in front of the fire — which really takes you back to camp, and I'm eternally 12 anyway. Then we have the more sensual bottom note. I went to Morocco a few years ago, and I have a room in my house designed by Mario Buatta which we just extended to the roof — it's like this Moroccan oasis in the middle of New York City. So I burn incense there that I got on the street — I felt really stupid bringing it in to all the bigwigs at Arden, but I really like it. I'm really pretty specific with the things that I like. The Tiare flower has never been a basis for a scent, not the way we've treated it, but I had it around my neck the first time I went to Hawaii, and I never forgot that moment. Creating this [scent] was like creating a song, and that's what I know best. People would ask me how the tour was going, and I'd be like, fine. But the FRAGRANCE...." she laughed. "I don't think people understood that I was really into this, because of the creative scenario. It wasn't like a corporate thing, where it was just like, ';Yeah, put my name on it.' I really got into it."

Butterflies are a trademark of Carey's, and the bottle — a lavender glass orb with a subtle wave design and a butterfly-adorned cap — reflects that passion. "I had an album called Butterfly [which was released in 1997]," said Carey. "It's random, because I was never into butterflies before, but at a certain time in my life, when I was leaving a lifestyle and someone I was married to [record executive Tommy Mottola] — I can't even believe I was married, it's weird to say that! — I was emerging from that world, which had become quite stifling. So I wrote this song ';Butterfly' prior to leaving that house, and on the way out, I saw that my mantel had a butterfly right in the middle. I thought, ';This is ironic!' And I started to wear them.
The bottle was designed by Carey and Arden's Jean Antretter. "The glass stopper; this is my favorite thing. It's sexy to me, to have that little stopper to put the perfume on," said Carey. Eau de parfum spray will be sold in three sizes: 1 oz. for $39.50; 1.7 oz. for $52.50; and 3.3 oz. for $62.50. A 0.5 oz. parfum, $175, and a 6.8 oz. body lotion, $28, will also be sold, added Noreen Dodge, vice president of global fragrance marketing for Elizabeth Arden.

In a first for Arden, Carey's fragrance will be launched globally nearly simultaneously, said Ron Rolleston, executive vice president of Arden. It will be released in about 2,000 U.S. department and specialty store doors, including Macy's, Belk and Dillard's in September, followed closely by door openings in Australia, New Zealand, South Africa, the U.K., Scandinavia and Spain — for a total of 15,000 doors worldwide.

And if Carey's musical prowess extends to her fragrance, Arden will have a hit on its hands. While none of the executives would discuss sales projections or advertising and promotional spending, industry sources estimated that the scent could do $75 million at retail globally in its first year, with as much as $45 million of that figure to come from the U.S. market. Advertising and promotional spending is estimated at $20 million.

Carey's passion will prove to be a key success point for the fragrance, E. Scott Beattie, chairman, president and chief executive officer of Arden, believes. "If the celebrity is passionate about doing it, if they like the project, they like working on it, [it will do well]," he said. "[Mariah's] loved working on it. She's spent hours, endless hours, designing the bottle and testing the fragrance."

While none of the executives would comment, Carey is said to be reaping a royalty of 5 to 6 percent, with a guaranteed payday of $10 million over the next three years.

"We have long-range plans with Mariah," added Rolleston. "It's our attitude that this is the first of what we think is an opportunity to do a couple of different interesting things with her. What's great is that Mariah has a very broad audience, from 18 to 45, with a median age of 32. What we will make sure that we do in our media mix is target her audience with vehicles which work for them. That doesn't necessarily mean we will follow the same marketing mix that we would with, say, Hilary Duff or Britney Spears. We focus on each of them individually."
While new media has been somewhat the order of the day for Arden's latest celebrity launches, M will have a more traditional media mix, said Rolleston, with national print advertising in fashion, beauty and lifestyle magazines slated to begin in September books. "That works for her audience," he said. The ad was created by advertising guru David Lipman in St. Barth's, said Rolleston. A TV campaign will run at holiday time and on cable TV, he added.

Carey isn't planning to stop with fragrance either: She is also in early stages of developing a lingerie line, and has a self-branded costume jewelry line with Claire's. She's also got an eye on the hair, color cosmetics and skin care categories. "We've been talking about a few different ideas," said Carey. "Anything that's creative. In the beauty world, skin, makeup — I will sit there and do people's hair and makeup. The minute someone gets a new haircut, I'm focused on it. I'm focused on the scent of the skin and I really take care of it. And I'm really excited because I love lingerie, and I've been looking at doing something with that — but that's a whole different story," she said with a smile.
Source: WWD (All rights reserved)
Posted on June the 22nd.