Carey's Make-A-Wish dedication stronger than ever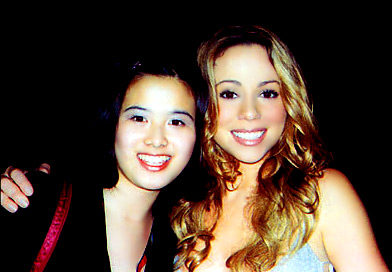 Amid the glitz of Mariah Carey's forbid glare lies a golden heart. Carey is one of the few celebrities who assess children's heartfelt dreams and turn them into reality as she begins an unprecedented partnership with the Make-A-Wish Foundation of America. Ms. Carey has announced a contribution of $100,000 to the charity, to grant wishes related to the performing arts nationwide for children with life-threatening illnesses. Such arrangements, where a benefactor designates significant funds to underwrite a specified type of wish experience, are typically made by the charity with corporations. Ms. Carey's commitment represents the first of its kind from an individual celebrity in the Make-A-Wish Foundation of America's history. "We are delighted that Mariah Carey has chosen our children to benefit from her outstanding generosity," said Paula Van Ness, Make-A-Wish Foundation of America president and chief operating officer. "She knows that many of our children wish to either meet a famous performer or enjoy a special experience through the performing arts, and understands the hope, strength, and joy her commitment will provide. We are truly grateful." Beyond her financial support, Ms. Carey has also committed to speak publicly on the Foundation's behalf through the media, and to act as a liaison with the celebrity community to support the wish-granting process. All the while, she continues to fulfill the many wish requests the Make-A-Wish Foundation receives from children who especially want to meet her. Such wishes have become reality several times in the past. On September 20, 2001, Erika Swiggum, 18, of El Segundo, California, and Vanessa Primrose, 11, of Sacramento, California, realized their dream of meeting the pop music superstar in a very special way. As part of their experience, Erika and Vanessa joined Ms. Carey as they walked the red carpet together to the screening of Carey's movie "Glitter" at the Mann's Village Theatre in Westwood. In January 2000, Carey gave up her seat at the American Music Awards so two Dream Come True children could watch her perform and accept her award. Later, Ms. Carey took them along with her to a Rolling Stone magazine photoshoot where they were able to get more aquatinted. The following month on February 26, 2000, Ms. Carey met with wish child Anna Chan, 15, who has fought Hodgkins Lymphoma, backstage at her concert at Wembley Arena. A chauffeur driven limousine whisked Anna off for an early dinner in the West End before the concert. Having watched the show in the company of all the other VIPs - Naomi Campbell and Claudia Schiffer, Denise van Outen and Martine McCutcheon to name just a few. Anna was then escorted backstage for a special meeting with her heroine, an experience which, she told us she will never, ever forget. Another one of Carey's dream-come-true presentations occurred in November 1997 when she met up with Janel Spiegel of Philadelphia, Pennsylvania. Spiegel had been suffering with Vascular Neurosis for nearly a decade when she saw Carey perform several songs on the NBC-TV show "Saturday Night Live." After the performance, Spiegel was taken backstage where she met the performer and chatted for over an hour. This makes just one of many times Ms. Carey has lent her hand in helping children and those less fortunate worldwide. The Make-A-Wish Foundation grants the wishes of children with life-threatening illnesses to enrich the human experience with hope, strength, and joy. It is the largest wish-granting charity in the world, with 81 chapters in the United States and its territories and 22 international affiliates spanning five continents. This year marks the 21st year of the Make-A-Wish Foundation, which has granted more than 83,000 wishes to children around the world since 1980.
Credit: Make-A-Wish.
Source: Will from Mariah Land by e-mail.
Posted on June the 8th.