Mariah Carey Insists She Just Needed Sleep, Taps Family History For Clip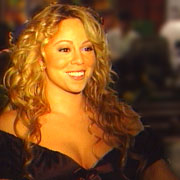 NEW YORK - "I've been here for years, I don't know," Mariah Carey said Monday on the set of her video "Through the Rain" when asked about her much-talked-about comeback. Obviously with more platinum on her walls than Baby from Cash Money has in his mouth, 15 singles that have reached #1 on the Billboard chart and two Grammy Awards, MC is not stressing about proving a point to anybody. But as her commanding vocals blasted out the playback machine during the church scene, the finale of her two-day video shoot, it was also clear that Mariah was in fact coming back to her roots. "Through the Rain," which is the first single off of her still-untitled December 10 release, is a departure from the dancy, hip-hop-influenced initial offerings she hit us with from the last few LPs she dropped. In fact, "Through the Rain" takes us back to her self-titled debut, when she used the big ballad "Vision of Love" to create a buzz. She simply wasn't in the mood for dancing this time out; instead, real-life dilemmas inspired her latest song. "I've always tried to insert positivity into my songs wherever I can, to inspire other people who go through stuff," she said of the single's origins. "I mean the stuff they talked about in tabloids and the things that were so overly exaggerated, that's one aspect. I also went through a lot of personal stuff, a lot of family stuff this year. Losing a parent is an intense thing for anybody. It's brought me to another place. "People are going to read into it as, 'This is Mariah and her struggle,' " added Carey, who insisted there will be fun tracks on her album as well. "But the way I try to word it is, 'It's OK once you say I can make it through the rain.' Not just me going, 'I can make it through the rain,' it's me telling people that if you believe you can get through whatever you're going through, you can get to the other side." Rest and, ironically, returning to work were the main things Mariah needed to help her catch a second wind and get through her troubles (see "Mariah Carey And Virgin Part Ways"). "You know what," she asked rhetorically, sitting in full makeup and a long flowing dress, "I did actually have time to take a break, which is really what I needed. [I needed] downtime, just to sleep. And actually the writing process and working on this album has been something to immerse myself in, because I realized how that has always been my saving grace. There's a song on the album called 'My Saving Grace.' But it actually is [my saving grace], just to go into that process and really live the process of writing, recording, the whole thing, up to the main inception to the mastering of the record." The Dave Meyers-directed clip for "Through the Rain" is based on the singer's own life story. "Originally it wasn't going to have anything to do with that, but people were looking through my photo albums this year," she explained. "My father and I had made some photo albums together of his relatives and different people in the family. A couple people saw [the albums] and they were like, 'This is amazing that you have this.' I guess everybody was like, 'How would you feel about this type of concept [for a video]?' So I guess I thought if someone's going to do it might as well be me. "The story line [of the video] is about an interracial couple," she continued. "It's sort of Romeo and Juliet but it's set in the '60s and they're kind of torn apart. It's about their struggle and I'm sort of the narrator. I don't want to give too much away about it, but it's nice. Something I could relate to, being the product of an interracial union, though [my parents] did not wind up happily ever after standing in church together." Jamie-Lynn Sigler, who plays Meadow Soprano on "The Sopranos," gives Mariah a helping hand in the video. "We just got a call a few days ago and they said, 'You know Mariah would like you to play her mom in her video,' " Sigler explained. "I was like, 'What? Okay!' Not a phone call you expect to get. It's a bit surreal as I grew up being a big fan of Mariah, and to be playing her mother ... it's a very exciting week for me. It's fun for me - I get to be in '60s garb and have old-school hair. I look a little like my mother - a little too much. "With my character, she's basically going against her parent's wishes to be with this gentleman," she continued. "She's pregnant with a baby, which is Mariah, and they run away together. So it's kind of an epic love story, it's nice." All except the rain, Mariah noted with a laugh. "We're on day two of the shoot," she said. "Yesterday was me walking randomly through the streets singing. But then there was, of course naturally, the rain shower, which they told me, 'Oh, you're not going to get that wet.' I got completely soaking wet in this rain, but it looked really cool because it looked like the hugest rain storm New York has seen, ever. And it felt like it too. But it was good." Carey's new album will be released on her imprint MonarC, which is distributed by Island/Def Jam (see "Mariah Returning With First Def Jam Release In December"). She has recorded 20 songs for the LP with producers such as Jermaine Dupri, Jimmy Jam and Terry Lewis and 7 Aurelius (see "Mariah Carey Records In Bahamas With Live Band, Strips Down With 7")
- Shaheem Reid, with additional reporting by John Norris
Source: MTV (All rights reserved)
Posted on October the 2nd.