NEED TO READ - ONE OF THE BEST ARTICLES EVER
Mariah Carey, 'standing again'
By Elysa Gardner, USA TODAY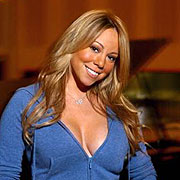 Mariah Carey is sitting in a midtown recording studio, trying to enjoy a moment's peace. But Jack, her constant companion of several years, won't stop harassing her. She has tried locking him out of the room, but still he persists, pressing against the door and grunting ominously. Luckily for Carey, Jack is a dog, and not one of the human male variety. The doe-eyed Jack Russell terrier is generally well behaved, in fact, and the diva doesn't seem too bothered by his occasional tantrums. Recent experience has taught her that all true friends should be cherished, no matter how many legs they have. "I've really, really learned the importance of having people around who love me for who I am, not because they see me as a celebrity or a meal ticket," says Carey, sipping soy milk. "And I've learned who those people are. I can't say that anyone I had believed in for a long time disappointed me. But there were some newer people on the scene recently, and when things got too hectic, they weren't there." (Related item: More than one diva finding radio stations are turning a deaf ear.) She is alluding, of course, to what Queen Elizabeth would surely agree was Carey's own annus horribilus. It began in July 2001, when the singer spent two weeks in a private hospital after having what was described as a physical and emotional breakdown. The episode occurred at the worst possible moment: just as Carey was preparing to unleash her most ambitious project yet, a semi-autobiographical film called Glitter that she had conceived and starred in. The movie garnered scathing reviews and tanked at the box office. An accompanying soundtrack album also proved a flop, especially for someone whose string of No. 1 singles and multiplatinum albums in the '90s had made her one of the best-selling artists of all time. To add insult to injury, Carey was then dropped by EMI's Virgin Records, which had signed her to a contract worth a reported $80 million only months earlier. The topper came when Carey's father was diagnosed with inoperable cancer and died last summer. "That put things into perspective," Carey says. "Sometimes you have to go through difficult stuff, either to learn a lesson or maybe reconnect with something that has slipped away a bit. But that's how life is. You may keep getting hit, but you have to just keep on standing up again." And Carey, 32, wants it known that she is still standing. On Tuesday, she will release Charmbracelet, a CD that marks the beginning of both a new professional relationship and, Carey says, a new lease on life. Charmbracelet is the first venture of Carey's own label, MonarC Music, which will be distributed through the Universal Music Group's Island Def Jam division. Universal signed Carey to an estimated $20 million deal in May, less than half a year after EMI gave her the boot with a settlement of nearly $30 million to supplement the more than $20 million she had already collected. But Carey says her current arrangement was designed more to accommodate her health and sanity than her bank account. She says that after getting out of her original, long-standing contract with Sony Music - whose head honcho, Tommy Mottola, is Carey's ex-husband - she had limited time to bond with her new family at Virgin or to map out a workable strategy for promoting Glitter. "I was with people who didn't really know me, and I had no personal assistant," she says. "I'd be doing interviews all day long, getting two hours of sleep a night, if that. I was burning the candle at both ends and in the middle, and it caught up with me." Carey maintains that her hospitalization was caused by "a collapse from exhaustion" rather than the more complex psychological or chemical problems some rumors hinted at. "Yes, I was in a bad place emotionally, but anyone would be at that point of total physical depletion. I began seeing a therapist, and he told me, 'Look, you didn't have a nervous breakdown. It's a form of torture not to be allowed to sleep.' He said I had to start setting boundaries in life, to learn how to say no. "It's taken some people a while to understand that, but now they do. I've actually made up contracts that people who work with me have to sign, so they know I must have lunch breaks and dinner breaks and five or six hours of sleep a night. For so long, I had been so busy taking care of everyone and everything else, including my career, that I forgot about me. But I've learned that there are certain lines that have to be drawn." Carey's next challenge, however, might involve factors beyond her control. Pop radio isn't as friendly an environment for mature pop divas as it was back in the early-to-mid-'90s heyday of Carey and Celine Dion. The first single from Charmbracelet, Through the Rain, is an inspirational ballad in the vein of earlier Carey hits such as Hero, and thus represents a departure from the uptempo singles she has more recently used to introduce her increasingly hip-hop-driven CDs. But if Rain was a bid to appeal to the slightly older fans who once made up her core audience, its success has been less than stunning. According to Airplay Monitor charts director Silvio Pietroluongo, it has fared less well since its September release than recent entries by artists such as Christina Aguilera and American Idol winner Kelly Clarkson - junior divas whose airy riffing and dramatic belting offer virtual facsimiles of Carey's distinctly ornate vocal style. "(Rain) came out in a difficult period, when there were a lot of superstar releases," Pietroluongo says. "The song is still gaining about 150 to 200 spins a week at Top 40, but it's been sort of a crawl." Island president Julie Greenwald remains optimistic about Rain's long-term potential and that of the follow-up single, The One, which features a rap refrain by frequent Carey collaborator Jermaine Dupri. "This new album is a great mix of uptempo and midtempo songs and ballads," Greenwald says dutifully. "Mariah is a multi-format artist, which is why she's been so successful for so many years. Glitter was the one exception, and that was different, because it was a soundtrack, a concept album." The singer herself makes exactly the same argument, right down to the lingo: "The press shouldn't really have compared Glitter to another Mariah Carey album, because it's a soundtrack, a concept album with an '80s retro theme. Soundtracks aren't expected to (sell) like artists' other records." She also notes that the Glitter CD was released Sept. 11, 2001. "It came at the wrong time. But I still think there are some really good songs on that record." Carey is more critical of the movie, though. "It started out as a concept with substance, but it ended up being geared to 10-year-olds. It lost a lot of grit. It was gritless, in fact. I kind of got in over my head." She was happier with her experience making Wisegirls, a character-based comedy that paired her with Mira Sorvino and earned good notices and a standing ovation at the Sundance Film Festival - though it landed on cable television, airing on Cinemax rather than gaining wide distribution in theaters. Craig Marks, editor of music magazine Blender, would advise both Carey and her marketing team to use yesterday's disappointments to earn fresh sympathy. Marks says Carey's decision to tape a cathartic chat with Oprah Winfrey, which will air in December, "was super-smart. When Mariah went through her troubles last year, everybody enjoyed the spectacle. Now what she and her label and management need to do is get people to feel for what she's been through." Reminding folks about Carey's artistic cachet wouldn't hurt, Marks adds. "She's the most influential singer of the past 20 years. Almost every female artist under the age of 20 wants to sound like her, for better or worse. Also, Mariah writes her own songs - that's something not a lot of people have given her credit for." On Charmbracelet, as in the past, Carey shares writing and production credits with some of the leading names in pop and R&B, among them Dupri and Jimmy Jam and Terry Lewis. After the "crazy media frenzy" surrounding her collapse and Glitter's failure, she fled to Italy to work on the new songs. "It was a really healing experience," she says. "People were like, 'What? You're back working already?' But the creative work isn't the hard part; it's the business end that's hard." By the time she accepted Universal's offer, after a bidding war that reportedly included Clive Davis' J Records and other labels, Carey had basically finished crafting Charmbracelet. The title refers to a favorite piece of jewelry for both her and her paternal grandmother, who had died a few years before Carey's father. "My father got sick just as we were learning to understand each other more," says the singer, whose parents divorced when she was a child. "It was really intense, but it brought the family closer together. One cousin told me that my father's mother had also had a charm bracelet. She was a very spiritual person, and spirituality has always been a big theme in my music. Some of the songs that may seem like love songs on this album, like I'm singing about a guy, are actually more spiritual songs." Granted, one new song, Clown, seems to take aim at someone who has spread rumors about an intimate relationship with Carey. Some have assumed that the song is directed at Eminem, who has suggested he dated the singer. But Carey dryly notes, "I've known a lot of clowns. I've known a circus full of them." Carey stresses that her knowledge of Eminem was not carnal, however. "I can still count on less than five fingers the number of men I've gone there with. And believe me, he isn't one of them." Asked whether there is someone special in her life right now, Carey, who was linked to baseball star Derek Jeter and Latin singer Luis Miguel after her split from Mottola, pauses. "I have a lot of friends who are special to me," she finally says. "I'm not necessarily looking for some new guy to ride up on a horse and save my life. I'm the only person who can save my life, by having hope and faith. But friends - real friends, like the ones who supported me through all the drama and turmoil of last year - they mean a lot. "They're the people who really matter."
Mariah Carey's latest CD marks the beginning of a new professional relationship.
Picture by Robert Deutsch, USA TODAY
Source: USATODAY.com (All rights reserved)
Posted on November the 29th.